(This post is continued from last Monday. To read Part 1 go to March archives)
Dear God, He's Home! Trailer
You, and He, Need an Outlet
When Bob retired, he bought two snowmobiles. I didn't like those smelly things, but I didn't want him to go alone. I was so happy when he met other snowmobilers and I didn't have to go anymore! Then he started making friends who play golf and I gained some space to do my gardening.—Michelle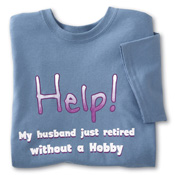 A stay-at-home man can become a wife's full-time job, as he tries to make her his new hobby! When does she retire from the household management or being a caregiver or parenting? Here are several creative ideas to help both of you adjust to, and even enjoy, this stay-at-home man season:
Develop individual hobbies, and if possible, do one together.
Both learn something you've always wanted to know how to do.
Leave the house on your own at least once a week.
Plan a weekly or monthly date together. Put it on your calendars.
If still parenting, join a babysitting co-op, trade off babysitting with friends, or if finances permit, hire a sitter and go have fun.
If you're caring for a sick or disabled husband, ask a friend or family member to stay with him and do something for you—not just running errands and chores.
Exercise daily.
Serve as a volunteer for a charitable organization or a ministry.
When a husband retires, the wife retires from one home chore. Her choice.
Words of Wisdom from Wives with a Stay-at-Home Man
Make each day the best it can be. You don't know how many days you'll have left together. —Alice
Understand where your husband is at in his life and don't make his retirement or at-home-experience miserable. —Alice
Don't belittle or put down your husband—build him up. Find out his concerns and needs, don't just focus on your own. —Alice
Communicate your needs honestly and lovingly. —Joan
When shopping together, pick a store that also has sporting, gardening, or electronic departments and let your husband browse or send him to find something. —Sue
What's important to your spouse should also be important to you and what's important to God should be important to both of you! —Janet (me)
My Stay-at-Home Man Shares
My husband, Dave, selflessly understood that I would have to write vulnerably and honestly about our messes and our miracles. In the Epilogue of Dear God, He's Home!, Dave offers this closing advice:
So I leave you with these final words: Living with your spouse in stay-at-home man seasons of life, while different, is no more challenging than any other season of married life. You just have to constantly die to self as God teaches us, consider your spouse more important than yourself, and work as a team. I like the wise council I gleaned from Promise Keepers years ago and ultimately conveyed to my son, sons-in-law, and men's small group studies—marriage isn't a 50/50 proposition as proposed by some, but 100/0. If you give 100% and expect zero in return, you'll grow to love your spouse as Christ loved the church, and your marriage will thrive.
This is a continuation of Part 1 posted last Monday. To read part 1 go to March archives)