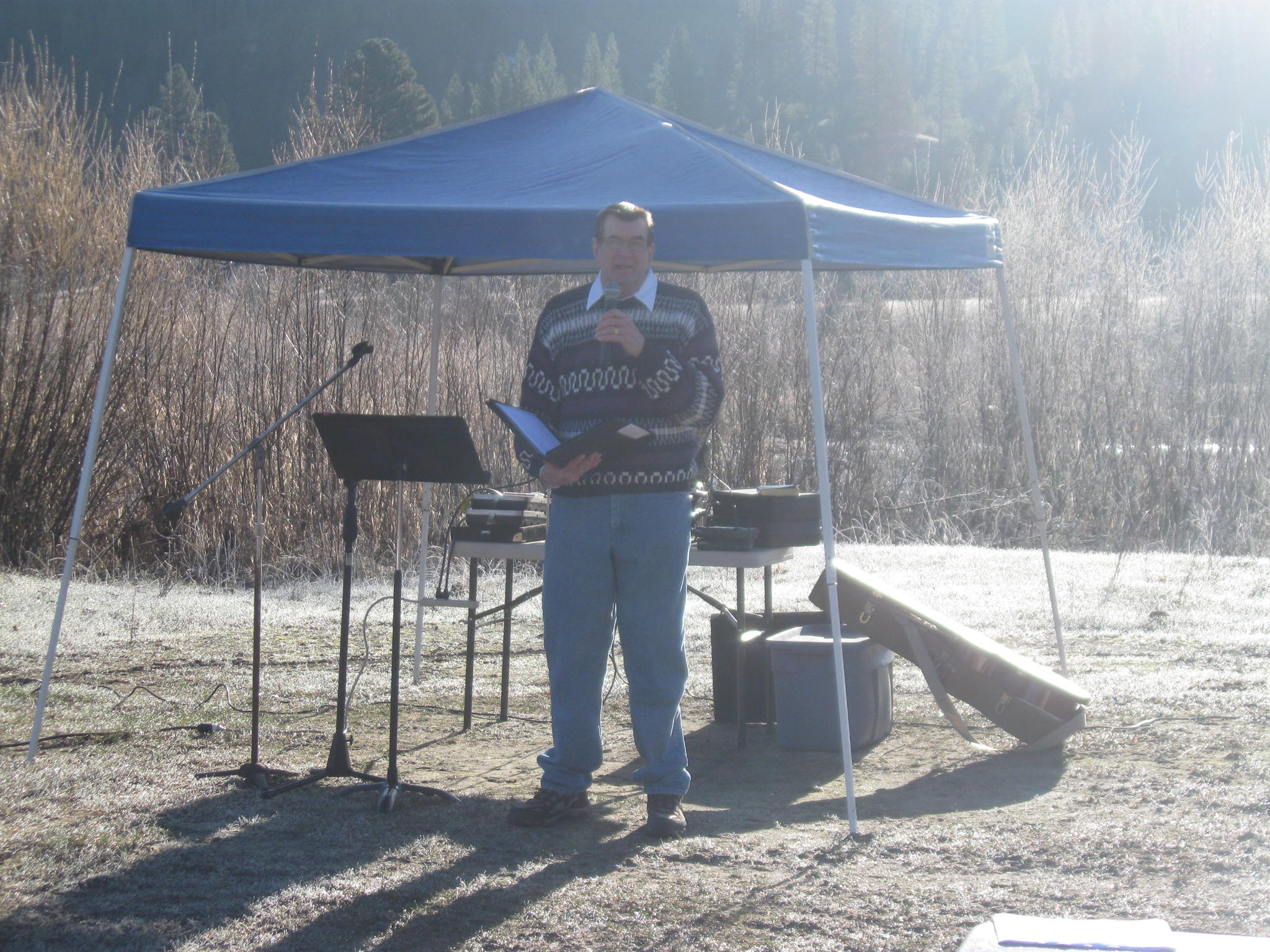 (Our church puts on an Easter Sunrise Cowboy Breakfast down at the river behind our church for the community. My husband, Dave Thompson, was asked to give his testimony and he allowed me to share it with you today. Enjoy and be blessed.)
I learned about God and Jesus in my teens, but in my early adult years – I became a self-made man.
Robert Ringer's book Looking Out For Number One became my motto – in his book he talks about don't let anyone take your marbles, so I walked over and through everyone or anyone in my way to achieve my goals.
I was a successful corporate executive married with a young family with a large home in an influential community. I had it made, so I thought, until it all came crashing down! I was eventually divorced, my family split up.
It was then I began a real relationship with Christ.
I dedicated my life to Jesus and reversed my motto, and let the only real #1 look out for me. He does so much better than I could ever do.
When you think about it . . . who could better look out for you than the One who is:
Omnipresent – always with you
Omnipotent – all powerful
Omniscient – seeing all and everything ahead goes before you preparing the way.
So you ask: What has Christ meant in my life? Everything!
He has taken me with all my sins and prideful ways, and made me His child, an adopted heir. He loves me more than anyone else could, or I could ever love myself.
Further, I would have never met the love of my life, my beautiful wife, Janet, if it were not for my relationship with Christ. You see, we met in a church small group at Saddleback Church and have grown together in a true marriage triangle relationship with Christ at the apex.
My wife, Janet's writing and speaking ministry, About His Work Ministries, was born out of our love for Christ and His church.  Many lives have been changed by Him using her, us, and our experiences, challenges, and trials as vessels to help others.
When you give your life and your time to Christ and make yourself available, He molds you and makes you into who He wants you to be and uses you and the gifts He has given you to help others.  In fact, our ministry tag line "Sharing life's experiences and God's faithfulness" defines our life in Christ.
So if you are a self-made man or woman stop playing king of the mountain, give up your fight to stay on top and let the only one who belongs there take your place. He will give to you more abundantly than you could ever imagine. He will not only renew your mind, but He will change your heart.
Happy Easter and God bless you all!