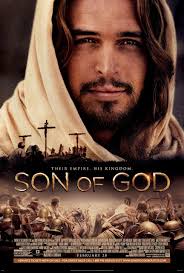 This past weekend, the movie Son of God opened in theaters around the country. Hubby and I had the blessing of seeing it on Saturday in a wide-screen theater. Many pastors encouraged their congregations to see this movie. According to USA Today, we came out in force—Son of God came in second for box office sales over the weekend, knocking the movie Lego off top place:
Son of God, the Biblical tale that drew support of pastors nationwide, took second with $26.5 million.

The debut met expectations and was propelled in part by prominent ministers that included Joel Osteen and Rick Warren, who distributed thousands of tickets and urged vigorous turnout for the drama about Jesus' life.

While analysts consider devout audiences an underserved demographic in Hollywood, Ray Subers of Box Office Mojo says that Son was considered a "total wild card" when it came to predicting ticket sales.

When the film was announced last year, "many scoffed at the project," he says.

The movie "is, after all, attempting to get people to pay movie theater prices for content many have already seen via The History Channel's popular mini-series, The Bible," Subers says.

But audiences gathered en masse for the movie, which scored an A- among moviegoers, says CinemaScore. Critics were more skeptical: Just 24% gave it their blessing, according to Rotten Tomatoes. But 81% of fans said they enjoyed it, according to the site.
Five reasons why pastors wanted their congregations to go see Son of God on opening weekend and continue to see it at theaters:
1. To Send a Clear Message to Hollywood
The USA Today article described "devout audiences" as an "underserved demographic in Hollywood." When Hollywood takes a risk, as 20th-Century Fox did with Son of God, Christians need to show our support. Opening weekend numbers make news and Son of God coming in second was huge! Those of you who haven't seen it yet, need to go soon. If a movie isn't bringing in revenue to movie theaters, they won't keep showing it.
We sent a clear message with the millions who watched the television mini-series The Bible and Hollywood took note. So even if you saw The Bible, give the same support to this movie if you want to see more movies we can stand behind come out of Hollywood.
2. Son of God is Our Story
Son of God portrays the ministry of Jesus, the agonizing cross, and glorious resurrection—every Christian's heritage and testimony. Christ died and rose again for us. We should never tire of telling, hearing, or seeing the story behind our salvation. We need a reminder of what Christ endured to give you and me eternal life and the ministry responsibility for each of us to continue.
3. Son of God tells the Easter Story
Son of God ushers in the Easter season. As churches prepare programs, cantatas, and services, this movie reminds of what we're celebrating. Jesus died a horrible death for us, but He arose and lives among us. The movie is a depiction of the Gospel story—the Good News.
4. Son of God is Biblically Accurate
I knew what the actors' next words were going to be because they were from the Bible! Watching the Bible come alive is exciting, and you'll know more Scripture than you thought you did.
5. Son of God is an Outreach
Invite unchurched neighbors and friends to go to the movies with you. There is also a Son of God Bible study, so offer to host a small group Bible study in your home after you see it at the movies.
We, the "Devout Audiences," Can Make a Difference—For Good or Bad
Many scoffed at the Son of God project and predicted it's failure, but the faithful came out and showed that the moral majority are mighty in numbers. We can make a difference. We don't have to put up with the junk that typically comes out of Hollywood.
Here's the caveat: We negate the impact of Son of God coming in second place on opening weekend, if next weekend we go watch R-rated, or even some PG 13, movies. In January, I wrote a blog post "Be Careful Little Eyes What You See," and suggested running every movie through the Ephesians 5:1-10 grid. As a reminder, verses 3-4 warn:
"Sexual immorality, impurity, or greed. Obscene stories, foolish talk, and coarse jokes"? According to God: "these are not for you . . . Such sins have no place among God's people."
There are more faith-based movies coming out in upcoming months. Let's cast our vote by seeing these movies and abstain from seeing any movie that would offend The Son of God.