Mother's Day is next weekend—a joyous day for mothers with children and a torturous heartbreaking day for "mommies-in-waiting." In Dear God, Why Can't I Have a Baby?, my daughter Kim vulnerably shares the pain of being childless on Mother's Day and then the amazing blessing of becoming an adoptive mommy to my precious grandson, Brandon.
Our guest blogger today is my dear friend and fellow The M.O.M. Initiative mentor mom, Lori Wildenberg. Lori and her husband, like my daughter and her husband and so many couples who share their story in Dear God, Why Can't I Have a Baby?—had their plan of how they would become a family. In every case, the couple found peace in surrendering to God's plan.
Lori and Tom's Story
Our Plan
As newlyweds, my husband and I had a vision—we discussed and agreed:
• Four kids. Check.
• Three through birth. Check.
• The fourth through adoption. Check.
We had a lot of love to share. We would have three kids and complete our family with an adopted child. We would be great parents so we could provide a nice home for a child that needed one.
This was a good, solid, even honorable plan. Clearly, God would bless this and be on board with our plan.
Yes, adopt a fourth child. Perfect.
Why Isn't Our Plan Working?
We (by we, I mean me) became consumed with the goal of conceiving. I was hooked on doctor visits; placing all my hope in the medical field. Nothing was going to stop me from achieving my goal.
Every month, for thirty-six months, I vacillated between determined and disappointed. Hopeful and heartbroken.
Finally, after three years, Tom and I decided it was time to ask God about His plan for our family.
Together, we realized our hope had been misplaced.
Following God's Plan
God sweetly directed us to stop. Stop trying. Stop the doctor visits. Stop looking to medicine. Start looking to Him. He is the One who creates families.
In His great goodness, He had already given us a heart for adoption. And…the three years of infertility had given us perspective.
Had we gone into adoption thinking we were going to do some awesome, sacrificial thing to help a child, our love might have been conditional.
What if the adopted child didn't appreciate our sacrifice and helping hand?
In His wisdom, the Lord flipped our emotions and thoughts inside out.
We traveled to Bogota, Colombia to receive our precious bundle from God. Holding her, I knew I wanted my daughter more than she needed me.
My motivation was purely selfish.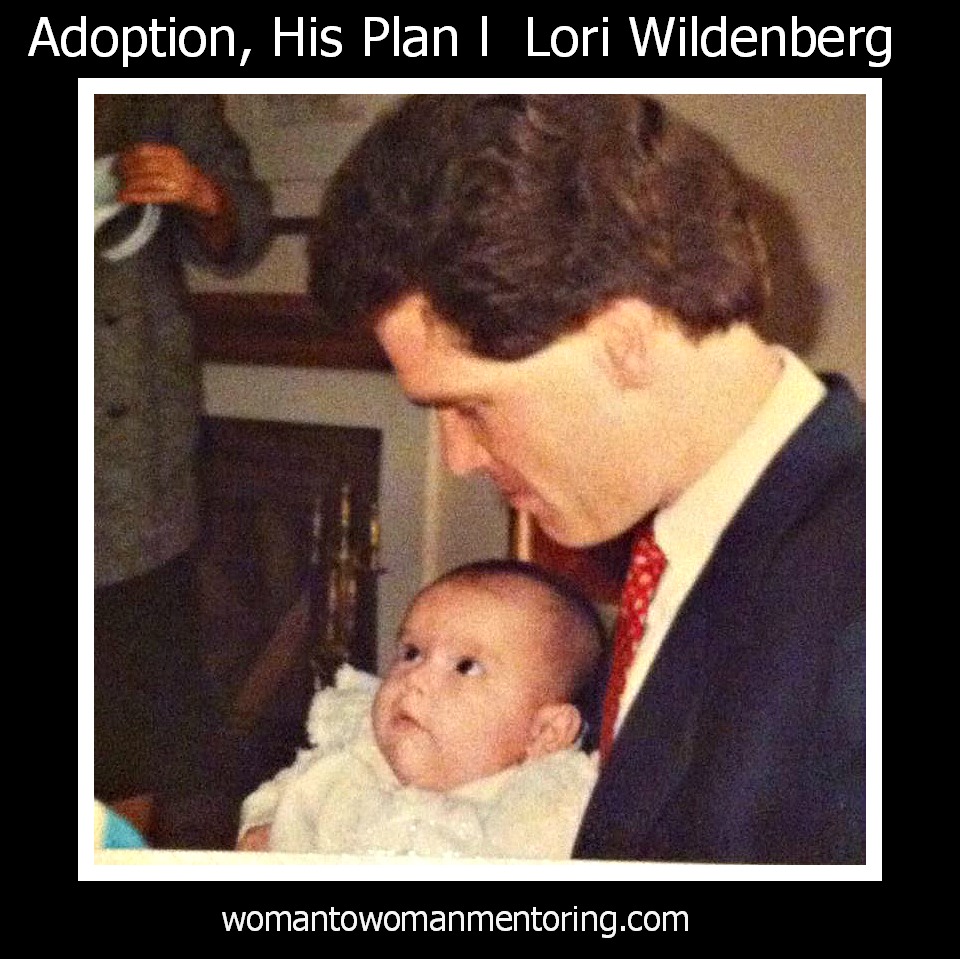 God did a great thing by bringing the three of us together. Then He turned our plan upside down.
• First through adoption. Check
• Three through birth. Check.
• Four kids. Check.
No medical involvement only supernatural intervention. (The only planned stork arrival was number one!)
Thankfully, His ways are not our ways.
What Not to Say to An Adopting Couple
Recently, Janet did a blog on 10 Things Not to Say or Do to Someone Experiencing Infertility. Here is my list of don'ts regarding couples who are adopting.
Don't Say:
"Once you adopt, you'll get pregnant."
"What do you know about the child's real parents?"
"How much did you spend?"
"Will you be able to love this child as much as your biological kids?"
Most questions fall into the none-of-your-business category. The goal of adoption isn't to get pregnant, it's to have a child. By the way, an adoptive parent is a real parent.
Do Say: "Congratulations. I am so happy for you."
And as for love…love multiplies, it endures, it is forever.
Lori Wildenberg, mom of four, wife to Tom, and a licensed parent and family educator, is the co-founder of 1 Corinthians 13 Parenting. Lori is passionate about coming alongside parents to encourage, empower, and support. Her straightforward, realistic approach mixed with transparency, warmth, and gentle humor, engages her audience, and assists moms and dads in their quest to parent well. Lori has co-authored three parenting books—Raising Little Kids with Big Love and Raising Big Kids with Supernatural Love scheduled to release May 2014. To schedule Lori for one of your events go to www.loriwildenberg.com or www.1Corinthians13Parenting.com.