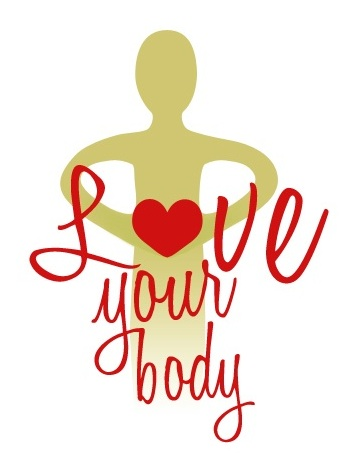 Have you ever said . . .?
 "I travel so much I can't eat healthy."
"We're on vacation, so we'll worry about healthy eating when we get home."
"I eat out a lot and it's impossible to eat healthy."
Today is the last Monday of the month so it's time for another Love Your Body message. Since I just returned from 10 glorious days in the Bahamas with the Love Song Couples Getaway, weighing less than when I got on the plane to leave, I thought this would be an appropriate topic today. Check in next Monday for more about this wonderful vacation with 250 other Christian couples!
On The Road Again
Many of you have heard me speak in your area and know that I travel a great deal, which means I'm often not eating my "normal" food. If I were to adopt the philosophy that we can't eat healthy while traveling, I would be doing my body a huge disservice. Remember, that your body doesn't take a break from the effects of unhealthy eating while you're on vacation or away from home. Your body still expects you to cherish and love it enough to fuel yourself with nutritious food.
When you come home and step on the scales, you don't want all the memories of that wonderful trip to fade with the guilt and depression that often accompanies gaining weight or the scolding from your doctor because your cholesterol, blood sugar, or blood pressure are off the charts.
Yes, No!
We often associate eating out as a special occasion, especially when we're on vacation. Since we're indulging or splurging on the trip, we can carry over that same "special occasion" mentality to eating.
I never feel like I'm denying myself anything, but I do use the same guidelines when traveling that I do when I'm eating out anywhere. Here are a few of my healthy eating habits and I'd love to hear some of yours.
The Menu—Choose Wisely
1. The first choice starts when they hand you the menu or you're perusing the menu board. This is the restaurants marketing tool. Most restaurants don't worry about feeding you healthy; they just want food to taste good (which can mean lots of butter, salt, or sugar) and you to spend a lot of money. Knowing this, don't be enticed to eat something you normally would avoid.
2. Don't stop to read any item with the description: fried, breaded, gravy, rich sauce, rich, buttered, or any ingredient you typically wouldn't eat. That eliminates about ¾ of the menu items.
3. I don't eat red meat so that usually reduces the menu to one or two choices. Then I choose between those based on what I feel like eating.
4. Drink water! It's free and you should always drink a lot of water when traveling.
5. If they offer half portions, choose that or ask if you can get a small salad or half a sandwich. Or split something with whomever you're eating with, as long as they are choosing something you should eat.
6. Ask for any sauces or salad dressings on the side.
7. Restaurants usually give chips or French fries as a side with sandwiches. Ask for fresh fruit, a small salad, or sliced tomatoes instead. If they don't substitute, then hold the fries or chips. Then you won't be tempted to munch on them.
8. Avoid "value meals" that include fries and a drink. You don't need the fries and water is free, so just order the sandwich/taco/burrito or salad by itself.
9. Choose flame-grilled, baked, broiled, or poached meat or fish. Pan-fried means lots of butter. Be sure to clarify if "grilled" is on a grate or on a grill. The grill is usually very greasy and you wouldn't want to know what they use for "grease" on those grills.
Be Prepared
1. I take my own breakfast. A package of instant oatmeal reconstituted with hot water from the coffee machine in every hotel room works great. I always have a couple of packages and plastic spoons in my suitcase. I usually don't eat "instant" foods, but in this case it's better than the alternatives.
Or I might take a breakfast bar—but be careful to read-labels as we talked about in the March Love Your Body—Read Labels blog. So called "nutrition bars' can be lethal. I like Trader Joes' "A Fruit Stepped into a Bar." If the room has a refrigerator, I'll stock it with orange juice and fresh fruit.
Breakfast can be a huge diet buster with all the fattening, high cholesterol, high sodium choices. If you do eat breakfast out, or it comes with the room, use the menu guidelines above.
2. I bring my own snacks. My daughter Kim once said, "My mother takes her nuts everywhere with her." That's a true statement. I always have a baggie of mixed nuts I've created from raw, organic, unsalted nuts. I mix walnuts, almonds, pistachios, cashews, sunflower seeds, macadamias, and whatever other nuts I have on hand. You'll never find me on a trip without my homemade "trail mix." If you don't like the taste of raw nuts, toast very lightly at 275 degrees for 10-12 minutes. Most nuts are roasted at such a high temperature it destroys the nutrients.
Dried fruit can also be added to the mix or eaten on it's own. Be sure there's no sodium sulfite added as a preservative.
3. If we're staying for a while, we stop by a local grocery store and get a flat of water and fresh fruit and juice for breakfast.
4. When starting out on a trip, I always pack a lunch for the first meal whether on a plane or by car. I usually make almond butter or peanut butter and sugar-free jelly sandwiches. They don't need refrigeration and are a welcome break from airport food.
Better To Go To Waste then Waist!
1. Stop eating when you're full. If you have a refrigerator in your room, ask for a to-go box and save for another meal. Otherwise, let it go.
2. Again, offer to split something with another diner, unless they're eating something you shouldn't. My husband and I often split—well I actually eat about a third—but sometimes he orders something I don't want to eat so then I don't split with him.
3. Sometimes eating from the children's menu is good for smaller portions, but beware—often time's it's fried and breaded food like chicken nuggets and fries or grilled cheese, which might be bad for you even though it's cheaper and a smaller portion.
Above All Enjoy Yourself
1. Treat yourself to an occasional dessert or favorite food. The last night of our Bahamas vacation, we ate at Johnny Rockets and there was nothing on the menu that appealed to me. So, I enjoyed a chocolate, peanut butter real milkshake and sweet potato fries for dinner, without guilt, because I had been very careful the rest of the time!
2. We also ate at the famous Twin Brothers Fish Fry in Nassau. Just by the name, I knew I would love the fish but not fried. And walla, they offered a foil steamed package of grouper with all the veggies and plantains inside.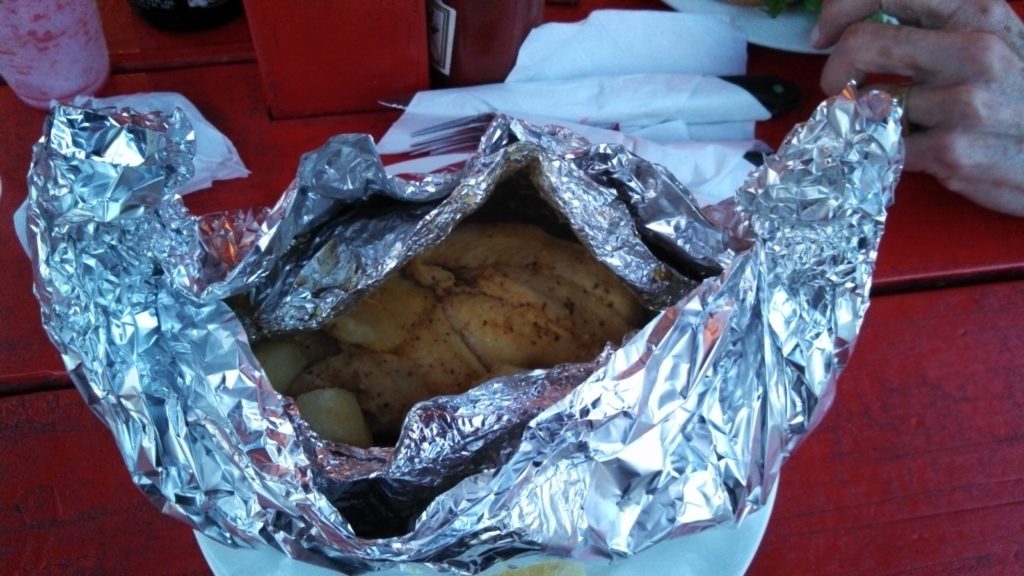 Steamed grouper @ Two Guys Fish Fry
We also saw everyone drinking these amazing looking strawberry smoothies—well they were actually daiquiris but we don't drink so we asked for them nonalcoholic! Delicious and cheaper!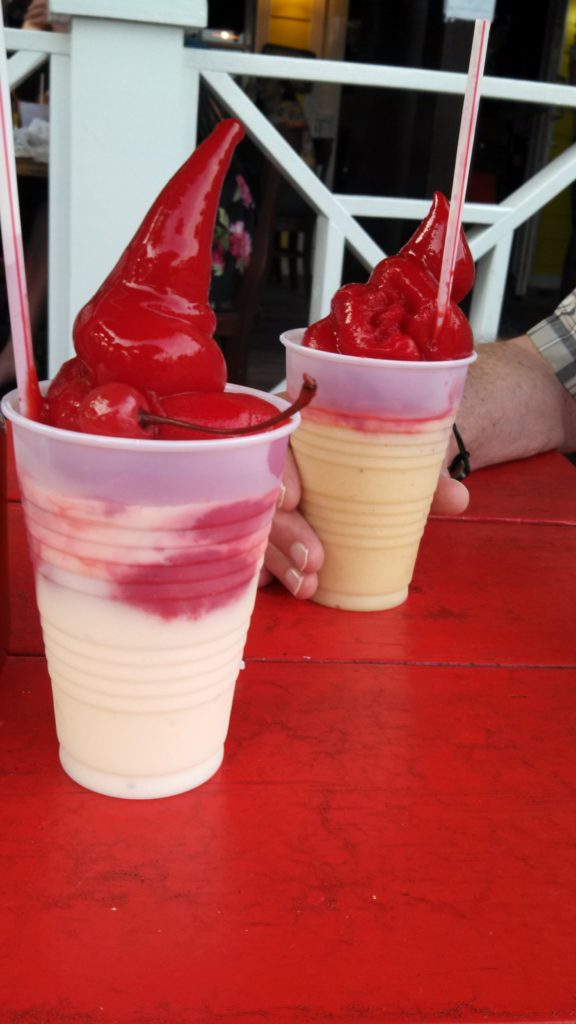 Yummy strawberry smoothies
Go The Extra Mile
1. Walk whenever possible.
2. Take the stairs instead of the elevator. Since we were on the 24th floor in Nassau that didn't work for us, but it was a huge property and we intermingled walking around with lounging at the pool.
3. Take a stroll around the area after or before a meal.
Enjoy your vacation and love your body by eating well, using sunscreen, and fitting in some exercise!
Moderation is better than muscle,
self-control better than political power.—Proverbs 16:32, The Message
Please share what you do to eat healthy when away from home….
Next week, more about the Love Song Couples Getaway—Take Two