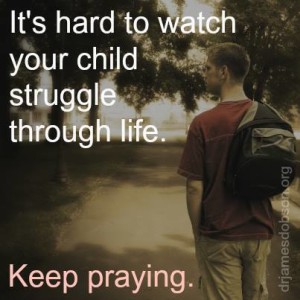 "Moms, you know how it feels when you see any glimmer of hope in your prodigal." —A praying mom
Moms of prodigals will identify with that glimmer of hope. I know I did.
Praying Mother Alice's Story
I recently received an email from a mom who had shared her story in Praying for Your Prodigal Daughter: Hope, Help, & Encouragement for Hurting Parents. On page 178 in the chapter "Confronting Our Own Mistakes," Alice said:
*My daughter, Liz, has chosen to cut off her relationship with me. I made many wrong choices that hurt her. I'm so sorry and have apologized many times, but Liz refused to forgive me. I'm saddened by the wall she's built to protect herself from being hurt emotionally again.
My guilt over Liz plagued me; I felt captive by her refusal to forgive me. I've beaten myself up for not being the perfect mother and not saying or doing the right things. Truth is I make mistakes all the time. I hurt people—not intentionally—but it happens when I'm thinking of myself and not of how my words and actions affect others. With God's help, I'm working on changing that part of my character. In the meantime, I continue praying that God will soften Liz's heart so she'll be able to forgive me and any other person who has hurt her.—Alice
Alice sent me her heartbreaking story of the estrangement from her daughter eight years ago. I know many who identify with her pain and regret and the deep desire to restore her relationship with her daughter and to receive her daughter's forgiveness.
Last week, I received an email from Alice with the subject line: Update on Prodigal Daughter "Liz." Following is Alice's update shared with her permission. I hope Alice's openness and vulnerability encourages those of you who are still praying for a reunion with your prodigal.
The separation started 27 years ago when my "prodigal daughter" had completed college. She didn't need my financial support or close personal connection anymore.
The separation gap widened four years ago when Liz told me she needed a break!
The break I imagined was time for her to sort things out that were plaguing her: divorce negotiations that dragged on, the decline of her dietician business with fewer clients, stress of raising a son as a single mom, and then there was "me." I was the mother she felt was not there for her as a teenager when she was having major issues with her stepfather. It turned out that Liz wanted a permanent "break" from me.
My heart ached to see her and talk to her. That wasn't an option open to me. What I could do during these past four years was to pray and wait until my daughter was ready to connect again. I prayed for a softening of Liz's heart. I also prayed God would help me understand why my middle daughter wanted no part of my life.
As I wrote in my journal recently, I asked the LORD to give me a better understanding of what I was dealing with. He answered me with a clear example of my daughter as a person encased in ice—unable to move, feel love, or reach out for help. Liz was stuck in a frozen place where anger, resentments, and bitterness imbedded her mind and heart. She could not free herself.
My son sensed my pain of rejection and separation from Liz. Out of his compassion for me and the desire to have his nephew, Bobby, know his grandmother, he arranged a luncheon meeting at a restaurant this month to celebrate my 76th birthday. As the date grew closer, I prayed more intently that I would keep the attention on my daughter, her son, and my other two grown children who were to attend. I wanted to let our get-together be all about them—not me.
On the day of the family meeting, I brought peace offerings. I baked my grandson's favorite Christmas cookies and took several pages from a photo album that had elementary school pictures of my three children when they were Bobby's age. It turned out to be an "ice-breaker."
As we met, my heart pounded then rejoiced when Liz was friendly toward me and open to conversation. After lunch, as Liz and I made our way to the restroom, she said that her son, Bobby, wanted to see me more and she was sorry that it had not happened before. She invited me to come to her home this coming Christmas for a few days to bake cookies with her son. Words eluded me but my heart sang for joy.
It took my prayers, the efforts of my only son, and the desire of Liz's little boy—my grandson—to spend time with me that brought about a change of Liz's heart. "And a little child will lead them." Isaiah 11:6
Never Stop Praying
You've heard me say it before, and I know it's so hard to do when your heart is breaking and you don't see any change in the situation, but never stop praying for your prodigal. Alice prayed for 27 years. I prayed for six years for my prodigal. Previous blogs from prodigal Alycia Neighbours related how long her parents prayed for her return: Never Stop Praying for Your Prodigal! and After the Party for the Returning Prodigal.
As Alice said above, many times prayer is the only thing you can do when everything else is out of your control. In the chapter on Praying Biblically in Praying for Your Prodigal Daughter, Alice told how she prayed scripturally for her daughter, which is how I also prayed for my daughter. It's simply personalizing and paraphrasing God's Word as a prayer back to Him (See 40 Days of Praying Scripture for Your Prodigal on page 313). Here's how Alice said she prayed Scripture:
*I've learned to pray for my daughter by praying back the Scriptures to God. For example, I pray Ezekiel 36:27-29 for Liz's heart to soften and for her to return home: "God, give my daughter Liz a heart of flesh to replace her heart of stone toward spiritual things. Through Your Spirit, move her to follow Your decrees and carefully keep Your laws. Help Liz to return home. Allow her to live in the land You, God, gave to her spiritual forefathers; may she be Your child, may You be her God. Save her from all her uncleanness."
What has helped you maintain a "glimmer of hope" while waiting for your prodigal to return?
*Excerpts from Praying for Your Prodigal Daughter: Hope, Help, and Encouragement for Hurting Parents.