Last week's guest post was written by Judith Couchman who shared how she overcame misgivings to call Erica Wiggenhorn to see if she would like to be mentored in writing. It was a hard phone call for Judith to make but she wrote about how this was The Call That Changed My Life. If you haven't read that post yet, be sure to read it before you read today's guest post by her mentee, Erica Wiggenhorn. Judith and Erica confirm what I teach about mentoring: It's always a  two-way blessing.
Receiving the Call by Erica Wiggenhorn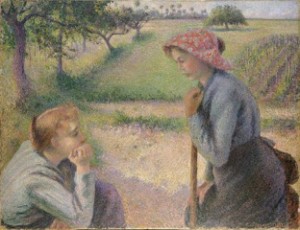 Picture by Camille Pissarro
Life felt overwhelming. Two steps forward, three steps back. It wasn't the most difficult time of my life, tragedy and blackness had already shoved my face into the dirt and sent me reeling. Rising back up, I had pressed on in my journey. Digging into God's Word and participating regularly in Bible study had lifted me to my feet and steadied my steps.
Deadness and dryness marked my current season, sapping my strength. Incredibly busy, yet empty. Even Bible study seemed meaningless and inapplicable to my present circumstances. I cried out to the Lord, "Does it grieve your heart that no one wants to study your Word just to get to know You? Why isn't there a study that focuses on Who You Are and not what you can do for me?"
The Lord nudged my heart and whispered in my Spirit: "You write one. Write a study about Who I Am."
"Um, that wasn't the question, Lord! I can't write a study, I barely have time to brush my teeth!"
"Write it," He persisted.
"How? Where would I even begin?"
"Ezekiel. Study the prophet."
"Ezekiel?" I don't know if I've ever even read through that whole book of the Bible before!"
After several months of resisting, the emptiness in my soul was excruciating, and with no lift in my circumstances in sight, I sat down and opened my study Bible. The introduction jumped off the page at me, "The Israelites worshipped God for what they thought He could give them, not for Who He Was." The hair on the back of my neck stood up. This was exactly what I had been expressing to the Lord for so many months: I just want to know Who You Are!
"Ok, Lord! I'll do it!" Now what? The task seemed daunting. I began to study, scribbling notes in a composition book and digging through commentaries. While life still felt overwhelming, the discoveries about God during my studies energized me. However, I still had absolutely no idea how to form all of this information into a study or even if I was ever meant to share what I was discovering.
The Next Steps
On a particularly difficult morning, I had dropped my children off at preschool in my socially acceptable pajamas, aka old, ratty sweats, and drove home in my mini-van. My phone rang and I answered it. My friend Kim boldly announced, "Every day during my quiet time, the Lord keeps laying you on my heart. Is there something going on with you?"
The floodgates poured open. I told her about my emptiness, my feelings of being completely overwhelmed with the daily tasks of life, and this new crazy endeavor of studying the Book of Ezekiel and attempting to write a Bible study. I didn't know Kim well and what she said next shocked me, "Well, I am supposed to go on a writer's retreat tomorrow. There are only 12 spots and one of the ladies hurt her back and can't come. I think you're supposed to be there."
The next morning with my composition book full of scribbles, I headed up the mountain, completely unsure of what to expect. If anything, it felt wonderful to step away from daily life. It was there I met Judy Couchman. She spent the next three days inspiring us to pursue the call of writing. She encouraged me, looked me in the eye and said, "God has called you to this and I know you can do it!" I knew I had to finish this study, somehow or another.
A Relationship Was Born
The following year, I returned to that same retreat with my study completed. I placed a copy in Judy's hands and her eyes lit up. She rejoiced that I had fulfilled the call that the Lord had placed in my heart and done the work. She prayed over the study and over me.
A few weeks after coming home and wondering what the Lord had next for me in the way of writing, my phone rang. It was Judy. I could sense a slight quake in her voice, which was so unlike the professional, accomplished woman I had met at the retreats. What she said next made my heart skip a beat, "I believe God is calling me to mentor you. Would you like a writing coach?" She didn't even need to finish her question before I blurted out, "YES!"
Two studies later, I'm still writing. Without the accountability and nudging, I wouldn't be where I am. Mentoring kept me moving forward when the journey seemed impossible. Judy's words on the other end of the phone kept me focused on the calling and avoiding the distractions.
Sometimes we just need an arm around us or a shoulder to cry on. Other times we need someone to look us in the eye and say, "I know you can do it!" Most of the time, we need a reminder of that gentle whisper God spoke into our soul to muster up the courage to continue to obey Him. This is the work of a mentor.
Has God given you a story to tell? Who can you invite to come alongside you to do the work? Guiding that call is the delight of a mentor.
Erica Wiggenhorn is the founder of Every Life Ministries, encouraging women to live significantly through the study and application of God's Word. She is the author of Ezekiel: Every Life Positioned for Purpose and Moses: Every Life Proof of God's Promises. For more information about Erica and her ministry, visit www. EricaWiggenhorn.com.