If you've been following my Monday Morning Blog, you know that I've had guest bloggers for the past few weeks while I was on the rode speaking in San Diego, CA and Billings, Montana. In both Southern California and Montana, we combined business with fun and visited with friends and family. I trust you enjoyed the different guest bloggers and the wide variety of topics discussed—all with the theme of mentoring from their experience and expertise.
It's great to be home and hard at work on a new book, How Good is God? I Can't Remember . . . Creating a Culture of Memories. If you have a story of forgetting God's past goodness, and or ways that help you remember His goodness, please contact me for guidelines.
You might be wondering what all this has to do with the title of today's blog . . . nothing! I just want to say "Hey" and let you know where I've been and what I'm up to. But now, let me share with you something that is burdening my heart and does relate to this blog title.
Election Day—The Good, the Bad, and the Ugly
This past Tuesday was election day, and I know many of you rejoiced with me when you saw how the conservatives came out in force and let their voice and vote for change in our government be heard. I went to bed thanking God that so many of us took a stand to put into office those we hope will honor and abide by the conservative moral agenda.
That was the good. The bad happened in my own little rural community in our "red" state. For several months, a liberal force was stirring up interest in taking steps to change Idaho law to allow legal gaming, otherwise known as gambling, in rural *Boise County where we live. There was a question on our ballots last week asking if we were for or against this effort. Of the six cities in rural Boise County, five voted to pursue changing the law and our little town of Garden Valley was one of the five. Only 220 votes differed in the total county vote, but enough to give the commissioners incentive to move forward.
As Dave and I traveled through Montana, a state that God created with such beauty and majesty where Dave and I almost moved, we again were saddened at how such an amazing state allowed the marring of its gorgeous landscape by garish and grotesque casino signs and billboards. Returning home, we now discover that our quiet picturesque community with a river running through it might suffer the same ill fate. Here is a picture of our precious town and the surrounding area. What do you think that's going to look like with a glaring casino sign? Ugly!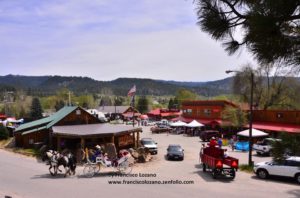 The Center of Town in Garden Valley, ID is Crouch
But it's not just the marring of God's creation that's heartbreaking; it's the moral degradation that accompanies gambling. They don't call Las Vegas "sin city" for nothing or coin the term "what happens in Vegas stays in Vegas." No, God sees all the drinking, smoking, loss of money, drugs, prostitution, vulgarity, and debauchery that takes place on the strip.
And here's the saddest part—Satan loves to make sin look enticing, fun, and justifiable so why not make an area of sin—the Las Vegas strip—a "family fun place" where you can bring the kids. Who could find fault with water slides, carrousels, and play areas? Except their surrounded by smoke, excessive drinking, gambling and loss of money, corruption, and risqué shows. It's like taking a family vacation in Sodom and Gomorrah and we know what God thought about that city.
Or try to justify that gambling and lotteries will bring in money for schools. Really? That's how we want to fund our schools? There's no right way to do the wrong thing! And believe me, the owners of these casinos make far more money than a school will ever see.
The Purpose of Gambling is to Make Losers
Don't gamble on the pot of gold at the end of the rainbow, hocking your house against a lucky chance. The time will come when you have to pay up; you'll be left with nothing but the shirt on your back.
Proverbs 22:26-27 The Message
So back to our little town. The whole purpose of gambling is for the casino to make money—and the gambler to lose. Those big casino owners and backers are not philanthropist wanting to help the community and economy. They are business people wanting to make their fortune off all those gamblers sitting in casinos with blank looks on their faces feeding the slot machines or throwing down chips that represent their family's sustenance.
Drinking, drugs, robbery, and crime accompany gambling when people lose money, which they will, and get angry or depressed and take it out on those around them or become a danger on the road when they get in their cars drunk, mad, and desperate. The adrenalin that flows during games of chance, gambling, quickly leads to addiction. Our quiet little town has all the potential to be inundated with, as the newspaper put it—a degradation of moral character.
**The Christian Perspective
The Bible calls for Christians to be good stewards of the finances that God has given us. Funding casinos is not being good stewards or storing up treasures in heaven. I don't think a Christian would want to be sitting at a blackjack, craps, or poker table or a slot machine when Jesus returns.
19 "Don't store up treasures here on earth, where moths eat them and rust destroys them, and where thieves break in and steal. 20 Store your treasures in heaven, where moths and rust cannot destroy, and thieves do not break in and steal. 21 Wherever your treasure is, there the desires of your heart will also be.

22 "Your eye is a lamp that provides light for your body. When your eye is good, your whole body is filled with light. 23 But when your eye is bad, your whole body is filled with darkness. And if the light you think you have is actually darkness, how deep that darkness is!

24 "No one can serve two masters. For you will hate one and love the other; you will be devoted to one and despise the other. You cannot serve both God and money.

8 And now, dear brothers and sisters, one final thing. Fix your thoughts on what is true, and honorable, and right, and pure, and lovely, and admirable. Think about things that are excellent and worthy of praise. 9 Keep putting into practice all you learned and received from me—everything you heard from me and saw me doing. Then the God of peace will be with you.Matthew 6:19-24 NLT

Some might say, "Oh we go to Vegas, but we never gamble." Every dime spent there is funding all that happens there. "We must act all the time as if it were day. Keep away from wild parties and do not be drunk. Keep yourself free from sex sins and bad actions" (Romans 13:13 NLV).
Or "It's just entertainment with discretionary funds." How could it be entertaining to throw money away with nothing to show for it? I would advise Christians with that kind of discretionary "throw away money" to consider sponsoring a child through a Christian organization like World Vision or helping your church building fund or giving your pastor a bonus. Store up your treasures in heaven.
17 If a bird sees a trap being set,
it knows to stay away.
18 But these people set an ambush for themselves;
they are trying to get themselves killed.
19 Such is the fate of all who are greedy for money;
it robs them of life.Proverbs 1:17-19 (NLT)
Your job is to speak out on the things that make for solid doctrine. Guide older men into lives of temperance, dignity, and wisdom, into healthy faith, love, and endurance. Guide older women into lives of reverence so they end up as neither gossips nor drunks, but models of goodness. By looking at them, the younger women will know how to love their husbands and children, be virtuous and pure, keep a good house, be good wives. We don't want anyone looking down on God's Message because of their behavior. Also, guide the young men to live disciplined lives. (Titus 2:1-6, The Message)
Please pray for Garden Valley Idaho. There are still many more steps to change the laws of Idaho to legalize gambling in Boise County, and Garden Valley could opt out even if it passes. Pray that the 50 voters that exceeded the "nay" votes in Garden Valley open their eyes to the travesty this would be for our precious little town. Pray that some would come to know Jesus through the many discussions that will ensue. Pray for spiritual and physical protection for those of us who oppose legalized gambling in Boise County.
Pray for Las Vegas, the Christians who live there, and those who are ministering to the many lost souls on the strip.
Pray for those of us who live in Boise County and want to maintain the peaceful quality of life that drew us to this pristine paradise where we feel safe bringing our babies and grandbabies to town!
*Note: The city of Boise is in Ada County and is not in Boise County. Boise County is comprised of rural: Idaho City, Placerville, Garden Valley, Horseshoe Bend, Lowman, and Mores Creek.
**To read more on a Christan Perspective of gambling, here are two links or do a Google search:
http://www.gty.org/blog/B110522/is-gambling-ok-dont-bet-on-it
http://ag.org/top/Beliefs/position_papers/pp_downloads/pp_4186_gambling.pdf
Also consider that it was the Roman soldiers–Jesus' killers–who gambled for his clothes, not His followers . . .