Our guest post is from author/speaker Julie Sanders. Julie and I are Mentor Moms on The MOM Initiative team, and today Julie talks about the unexpected happenings that each Christmas brings to all of us, starting with Mary, the mother of Jesus. In my Bible study Face-to-Face with Elizabeth and Mary, I talk about how Elizabeth, who was expectant with John the Baptist, mentored Mary through those first three months after her visit from the angel Gabriel telling her she would be the mother of Jesus.
I also know how difficult this season can be for women with an expectation of being mothers this Christmas season. In Dear God, Why Can't I Have a Baby?, my daughter Kim describes the worse Christmas of her life when all three of her siblings had children and she was still struggling with infertility. She had plans and expectations of being a mother that Christmas, but her arms were empty. Little did she know that the New Year would bring her two babies within nine months!
If you're going to be around friends or family who are struggling with infertility and worried you might say the wrong thing or don't know what to say, the blog post I wrote during National Infertility week will help you: "Hug an Infertile Couple This Week."
If you're the infertile couple, dreading the holidays, the post 10 Ways to Survive the Holidays When You're Infertile is for you.
"Mary" by Julie Sanders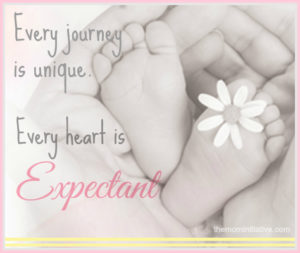 Her betrothal was still fresh when her expectations dissolved in the light of the angel's arrival. To be old enough to be promised was to be mature enough to bear a child. Before Mary even had time to adjust to changes in her own body or warm up to the name "Joseph," everything she anticipated fell away. There would be no joyous gathering of girlhood friends, envious of her new status. None of the other girls wanted to swell with a child before uniting with a husband.
When what we expect falls apart, it's easy to feel paralyzed. At the first sign of a change, Mary was troubled and frightened. She had questions. Before she had time to learn the physical ways of womanhood or enjoy intimacy with a man, her body would be taken over for purposes bigger than she could conceive.
"And the angel said to her, 'Do not be afraid, Mary, for you have found favor with God. '"(Luke 1:30)
No experience has the power to stir a woman's hopes like that of becoming a mother. Whether she enters in through adoption, infertility, or traditional pregnancy, a mother learns to sacrifice her expectations for the gift of raising a child. Instead of being paralyzed by the sudden uncertainty motherhood brings, confidence can be found in knowing, "There will never be a time when our children are out of God's sight or apart from His presence," (from EXPECTANT, Calling the Shots). Every journey is unique, but every heart is expectant.
Most of us have plans for this Christmas season. No one anticipates interruptions like job loss or a life lost. Such unexpected events never appear on our wish list. We rarely address the severity of suffering in our Advent readings. But in the erasing of our expectations and the dissolving of our decisions comes God's opportunities to display His grand plan. He takes our hand, leading us to unwelcoming inns, simple stable accommodations, and to exile in Egypt. Our Father lets us glimpse the greater glory found when life encircles the Prince of Peace.
Motherhood has a way of causing our expectations to fall away. From the moment young Mary received her angelic message, nothing unfolded as she imagined, but she found the greater glory in God's greater plan. "But Mary treasured up all these things, pondering them in her heart." (Luke 2:19)
Let's agree that this Christmas will probably not be according to our plans–hold loosely to your expectations. Let's look for God's greater glory with hearts that are expectant.
Father God,
I want to treasure Your actions in my life. I want to glimpse the glory of being part of Your story. Help me to hold to my expectations loosely and to welcome your plans for me.
Julie lives where tea is sweet and grits are cheesy. She and her husband of 25 years have two nearly grown kids. EXPECTANT: 40 Devotions for New and Expectant Moms was born when God brought a group of young couples into their lives, just as they began to long to grow their families. Julie loves to teach God's word to women in her hometown and across the globe; she is passionate about fighting human trafficking and helping women of all tribes and tongues find God's peace for life. Check out Julie's blog home Come Have a Peace  (www.juliesanders.org) and Marriage Mondays to find reasons for peace and information about her ministry.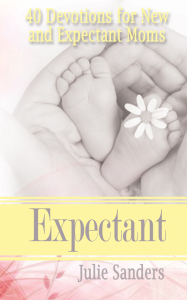 EXPECTANT is available at Barnes & Noble and Amazon.
Follow Julie at:
Facebook: with One Minute4MOM
Twitter: @JulieSanders_