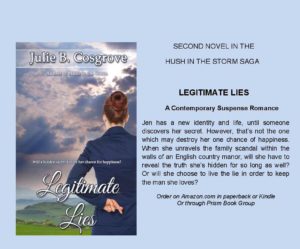 Legitimate Lies by Julie B. Cosgrove
To date, all of my books are non-fiction, but I have been studying how to write fiction for years. Someday, I'm sure God will give me a story to tell, but it hasn't happened yet! I know that many of you have considered writing fiction so I asked author Julie B. Cosgrove to share with us some tips on how she writes fiction. Her latest book Legitimate Lies, released January 14.
I think a writer, especially a Christian one, should create with a message in mind. This is true for fiction as well as non-fiction. It is not enough to just tell a story, though everyone loves a good tale. But there should be a moral element to it. What can the reader learn while journeying with the character? What trials and triumphs occur, and what are their outcomes? Does good succeed over evil? Does the guy get the girl because he is sincerely loves and honors her?
Above all else, my POV (point of view or main) character should have triumph over a moral struggle and come out stronger in his or her faith because of it. God's redemptive love should halo the outcome. And hopefully, this character's journey will also influence positively others, including the reader. I want my readers to pump their fists and whisper, "Yes!" at the end, even if they are twirling a facial tissue between their fingers as well.
But, I also want two more things from my readers—and these are my main goals. First, I want them to experience my character's life as closely as if they were sitting on his or her shoulder. Mary DeMuth, a rather famous Christian author, once gave out toy telescopes in a workshop and told us what we, as authors, see through it is all our readers should see as well. This technique adds suspense and gives the reader personal ownership in the character. It keeps the action real and at ground level. No omnipotent observer tantalizes the reader with, "But if only she knew what lay around the corner."
As a result, I strive to not reveal too much, even though I hope the reader may wonder from time to time, "Oh no, she didn't just do that, did she? Didn't she see that coming?" I use a good deal of sensory perceptions and body language in my writing so the reader can visualize the scenes as if they were watching them on their TV or computer. In fact, several people who have read my novels claim that is exactly what their experience felt like.
As a freelance writer, I once landed an eighteen-month contract writing articles for a travel website. Solely by internet surfing, I had to recreate places of interest from the view points of parents, business people and pet owners. Doing that gave me valuable insight into scene description. I hope my readers taste, feel, hear and see what is going on along with my characters.
Secondly, I want readers to become aware of a current social issue and how tenacious faith can bring about a positive result. However, I strive to make the plots and characters' reactions realistic, accurate and meaningful. Therefore, I put in a lot of research and interview numerous professionals who deal with these dilemmas every day.
I hope that, through my keyboard, I can mentor to other women (and men) about the numerous ways God is present in all circumstances to guide, comfort and correct us. Love does triumph, and evil can be defeated. There are no lengthy sermons, or paragraphs of Scriptural interpretations in my novels that may take the reader out of the scene. Instead, through dialog, self-thought, and action, I want each reader, after traveling vicariously with my characters, to be encouraged to seek a deeper relationship with our Lord and Savior as well as find the courage to tackle his or her own earthly battles when they arise.
My Books
In my first novel, Focused, I wrote about an empty-nest couple who realize their marriage is salvageable, even though both had slipped into humdrum patterns, there's still a love-spark to fan into a flame again. When I read how many marriages end in divorce after the death of a parent or the child leaving home, I wanted to address this through the eyes of both husband and wife in a heartfelt yet light-hearted manner.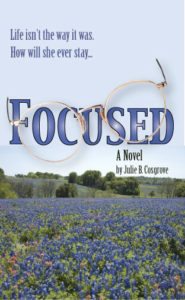 In Hush in the Storm, the horrors of human trafficking and what the average American woman can and should never do to thwart it, is an underlying theme. This evil invades every city and small town in our nation and throughout the world. But, there are positive, productive things each of us can do about it. The primary theme of the book is a grieving young widow finding the strength to move on and love again.
In my new release for 2015, Legitimate Lies, recovery from the guilt of wrong decisions and out-of-marriage sex is touched upon. When we harbor guilt, it can block us from fully experiencing God's love for us, and love from others. The "What if they find out?" question is always there. Many people live with lies— the proverbial skeletons in their closets. In this novel, just about every character has them, which keep the reader guessing.
Yet in all three, the main character is the primary focus—her life, her struggles and her discovering that God is right there with her all along. And yes, there is a romance to sweeten the plot in each of my novels, plus sprinklings of suspense to keep you flipping the pages.
A novella, Navy Blues, which launches in July 2015, speaks to love being other-person-orientated despite our society's self-centered, "I have a right" attitude in today's world.
Another novel, Freed to Forgive, which will premiere in October 2015, deals with how an unforgiving spirit, no matter how heinous the act against us, can poison our outlook on life and block us from fully embracing God's redemptive love.
To preview any of my books, fiction or non-fiction, you may go to www.juliebcosgrove.com . All in e-tablet and paperback formats through major retailers such as Amazon. I would appreciate you following my inspirational blog, Where Did You Find God Today? , and liking me on Facebook. Thanks.
Janet's note:
Julie makes this statement and I would like to know your opinion as a reader of Christian fiction: As a Christian author, I believe I have a standard to set, although even amongst this tightly controlled community there are differing opinions. Should there be any sex at all, even if the scene tactfully fades to black? Can the characters share a glass of wine? Are any "mild cuss words" allowed if it fits the character's personality?
What are your thoughts on Julie's question? Please leave a comment:
If you're reading this blog online, click on the "leave a comment" silver circle on the right at the end of this blog and a comment box will appear for you to leave your comment.
If you have received this blog via email, click here to the online blog post. Scroll to the end of the post to the "leave a comment" silver circle on the right and a comment box appears for you to leave your comment.
Look for an interview with Julie B. Cosgrove in February's About His Work Newsletter and a chance to win a copy of her new book, Legitimate Lies.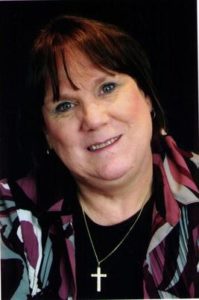 Julie B Cosgrove is a professional speaker, workshop leader, freelance writer and multi-published author. She has penned several Bible studies, inspirational books, and faith-based romantic suspense novels, and writes regularly for numerous Christian websites and publications. She is a member of Advanced Speakers and Writers, American Christian Fiction Writers, North Texas Christian Writers, and has achieved the highest goal in Toastmasters in public speaking, the Advanced Communicator Gold. She is widowed and lives in Fort Worth, TX with two cats.