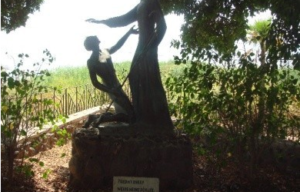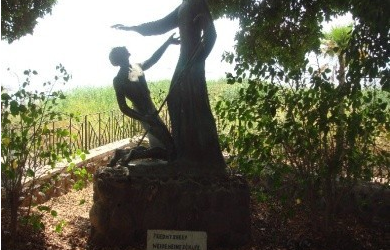 Site of Peter's Primacy Church at Tabgha, near Capernum – the area of Seven Springs
When you saw the title of this blog, you probably thought I received a life-changing phone call, but I'm not talking about that kind of a call. I'm talking about "The Call" from the Lord. Yes, that "Call."
Twenty years ago, April 25, 1995, I was at a Women in Ministry Conference in Portland, OR trying to figure out how God was going to use me when I finished seminary. I had told Him I would work anywhere except in women's ministry. Why? Because when I was a divorced, single, working mom, I felt unwelcome in women's church activities. There were definite clicks and I wasn't part of the "in group." As the manager of an insurance team, I had watched some women's ruthless ways in business, cattiness, nonprofessional, and whining and I didn't want any part of it. Surely, the Lord knew that and would use me in the business world.
The second night of the conference, I was sitting at a round table, sipping coffee and listening to piano music while awaiting the evening's speaker, Jill Briscoe. Suddenly, without warning, I heard the words "Feed my sheep." I looked around the table to see who was talking about sheep, but everyone was engaged in their own conversations. So I said, "What sheep? Where? And what would I feed them if I found them?" Again, I heard, "Feed my sheep."
I Agreed to Feed His Sheep! Now What?
As I realized it was the Lord talking, I said, "Ok."
That night, I called my husband and excitedly told him about my encounter with the Lord. Dave calmly said, "Well honey, let's pray for the Holy Spirit to reveal to you what this means." So we prayed.
God answered the next morning when the speaker told us she was going to teach from John 21:15-17 where Jesus is telling Peter if you love me, "Feed my sheep." I looked at the handout to see what her topic was and she was going to talk on "Shepherding Women in Your Church." I let out an audible, "Oh, no!" This can't be possible; surely God has the wrong woman.
When I arrived home, God began to reveal that the sheep were women and the feeding was mentoring, and I've been feeding His sheep now for twenty years. First, I started the Woman to Woman Mentoring Ministry at Saddleback Church, which continues blessing women in churches around the world. Then God asked me, a non-writer at the time, to write a resource to help churches start their own mentoring ministries. Next, He sent me on the road to share the Titus 2:3-5 message and glued me to my computer writing books about "Sharing Life's Experiences and God's Faithfulness."
Celebrating 20 Years in Ministry

Circle Drive Baptist Church, Colorado Springs, CO April 25, 2015
On April 25, 2015, in commemoration of my 20-year anniversary of feeding His sheep, God had me speak at Circle Drive Baptist Church in Colorado Springs on the topic they chose, "Reigniting the Titus 2 Woman." The next day, I trained in Parachute, CO at Grace Bible Churches Woman to Woman Mentoring ministry first Kickoff Night. I hadn't taught at a Kickoff Night training in many years, but it was such a sweet way to reminisce and be back in the heart of where it all began—watching women walk side-by-side with Christ at the center of their relationship.
Do I think God planned for me to have those mentoring speaking engagements on the exact 20-year anniversary of hearing "Feed my sheep"? Absolutely! That was all God. No coincidence, no serendipity—100% God celebrating with me the amazing ministry that can take place when we simply say "Ok" to His call.
How is God Calling You?
And we know that in all things God works for the good of those who love him, who have been called according to his purpose.—Romans 8:28
God calls all of us. Every Christian has a purpose and a call. But the key to knowing your call is to listen…have ears that hear God when He speaks whether it's through reading your Bible, hearing a sermon, listening to worship music…. He's talking all the time, but we have to listen.
When we hear His Call, we have a choice, "Yes Lord I hear ou and I will do what ou ask, and go where ou lead." Or "Not now Lord, I'm too busy … too tired … too unsure of myself … just not ready to make such a commitment."
Where has God been calling you? What has He asked you to do? We're living in times where every committed Christian needs to know God's purpose for our life and follow the "Call" that will not only change our life, but the lives of others, the culture, the world.
Many are the plans in a person's heart, but it is the Lord's purpose that prevails.—Proverbs 19:21
If you receive this blog by email leave a comment here.
I would love to hear your mentoring story to share in my next book. If you've been a mentor or mentee, please contact me.