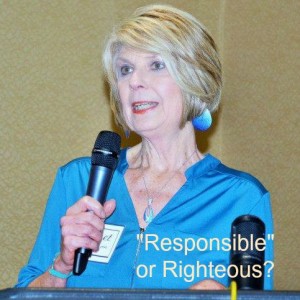 Recently, as I've been taking a vocal stand against immorality and championing morality, I've experienced some pushback and been called names like "legalistic," "righteous," and "self-righteous." I've also read many arguments justifying unrighteous behavior as being "responsible."
So the Holy Spirit started stirring thoughts in my heart about why being righteous is a good thing, actually a gift from God, but responsibly doing an unrighteous act is a wrong thing. There's no right way to "responsibly" do the wrong thing…I'm just sayin' it doesn't compute.
Let's Look at Righteous Versus Self-Righteous
7 But in fact, it is best for you that I go away, because if I don't, the Advocate won't come. If I do go away, then I will send him to you. 8 And when he comes, he will convict the world of its sin, and of God's righteousness, and of the coming judgment. 9 The world's sin is that it refuses to believe in me. 10 Righteousness is available because I go to the Father, and you will see me no more. 11 Judgment will come because the ruler of this world has already been judged. John 16:7 NLT
No one is able to earn a righteous standing in God's sight, so in His grace and mercy God gave us righteousness as a gift through Jesus Christ. Therefore no one will be declared righteous in God's sight by the works of the law; rather, through the law we become conscious of our sin (Romans 3:20).
For if, by the trespass of the one man [Adam], death reigned through that one man, how much more will those who receive God's abundant provision of grace and of the gift of righteousness reign in life through the one man, Jesus Christ. Romans 5:17
So when someone calls me "righteous" when I'm speaking against sin or unrighteous behavior, I say, "Thank you! As a Christian, with the help of the Holy Spirit, I strive to follow in the righteous footsteps of Jesus Christ my Lord and Savior. So you've just confirmed I'm making progress. And BTW isn't it interesting that the root word of righteous is right."
If they call me self-righteous or legalistic, I correct them: "No, because I'm speaking from God's Word and not my words or feelings, I'm God-righteous. Do you have a problem with God's righteousness? No one can be righteous on his or her own, we're all unrighteous sinners, but we're made righteous through our relationship with Jesus Christ. Would you like to know more about how to live in righteous peace? The fruit of that righteousness will be peace; its effect will be quietness and confidence forever (Isaiah 32:17)." And
10 For,

"Whoever would love life
and see good days
must keep their tongue from evil
and their lips from deceitful speech.
11 They must turn from evil and do good;
they must seek peace and pursue it.
12 For the eyes of the Lord are on the righteous
and his ears are attentive to their prayer,
but the face of the Lord is against those who do evil. 1 Peter 3:10-12
What's Wrong with Being Responsible?
Responsible is usually a good thing, but it can also justify bad or sinful behavior. Let me give you examples:
Scenario One
A young girl goes to Planned Parenthood to get birth control pills because she wants to have "responsible" sex with her boyfriend. An oxymoron: Having sex with her boyfriend is irresponsible, but she's justifying her immoral behavior by "responsibly" getting birth control pills! Naught. The responsible and righteous thing to do would be to tell her irresponsible boyfriend that she's not having sex until she's married, and if he's not OK with that, she'll find a boyfriend who responsibly respects her. That would be responsible. Instead of teaching young people to be righteous and moral, our culture is teaching them how to be "responsible" sinners!
Scenario Two
In my book, Praying for Your Prodigal Daughter, I tell the story of how my daughter left for college to live with her boyfriend. But while she was still in high school, she told me she wanted to go live with him at his parent's house because that would be the "responsible thing to do to determine if they were compatible." I was able to talk her out of doing such an irresponsible thing, but I couldn't talk her out of living with her boyfriend in college … but I did pray her out of that relationship … and eventually prayed her into wanting to live a responsible righteous life as a follower of Jesus. Praise God!
Scenario Three
A pregnant woman goes to Planned Parenthood to get an abortion as the "responsible thing to do considering her circumstances." Our culture tells her that instead of doing the righteous thing and giving her child life and then perhaps finding a good home for the baby, she should "responsibly" kill it.
Then there's the ensuing aborted baby "tissue" and baby parts, so our culture says the responsible thing to do is to sell them for research. So abortionists have become "responsible" barbarians.
Scenario Four
The topic of drinking always brings up the word responsible. And you know what? Everyone has a different definition of what "responsible drinking" looks like. Some will say only wine, others only beer. Some will say one drink … maybe two. Others say it's OK to drive after one or two drinks, while others say it's only responsible to drink at home, even though it's in front of your kids. So really everyone makes up their own definition of "responsible drinking" to justify the way they want to drink.
There's always the argument that you can reach the world better if you fit in more with them. Jesus definitely went to Zacchaeus' and Matthew's house, but His sole purpose was to help them and their friends change their ways and become His followers … not to responsibly join in their sinful behavior.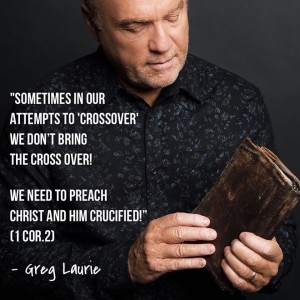 Scenario Five
There's the argument that letting gays get married will make them more responsible about not transmitting AIDS and other diseases characteristic of homosexuality. Really? Legalizing a practice that goes against everything God created man and woman to be and defiling His design for marriage, is simply, "responsible" sinning.
Holy and Set Apart
In God's Best for Your Life, a Bible study I wrote for First Place 4 Health, I discuss that as Christians, the Bible clearly instructs us to live holy, righteous, and set apart lives: in the world but not of the world. The world today isn't going to like us because our Christian lives convict them and make us look "holier than them." Hmmm … maybe that's because through Christ we are sanctified. What's wrong with living holy lives as God calls us to live? Why would we be offended or try to fit in more with culture than with God's kingdom here on earth?
16 For I am not ashamed of the gospel, because it is the power of God that brings salvation to everyone who believes: first to the Jew, then to the Gentile. 17 For in the gospel the righteousness of God is revealed—a righteousness that is by faith from first to last, just as it is written: "The righteous will live by faith." Romans 1:16-17
We're responsible as Christians to live righteous, holy lives as best we can, and not try to find loopholes in the Bible to "responsibly" justify our unrighteousness. So sex outside of marriage, homosexuality, abortion, abusing our bodies with drugs and alcohol, and any immoral behavior isn't responsible or righteous.
If we prayerfully make righteous choices, they'll be responsible choices!
Therefore do not let your good be spoken of as evil; 17 for the kingdom of God is not eating and drinking, but righteousness and peace and joy in the Holy Spirit. 18 For he who serves Christ in these things is acceptable to God and approved by men. Romans 14:16-18 NKJ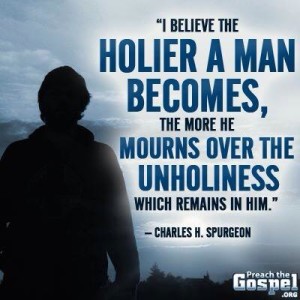 If you received this post by email, please leave a comment here. I would love to hear your thoughts.