"Darn it!" my husband Dave muttered after hitting his golf ball into the woods.
He was playing golf in a scramble game with a group of men he'd never met before.
"Is that all you have to say?" asked one of the men.
"Yes, that's it," said hubby.
Later in the game, Dave made a birdie putt that earned his team a 3rd place finish. The team captain was elated, "Somebody buy that man a beer!"
Hubby, "Thanks, I don't drink, but a Diet Coke would be great."
A man in the group,  "Are you LDS?"
Hubby, "No, I go to the Community Church."
When my husband relayed these conversations to me, God put several thoughts on my mind:
My husband's actions were a great witness on the golf course.
But why did they assume that because he didn't swear or drink that he was LDS? Why didn't they ask if he was a Christian?
Actions Speak Louder Than Our Words, or in this Case, Lack of Words
Dear children, let us not love with words or speech but with actions and in truth. 1 John 3:18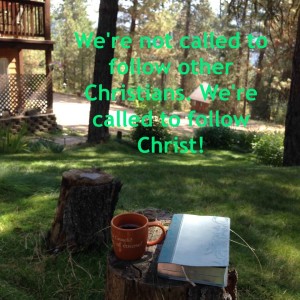 I've heard many Christians justify their actions and words by saying they can reach more people for Christ if they "fit in," but you'll never find that practice supported in the Bible. Instead, the Bible instructs us to put off the old way of life and put on the new. It also tells us that we'll be in the world, but we're not to conform or "fit in" to the world.
18 They are darkened in their understanding and separated from the life of God because of the ignorance that is in them due to the hardening of their hearts. 19 Having lost all sensitivity, they have given themselves over to sensuality so as to indulge in every kind of impurity, and they are full of greed.

20 That, however, is not the way of life you learned 21 when you heard about Christ and were taught in him in accordance with the truth that is in Jesus. 22 You were taught, with regard to your former way of life, to put off your old self, which is being corrupted by its deceitful desires; 23 to be made new in the attitude of your minds; 24 and to put on the new self, created to be like God in true righteousness and holiness.

25 Therefore each of you must put off falsehood and speak truthfully to your neighbor, for we are all members of one body.

Ephesians 4:18-25
In last week's blog post, How to Mentor in a World Forsaking God, I mentioned that corrupt tax collectors, Zacchaeus and Matthew, each invited Jesus to their home and He went. Many people like to use these two scenarios to justify their own actions in participating in worldly activities. It's true, Jesus did receive criticism for hanging out with sinners, but He had a mission and a purpose. He didn't go to their homes to party with them and participate in their sins and corruption … he wasn't going to cheat people out of their money like these two men or celebrate and condone their deception with a drink and a toast.
Zacchaeus and Matthew had invited friends to their houses and Jesus had a readymade audience. He went there to tell them about the Gospel and how they could turn from their wicked ways and sins, ask for forgiveness, and become new men in Christ. He went into their world to tell them about His world–to make them His followers, not to follow them! A caveat many people miss.
 Jesus entered Jericho and was passing through. 2 A man was there by the name of Zacchaeus; he was a chief tax collector and was wealthy. 3 He wanted to see who Jesus was, but because he was short he could not see over the crowd. 4 So he ran ahead and climbed a sycamore-fig tree to see him, since Jesus was coming that way.

5 When Jesus reached the spot, he looked up and said to him, "Zacchaeus, come down immediately. I must stay at your house today." 6 So he came down at once and welcomed him gladly.

7 All the people saw this and began to mutter, "He has gone to be the guest of a sinner."

8 But Zacchaeus stood up and said to the Lord, "Look, Lord! Here and now I give half of my possessions to the poor, and if I have cheated anybody out of anything, I will pay back four times the amount."

9 Jesus said to him, "Today salvation has come to this house, because this man, too, is a son of Abraham. 10 For the Son of Man came to seek and to save the lost." Luke 19:1-10

As Jesus went on from there, he saw a man named Matthew sitting at the tax collector's booth. "Follow me," he told him, and Matthew got up and followed him.

10 While Jesus was having dinner at Matthew's house, many tax collectors and sinners came and ate with him and his disciples. 11 When the Pharisees saw this, they asked his disciples, "Why does your teacher eat with tax collectors and sinners?"

12 On hearing this, Jesus said, "It is not the healthy who need a doctor, but the sick. 13 But go and learn what this means: 'I desire mercy, not sacrifice.' For I have not come to call the righteous, but sinners." Matthew 9:9-13
The Great Commission, Matthew 28:16-20, commands us to go to those who don't know Christ, but our mission is to share Jesus with them, not hide our faith.
Daily Walk Devotional, August 4, 2015, Suggests an Enlightening Exercise:
Think back over the last seven days and count the number of people you have talked to: family members, coworkers, classmates, friends, neighbors, service people, store clerks [golfers or other sports participants]. Don't forget those you communicated with by phone or e-mail, or over the back fence.
Now subtract the number of those who are already Christians. How many are left—5, 10, 20, or more? That represents the number of opportunities you have each week to offer hope, encouragement, and a word of witness to a lost world.
We Should Never "Fit In," There Should be Something Different About Us!
Jim Caviezel is the actor who portrayed Jesus in Passion of the Christ. As I was writing this blog post, the Lord got my attention on Facebook with a picture of Jim in an article that talked about his Pro-life commitment and adopting two Chinese children with brain tumors. But as I read further, I came across a video of Pastor Dave Cooper interviewing Jim at Rock Church in San Diego. As I listened to the interview, Jim said exactly what I had already written here in this blog! In the heading above, I had used the same words he uses in saying that Christians should never "fit in." I would encourage you to watch the entire powerful interview. Here are several quotes from Jim Caviezel, a follower of Jesus:
"We all have a choice. Freedom exits not to do what you like, but to do what you ought."
"God doesn't send anyone to hell; they choose hell."
"Many Christians want to be a little bit pagan to fit in. They don't want to be Holy".
"You have to take Jesus with you in your life every day. He's part of you. People need to see God in you. They'll want what you have."
"When you live in holiness, when you really try to stop sinning, you become braver. You become more courageous, you become a man of your word. You become a man of conviction that you're not willing to sell out and you're really a true knight in shining armour." [From another related article]
How Do We Take Jesus with Us?
When others are laughing at dirty jokes, we don't laugh and change the subject.
When others are cussing or taking the name of the Lord in vain, we don't. We might respectfully say, "Hey, that's my Father [or God or Jesus] you're talking about there. Is He yours too?"
When others are getting drunk, we don't. We sip on a nonalcoholic beverage.
When offered a drink, and we don't drink, we say, "No thank you. I don't drink, but I'd love a glass of water."
When someone asks us to do something we know isn't right, i.e. take drugs, watch a movie full of sex and bad language, cheat, hang out with the wrong crowd … we refuse and try to get them to not do it also.
When others accept something we don't accept—abortion, gay marriage, couples living together—we don't go along with the conversation, which insinuates we agree with them. We kindly let them know we're not in agreement and why.
Silence conveys confirmation.
We don't give in on the little things or the big things.
12 Now this is our boast: Our conscience testifies that we have conducted ourselves in the world, and especially in our relations with you, with integrity and godly sincerity. We have done so, relying not on worldly wisdom but on God's grace. 2 Corinthians 1:12
Why Did They Ask My Husband If He Was LDS?
The short answer to that might be because we live in a heavily populated Mormon area. But the long answer is that many Christians have let the world influence them instead of them influencing the world. Christians don't stand out from the crowd anymore. They should, but they don't.
Christians differ with Mormons on theology, but the one thing you can't differ with is that you don't see Mormons drinking, swearing, or telling dirty jokes, and they make their family a priority. Maybe you've see some who differ from this, but I live amongst them and I haven't seen it yet. They are kind and generous, and I don't think they would ever be mistaken for being "worldly" or trying to "fit in."
So what's wrong with Christians? We know the Truth. We know that Jesus is the son of God, He went to the cross to save us from our sins, and Jesus is the ONLY way to eternal life with Him. It's a personal decision no one can make for us, and no amount of works or being good will save us. But familiarity can lead to complacency. We're bombarded by tolerance to sin today, even the legalization of sin by our government.
Christians can become desensitized to sin around us and in our own spiritual life.
Desensitization: a process by which a patient with allergies receives injections containing an increasing amount of the substance to which that patient is allergic. As a result, the body in time becomes accustomed to the foreign substance and is no longer irritated by it.
Because Christians rely so heavily on grace, it's easy to become complacent and tolerant of sin in the world and in our own life, despite the apostle Paul's warning in Romans 6:1-2: "What shall we say, then? Shall we go on sinning so that grace may increase? By no means! We are those who have died to sin; how can we live in it any longer?
We've seen in the world, and even in some Christians lives and churches, sins once considered unthinkable are first tolerated, then condoned, and ultimately openly endorsed. Instead of the Christian faith influencing the world to turn from their sins and wicked ways, many Christians have let the world influence them to accept and condone some sins.
For everything in the world—the lust of the flesh, the lust of the eyes, and the pride of life—comes not from the Father but from the world. 1 John 2:16
Those men on the golf course knew from my husband's actions and words that he was a man of faith and they respected him. He can still play the game of golf and be in the "world," without compromising his beliefs, faith, or conservative standards. And guess what, they still want to play golf with him; he still "fits in" the golf world even though he doesn't swear or drink with them and they now know he's a Christian. What a mission field he has.
Therefore, I urge you, brothers and sisters, in view of God's mercy, to offer your bodies as a living sacrifice, holy and pleasing to God—this is your true and proper worship. 2 Do not conform to the pattern of this world, but be transformed by the renewing of your mind. Then you will be able to test and approve what God's will is—his good, pleasing and perfect will.

3 For by the grace given me I say to every one of you: Do not think of yourself more highly than you ought, but rather think of yourself with sober judgment, in accordance with the faith God has distributed to each of you. Romans 12:1-3 
What ways do you see Christians trying to "fit in" with the world?
If you received this blog by email, leave a comment here.