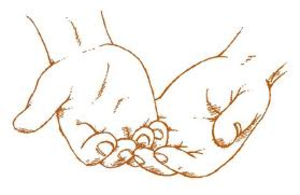 Rosalie Campbell and I have been friends for many years. We met at a Mount Hermon Christian Writer's Conference when Rosalie became interested in my Woman to Woman Mentoring resources, since she also has a heart for mentoring. Rosalie answered God's call to start Garden Path Ministries. We have stayed in touch over the years. Rosalie has since retired from her ministry and became a widow several years ago. She has shared several stories in my books and her church is currently starting a Woman to Woman Mentoring Ministry. Read more at the end of this post about how God has used this sweet woman in the years since she became a Christian in her forties. I know you'll be inspired to pray about the plans God has for you too.

I knew when I saw the email from Rosalie with an attachment that she was sending me another story. As I read "In God's Hands," I knew God wanted me to share Rosalie's story with you. I'm sure there are many of you who can relate.
In God's Hands by Rosalie Campbell
I haven't been sleeping well for the past few weeks. When the stock market plummeted recently, I worried about my dwindling finances and investments. I felt like I was in a stew: constantly simmering over my circumstances and the difficult relationships with my three grown daughters.
One night, as I tossed and turned in bed, I mulled a hundred things over in my mind and plotted different scenarios for managing my life. Then God spoke to my heart. Even though He usually speaks in a still, small voice, His message was loud and clear. He told me, "Open your hands!" I thought, Okay, Lord. As I opened my hands and stretched them out, I realized I couldn't hold onto anything with my fingers apart and palms open. I couldn't even pull up the blanket.
God revealed, "This is how I want your hands – open – so I can take all that you have been holding onto: worries, concerns, hurts, regrets, hang-ups, disappointments, control of your circumstances, and the difficult relationships you face.
God reinforced that same message as I read the September devotional from In Touch Magazine. It was titled, "The Way to Finish Well," which focuses on 2 Timothy 4:6-8. The author, Charles Stanley, asked the question: How can God's people finish well in life?
Stanley answered, "God doesn't require us to have perfect lives in order to finish strong. We can live abundantly and be ready to meet our Maker by surrendering, walking victoriously with Christ, and serving others."
I contemplated those words – surrendering, walking with Christ, and serving others.
When I think of surrender, I picture a thief caught with a bag of stolen goods. The cops or feds come in and tell that person, "Drop it and hold up your hands."
God is neither a police officer nor a federal marshal insisting we release "our stuff." He is a mighty, loving God who is willing and able to carry all our burdens. Matthew 11:28 tells us, "Come to me, all you who are weary and burdened, and I will give you rest." Our part is to have a willingness to release those heavy weights to Him. Then He gives us peace. God doesn't force us to drop our heavy load. Yet, He wants us to release it to Him because He knows if we continue to carry it, our well-being (mind, heart, soul) will be harmed.
I thought about all the concerns, hurts, and worries I needed to surrender to God. God's Word says He would carry them instead of me. I liked the idea of releasing the whole heavy bundle of stuff I was carrying. I decided it was time to do it. I gave it all to Him!
The next step after surrender is to take God's right hand. Isaiah 41:10 says, "So do not fear, for I am with you; do not be dismayed, for I am your God. I will strengthen you and help you; I will uphold you with my righteous right hand."
Those words assure me I will be safe and secure at His side. With my left hand in His, God will support, guide, direct, and help me. My right hand is free to reach out to others: to serve and help them. Proverbs 31:20 says, "She opens her arms to the poor and extends her hands to the needy."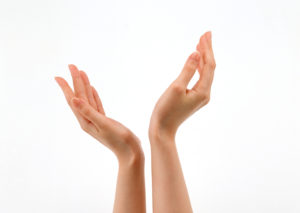 This was a simple yet powerful life lesson for me. The whole process resembles a cross. As I stand firm on the foundation of God's Word (Jesus Christ), I raise my hands up to God, then surrender and let Him have all control of my life. Then I give my one hand to God so He can guide me on my life's journey and my other hand is free to serve others. I become an extension of God's love and grace.
I felt an amazing sense of relief as I surrendered my finances for God to resolve. Now my part is to stay within a limited budget and be wise with the money I have left.
I have also surrendered my relationships with my three daughters. Over the years, I have desperately tried various ways to receive their love (with gifts, trips, lunches out) so I could feel good about being their mother. It finally dawned on me that I had been looking to them to bring me fulfillment. The truth is: they are not at a place or mindset to give me their love or respect. I have been "looking for love in all the wrong places" as the song goes. My daughters are not perfect; they can only give me a fraction of the love I need.
I was looking for unconditional love. The unconditional and perfect love comes from God. My fulfillment comes from Him because He fills all my needs. As I seek Him, God is the One who gives me the full measure of the love I need. I stand confident and assured that He will never leave me or forsake me. He is by my side holding my hand. As I hold onto God's hand and walk with Him, He directs my path. He has a plan and purpose for me. He wants me to love and serve others.
God, through His Holy Spirit, equips me with spiritual gifts. He gives me opportunities to utilize those gifts. My role, as a godly woman, is to reach out with my hands to those in need.  
What we do with our hands is crucial to leading a fulfilling life.
How have you seen God use your hands when you surrender all to Him?
If you received this blog by email, comment here.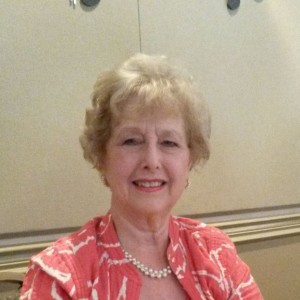 Rosalie Campbell accepted the Lord Jesus in her life while in her 40's. As a new Christian, she was discipled for two years by a godly woman from her church. Rosalie worked as an interior designer in her own company, Design Trends, for over twenty years. God urged her to serve in ministry by "decorating hearts instead of homes." She reached out to women who struggled with emotional hurts and led a Bible study for divorced and widowed women then started support groups for ACADF (Adult Children of Alcoholics or Dysfunctional Families). After seven years of facilitating these groups, she wrote a study, Come Back to the Garden, for women who wanted to find restoration from past hurts.
In 1998, Rosalie founded and established Garden Path Ministries as a non-profit organization to educate, equip and encourage women in transition and crisis situations.
In 2002, she had an opportunity to offer her garden study as a correspondence course for women in prison. These courses matched Christian women on the outside to encourage women inside the bars. In 2008, GPM filmed a series called Living Skills for Success, an eight-part video series with qualified Christian speakers on topics to help female inmates re-enter society and lead productive lives. This program continued until 2012. The correspondence course is still being used in prisons in California, Texas and Oklahoma. Over the years, GPM trained many women from local churches to be respondents to inmates doing the course as well as volunteers for ministry work.
Rosalie felt God urging her to write two studies for men and women in prison that would be easily understood and give the basics for spiritual growth. Turning from Darkness to Light and The Shepherd's Voice are distributed to inmates through the chaplains at prisons Arizona and California. Over 7,350 of these studies in English and Spanish have been sent to inmates.
In 2012, God opened a new door of opportunity for Garden Path Ministries. When a retired parole officer in Riverside County, CA volunteered for the ministry, she saw the need to help people make the transition from prison to life on the outside. She arranged to get a vacant office space in Moreno Valley, CA donated for ministry use.
With the grace of God, FOCUS Outreach Center was birthed and has expanded to three office spaces. GPM began offering the Living Skills program to women recently paroled. This outreach ministry took a different direction due to the needs in the community. Because of the many homeless people who camp nearby, FOCUS now provides food (serving over 630 meals per month) clothing, haircuts, and court approved programs for recovery, parenting, anger management, domestic violence drug and alcohol counseling. Today, ninety-five percent of the clients of FOCUS are men.
Rosalie is still very active in the ministry. Her journey in ministry has been a joyful yet challenging one. It took many twists and turns, ups and downs. Through it all God led the way. All that has been done has been through the amazing grace of the LORD. A wise pastor once told Rosalie, "A good leader will work her out of a job and turn it over to another qualified person who wants to serve the Lord." Recently, she turned over the administrative duties of GPM and FOCUS Outreach Center into the capable hands of a devoted volunteer, Teddi Vesey.
This year, Rosalie started Janet Thompson's, Woman to Woman Mentoring Ministry at her church in Menifee, CA.