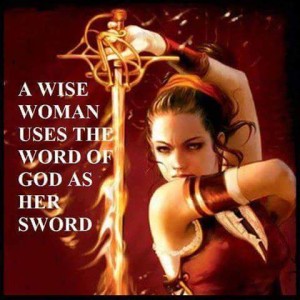 My husband and I give participants of our small groups, family, and friends a handout for Preparing for War from the armor of God in Ephesians 6:10-18. Periodically we'll ask:
                  "So are you putting on the armor of God we told you about?"
Almost universally, the response is a shrugging of shoulders and "No, we're not . . . ."
When we were first married, I studied spiritual warfare at Fuller Theological Seminary with Dr. Charles Kraft, and my husband went through a Neil Anderson course on spiritual warfare. God knew the spiritual battles we would incur in our years together, so He equipped us both with the understanding that "our struggle is not against flesh and blood but against the rulers, against the authorities, against the powers of this dark world and against the spiritual forces of evil in the heavenly realms" (Ephesians 6:12).
God warns that the only way for Christians to fight this inevitable spiritual battle is to "Finally, be strong in the Lord and in his mighty power. Put on the full armor of God, so that you can take your stand against the devil's schemes" (Ephesians 6:10-11).
We are cautioned to "Be alert and of sober mind. Your enemy the devil prowls around like a roaring lion looking for someone to devour (1 Peter 5:8).
No Weapon Formed Against Us Can Prosper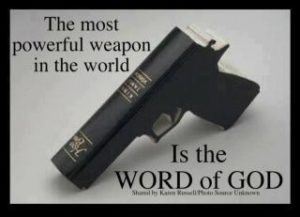 For though we live in the world, we do not wage war as the world does. The weapons we fight with are not the weapons of the world. On  the contrary, they have divine power to demolish strongholds.                2 Corinthians 10:3-4
This blog post is not about owning guns, but it is about Christians choosing a gun over the sword of the Spirit, which is the Word of God (Eph. 6:17).
Believers who fear man more then they fear Satan.
Believers who put more faith in a gun's protection then faith in God's protection.
Believers who pack a gun, but don't unpack their Bibles.
Jesus didn't protect himself with a rock, a sword, or a knife. He fought evil with God's Word, the sword of the Spirit, the only weapon He ever used. But sadly, today many of Jesus' disciples know more about guns then they know how to use the only offensive weapon in the armor of God, the sword of the Spirit. They're going out every day into the world spiritually naked without the belt of truth, the breastplate of righteousness, the shoes of the gospel of peace, the shield of faith, the helmet of salvation, and the Sword of the Spirit securely prayed in place (from Ephesians 6:10-18).
And Satan gloats. If he can get Christians focused on trying to defend and protect themselves more with man's weapons than fighting him with God's weapon, Satan wins.
Do You Have a War Room?
Many saw the movie War Room and I'm sure were impressed with the power of prayer portrayed in this movie. But how many went home and set up a War Room? When I told my 7 year-old granddaughter the name of the movie, she wasn't sure she wanted to watch it because she thought it would be a war movie. After our family watched it together, I asked her: "Do you know what a war room is now?"
Sienna: "A room where you pray," she said confidently.
Friends, I hope you realize the mighty power of Jesus we have within us is not just fictional in a movie. Miss Clara in War Room understood how to use that power. She stood up to the assailant demanding her purse at knife point and told him in the "name of Jesus" to put down his knife. And he did. But some will say that's just in the movies. . . . Maybe not.
Let me share with you a real-life "Miss Clara" story that happened last week to one of my Facebook Friends, Terri Gillespie. I asked Terri if I could share her story with you and she said absolutely.
*****************
Jan 10, 2016 on Terri Gillespie's Facebook Post
Yesterday, at 1:26 pm I was robbed at gunpoint.
As I type these words, it still feels surreal. And as I process the event, I realize how easy it would be to turn this into a political issue, or a statement on the darkness of this world, but it was so much more than that.
First, what happened: My friend, Cathy and I were traveling back from our writing retreat at the Jersey shore. We decided to stop in Vineland, NJ for some lunch and shopping. We had a lovely experience with the young woman who helped us—she was a Christian and Zionist—and walked back to my car with our purchases.
My vehicle was packed with our bags and other packages from a weeklong retreat. Our clothes hung from the backseat carrack.
I couldn't find my cell. I opened the back door on the driver's side, placed my purse on top of a suitcase, and leaned over to search for it.
I asked Cathy to call my cell to see if it was in my purse. I felt something tapping me on my back and thought it was the clothes hangers. Finally, the phone rang in my purse, just as I felt the tapping again. I straightened and turned and there was a young man with a gun. He made sure I saw he had a gun. I remembered thinking two things. One: "Oh man!" Two: "Do glocks come in silver?"
He motioned toward my purse and whispered something. I hesitated, then reached for my little wallet. I remembered a scene from the movie War Room and I turned toward him and said, "Jesus loves you. He wouldn't want you to do this."
Cathy asked me if I had found my phone yet. I assured her I had. Thankfully, because of the curtain of clothing hanging, she had no idea what was going on. She only heard bits and pieces of my side of the conversation.
I pulled all the cash from my wallet—$12.00—and handed it to him. I apologized it wasn't more. He rolled his eyes and asked for my car keys. I whispered, "You're taking my car? You're leaving us stranded?"
He motioned the gun toward Cathy and said he would kill her.
I said, "No, please. She just got over cancer. She almost died." But, I handed him the keys.
I either repeated what I said, or I said that Jesus loved him. Perhaps, both. I tried making eye contact with him throughout. His gaze was mostly everywhere but on me. At this point, he looked briefly at me, then looked down. Cathy told me later that I kept saying Jesus loves you.
The young man handed me back the keys. He paused as though not sure what to do next. I thanked him and patted him on the shoulder and repeated one last time, "Jesus loves you."
He turned and walked away.
Shaking, I shut the door, opened the driver's side door, and started the car.
Cathy asked me if I was okay. I think I said something like, just a minute. Frankly, I was afraid that the young man would change his mind and return, so I wanted to get out of there.
Finally, I was able to tell Cathy what had just happened.
Cathy prayed as I drove back onto Highway 55. We thanked the Lord for His protection. We prayed for that young man that God would touch his heart and change his life from that moment on. We prayed for miles and miles. We talked, then prayed some more.
I was so grateful—am so grateful. Grateful for God's protection of my friend and me. Grateful for the young man's mercy and that in the midst of evil plans, he made the right choice to stop. Grateful that my friend did not have to see all this happening. Grateful to be able to go home and hug and kiss my husband.
*****************
Terri goes on to explain that she did report the crime, then she adds: "This morning when I first awoke, I remembered to forgive the young man and prayed again for his salvation and that his life would change for God's glory. I'm sure there is more for Cathy and me to process and I would appreciate your prayers for us and our families as we do this; but please, as you pray, please remember this young man. Pray for him."
When I asked Terri if she thought they would have all walked away unharmed if she had a gun, her answer was telling:
"Do I think the outcome would have been different had I been armed? Yes. And that's why I was glad I wasn't. It really forced me to be totally dependent upon the Lord.
Several Facebook comments:
"You were saved by using the Word of the Lord – may we always remember that they are mightier than any sword (or gun)."
"He was truly "disarmed" in the Spirit."
Here's a picture of my War Room. Let's flood social media with pictures of our War Rooms and Sword of the Spirit.
We Have the Same Power!
A couple booked a wedding on our farm. Dale and I prayed that the Glory of the Lord would encounter them. I walked into the bedroom where the bride and bridesmaids were getting dressed and asked if I could pray a blessing over the wedding and marriage. The bride looked at her bridesmaids inquisitively. She said, "Sure." They gathered close. I put my hands on the bride. I asked JESUS to encounter their hearts… At the first WORD of JESUS-tears streamed down their faces like I've never seen. There's POWER in the NAME of JESUS! I prayed in boldness that the couples offspring would boldly declare Christ as Lord and be warriors for HIM. When the prayer was finished, she held her womb, with tears rolling and hugged me. One day EVERY knee will bow and EVERY tongue confess that He is LORD!I Don't EVER be afraid to be bold with His NAME!—Facebook Post from Sharon Glasglow shared with permission
We hear songs like "There is Power in the Name of Jesus", but how often do we tap into that power within us? The words from Jeremy Camp's song, "Same Power," ring so true for all Christians:
I can see
Waters raging at my feet
I can feel
The breath of those surrounding me
I can hear
The sound of nations rising up
We will not be overtaken
We will not be overcome
I can walk
Down this dark and painful road
I can face
Every fear of the unknown
I can hear
All God's children singing out
We will not be overtaken
We will not be overcome
The same power that rose Jesus from the grave
The same power that commands the dead to wake
Lives in us, lives in us
The same power that moves mountains when He speaks
The same power that can calm a raging sea
Lives in us, lives in us
He lives in us, lives in us
We have hope
That His promises are true
In His strength
There is nothing we can't do
Yes, we know
There are greater things in store
We will not be overtaken
We will not be overcome
Greater is He that is living in me
He's conquered our enemy
No power of darkness
No weapon prevails
We stand here in victory
Jeremy Camp and Jason Ingram © 2015 Stolen Pride Music (ASCAP) (admin. at CapitolCMGPublishing.com) / Sony ATV Timber Publishing / Open Hands Music (SESAC) (Admin. by Sony/ATV Music Publishing LL
Dear ones, I'm not so naive to think we will ever have a society without guns, but I am passionate about the number of empty War Rooms in the homes and hearts of fellow Christians. We may never have a government that turns completely to God to guide our country, but that doesn't mean that the body of Christ can't join forces in utilizing the greatest power that ever lived, and lives within each of us: the Name of Jesus Christ and the Word of God.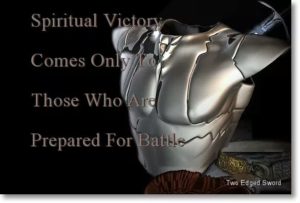 I leave you with these important questions to ponder:
Do you believe you have the "same power" that rose Jesus from the grave?
Are you ready and equipped to use the power of Jesus within you?
If so, I beg you to daily clothe yourselves and your children in the Armor of God and set up your Prayer War Rooms! Arm yourselves with God's Word, the Bible, and be ready to go into action.
Your life and the lives of those you love could depend on it.
Here are links to two versions of Praying the Armor of God that I have on my website Prodigal Support page:
Simplified version of Putting on the Armor of God Daily
Armor of God Personalized and Expanded
If you received this post by email, leave a comment here.
Also a reminder that my new book Forsaken God?: Remembering the Goodness of God Our Culture Has Forgotten releases February 9th. Amazon is taking pre-orders now. Order today to be sure they don't run out on the 9th.