In the Generation to Generation section of Forsaken God?: Remembering the Goodness of God Our Culture Has Forgotten, I stress that the most important task for parents and grandparents is to pass down to future generations the goodness of our Great God, and help their children and grandchildren enjoy a personal relationship with Jesus.
Lillian Penner, National Prayer Director for Christian Grandparenting Network (CGN,) and an endorser of Forsaken God?, shares my passion for mentoring the next generation. Lillian has a dream of A Million Praying Grandparents committing to pray intentionally and regularly for grandchildren and their parents. I asked Lillian to share her dream/passion with you because I believe you share my concern for our grandchildren and children growing up in a broken world that has forsaken and forgotten God.
I joined the Million Praying Grandparents as a grandparent who prays Scripture daily for our eleven grandchildren. It's part of my morning quiet time, and I have seen God do amazing things, which I write about in Grammie's Corner in my monthly online newsletter. This month you can read how 7-year old Sienna surprised Grampa and me when she announced that she wanted us to pray with her to accept Jesus into her heart. That blessing was the answer to many morning prayers.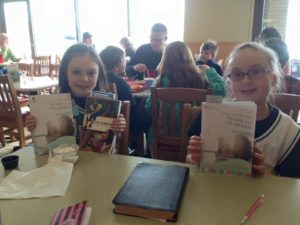 I learned about praying God's will by praying Scripture for Sienna's mommy. I share more about this way of praying in Praying for Your Prodigal Daughter.
MESSAGE FROM LILLIAN PENNER
In a movement to unite grandparents to pray intentionally for the next generation, Christian Grandparenting Network is launching a globale prayer campaign for 2016: A Million Praying Grandparents. Can you imagine the impact of one million or more grandparents praying for their grandchildren?
The Mission Field
The mission of CGN is the mobilization of grandparents throughout the world to commit to pray daily for their grandchildren and their grandchildren's parents. In Christian Living Today, Editor, Randy Swanson, wrote:
"The role of Grandparenting is becoming more important than anyone would ever have imagined. The rescue of our culture may well rest on the shoulders of today's grandparents."
Perhaps at no time in history has the call been more urgent for intentional prayer.
If you grasp the urgency of our time, then I urge you to join the Million Praying Grandparents movement, linking arms in prayer for the next generation.
Our grandchildren are our primary mission field.
Sign Up Today to Be a Praying Grandparent
If you're as worried as I am about the world our grandchildren are inheriting, I urge you to sign up for the Million Praying Grandparents Movement. By joining, you are declaring your commitment to pray regularly for your grandchildren.
In appreciation for making such a culture-changing commitment, you will receive a free printable copy of a Million Praying Grandparents Prayer Resource to guide in using God's Word to pray for your grandchildren.
Now you must make a decision:
For the sake of the hearts, minds and souls of your grandchildren, will you say, "YES I will join the Million Praying Grandparents movement?"
Go to the Million Praying Grandparents website and follow the instructions to sign up!
Please also share the vision of a Million Praying Grandparents united in prayer for their grandchildren with your friends and family.
Together we can influence the next generation to know Christ and follow Him wholeheartedly! Together we can change the culture and a world that has forgotten and forsaken God. Don't let that be your grandchildren's future.
Excerpt from Forsaken God?: Remembering the Goodness of God Our Culture Has Forgotten.
Steve Green wrote a song with the chorus, "Oh may all who come behind us find us faithful." Someday we'll all just be a memory, but let's make sure that memory is a good one. In your sphere of influence, starting with your own family and church family, "tell them" all you've seen God do and his unchanging truths. Influence the next generations to love and obey God with born-again, Holy Spirit filled hearts.

I pray my [Janet's] legacy to my children and grandchildren will be—Mom/Grammie was a woman who loved Jesus and lived what she believed.
If you're a grandparent, you'll want to join this movement of a Million Praying Grandparents.
If you're a parent, you'll want to forward this blog to your children's grandparents.
If you receive this blog my email, please comment here.
Lillian Penner is the author of Grandparenting with a Purpose: Effective Ways to Pray for Your Grandchildren and is the National Prayer Coordinator for Christian Grandparenting Network. An avid blogger, Lillian will break into smiles if you ask about her twelve grandchildren and three great-grandchildren. She and her husband, John, live in Portland, Oregon, where they are active in church ministries.