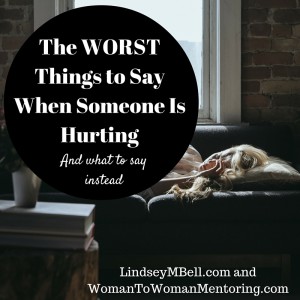 My friend, fellow author and a The MOM Initiative mentor mom, Lindsey Bell, has a new book, Unbeaten, that I wanted to share with you this week. In today's blog post, Lindsey shares about something I write about also in both Dear God, They Say It's Cancer (The-Top-Thirteen-Things-to-Do-or-Say to Someone with Breast Cancer) and Dear God, Why Can't I Have a Baby? (The Top Fifteen Things Not to Say or Do to Someone Experiencing Infertility). It's hard to know what to say, or not say, to someone who is in deep emotional or physical pain and so often we say something that hurts rather than helps. We've all been there: had something hurtful said to us, or said the wrong thing to someone else.
6 Things NOT to Say When Someone is Hurting (And What to Say Instead)
By Lindsey Bell
One of the most important aspects of mentoring is ministering to someone who is going through a hard time.
Unfortunately, there is often confusion as to what is best to say when someone is hurting.
We want to encourage people, not make their pain worse, but we don't always know what to say.
After each of my four consecutive miscarriages, and during the years of waiting, testing, and grieving, people tried to say things to me that would comfort my broken heart. They meant well, just as most people do when they attempt to comfort someone who is hurting.
Unfortunately, many of their well-intention words did more harm than good.
Here are a few things you should never say to someone who is hurting (and a few ideas of things you can say instead).
You just need to trust God (or God's timing or God's plan, etc.).
While this might be true, it's not a helpful thing to hear right after a loss or while the pain is still fresh.
Instead, say, "I'm so sorry."
And that's it. You don't have to offer answers to someone going through a hard time.
There's a reason for everything.
Really? Are you sure?
I guess this might be true. There probably is a reason for everything, but maybe that reason is simply that life stinks sometimes. Maybe that reason is that bad things happen.
Maybe there isn't some theological, deep reason that God allowed this trial into their life. It's possible, of course, there is a deeper reason. Maybe God is planning to use this situation in some really huge way.
But isn't it also possible that this bad thing happened simply because it happened…not because it was a part of some huge plan?
Instead, say, "This stinks."
At least you have….
At least you have another child…. At least you had X number of years with him. At least you have …
I think the reason people say this is because they want the person who is hurting to focus on his or her blessings.
And though it's certainly helpful to count your blessings, there's also a time and place for grief. People need to grieve, and pointing out the positives in their situation does not help them grieve.
Having one child does not make the loss of another any easier to swallow. (It might serve as a distraction, but it doesn't negate the loss of the other child).
A loss is a loss, so it's better not to minimize that loss by bringing up the positives in the situation.
Instead say, "Can I pray for you right now?"
And then actually do it. Right then. Right there.
Next time will be different (or God is going to fix this or something similar).
I can't count the number of times people told me this. After our first miscarriage, they told me our next pregnancy would be different. It wasn't. After our second miscarriage, they said it again. It wasn't.
The truth is, we don't know what the future holds, so it's better not to pretend that we do.
Instead, say, "I'm going to the grocery store. What can I pick up for you?" Or, "I'm running by Sonic. What kind of drink would you like?"  
People mean well when they say, "Let me know if I can do anything." But most likely, people won't take them up on their offer. Instead of offering general assistance, offer to do something specific.
I know how you feel.

No, no, you don't. Even if you have gone through something very similar, it's not exactly the same because you are not the same person.
No two pains are exactly the same.
Instead, say, "There are no words."
Because really, there aren't. There are no words that will instantly fix their situation.
God won't ever give us more than we can handle.
This statement bothers me for two reasons.
First, is makes it sound like God is the one handing out the painful situations. God allows death, but I don't think he "gives" it to us.
Secondly, I've never seen this idea in Scripture anywhere. In fact, I've seen many examples of the opposite.
I've seen God allowing really hard things into peoples' lives so they will learn to trust in Him.
Instead, say NOTHING. Just be there.
What other things would you add to this list?
If you received this post by email, leave a comment here.
This post is part of Lindsey's blog tour to celebrate her new Bible study and devotional, Unbeaten: How Biblical Heroes Rose Above Their Pain (and you can too).
To celebrate her book, she's giving away a HUGE bundle of books! Leave a comment on this post to be entered to win. You can get more entries by commenting on other blogs in the tour as well. Get a full list of participating blogs here: www.lindseymbell.com/unbeaten-is-here-win-this-huge-bundle-of-books.
About Unbeaten:
Why does life have to be so hard? If you've ever asked this question, you're not alone. Difficult times often leave Christians searching the Bible for answers to some of life's most difficult questions.
Questions like:
Does God hear me when I pray?
Why isn't He doing anything?
Does He even care?
In Unbeaten: How Biblical Heroes Rose Above Their Pain (and you can too), Lindsey Bell walks with readers through the stories of men and women in the Bible who went through difficult situations. In this 10-week Bible study and devotional, she addresses many of these questions and helps readers learn how they too can be unbeaten.
About Lindsey Bell:
Lindsey Bell is the author of the Bible study and devotional, Unbeaten, and of the parenting devotional, Searching for Sanity. She's a stay-at-home mother of two silly boys, a minister's wife, an avid reader, and a lover of all things chocolate. Lindsey writes weekly at www.lindseymbell.com about faith, family, and learning to love the life she's been given.