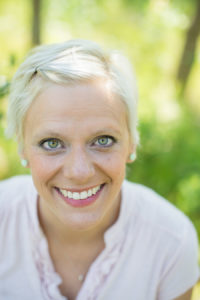 I was asked to review Kara Tippett's book, And It Was Beautiful. I knew a little of Kara's story that she was a young Christian mom of four and author who had lost her battle to breast cancer, but during her valiant fight she blogged her thoughts. Not just about the cancer but what was happening in her life, her thoughts, her struggles, her joys. Being a three-time breast cancer survivor myself, I wondered if it would be too painful for me to read Kara's book, but it was just the opposite . . . I couldn't put it down. Yes, it was sad, but her writing seldom made me sad. Instead, I got a chance to meet a very special woman who loved the Lord, her family, her church, and her friends and she left them and us a treasure in her blogs, which were more like having a chat with her.
When I came to the chapter titled "Choosing a Mentor," I knew I had to share it with you. I received permission to share her words in this blog and in my new book releasing next year: Mentoring for All Seasons: Women Sharing Life's Experiences and God's Faithfulness. Enjoy!
Choosing a Mentor
By Kara Tippett
Apart from the Holy Spirit, it has been the mentors in my life who have made the longest-lasting, deepest impact on who I am as a person. Some mentors were women I specifically asked to mentor me. Some were women who opened their lives wide open for me to watch. But both nurtured new strength in me. Here are a few things that have served me well in finding a mentor.
First, do they love their family well and speak with love and admiration of their husbands? Can these be areas of tension and struggle in a family? Yes, but I look to see if their overall desire is to move toward a spouse and children, and not away.
Second, do they speak vulnerably about weakness, or are they more concerned about appearances? I have found this area to be critical. I struggle to share openly with someone who wants to appear they have it all figured out. I look to see if they are willing to speak openly about where God is challenging them, and are open about themselves without bashing others.
Third, and most important, do they seek Jesus in their moments throughout the day, especially the mundane? Do they see their neediness and weakness, and are they able to be wrong and be corrected by Scripture?
When Jason [her husband] was a youth director, we had the privilege of seeing kids who truly loved Jesus. From that observation, we often sought out their parents. We wanted to sit at their feet, eat at their table, and watch how they did it. I love to watch someone discipline with kindness. I love to watch someone including their children in the events of the home. I love watching someone loving their spouse creatively. And I really love to see women involved in community building. You can receive a lot of mentoring just by watching.
Common interests help as well. I have had mamas show me a craft, women who love to write as well as read, ladies who love to garden, build a fire, and cook, and women who just cannot get enough of their Bibles. I often try to enter the life of a person who might be a good fit as a mentor in a place of common joy. I want my mentors to be my friends, as I want to befriend the women I mentor.
Things to be wary of? Be careful of people who like to gossip. Be willing to be flexible. Mentoring relationships take on so many different looks. Sitting down across from one another with Bibles open every week? That's an awesome model, but it's certainly not the only one. Look for someone who will promote freedom in Christ, not tie you up in a load of legalism.
Finally, as you search for a safe place, be a safe place in return. God loves seeing us seeking Him together.
An excerpt from And It Was Beautiful by Kara Tippetts bolding added.

© 2016 Kara Tippetts. And It Was Beautiful is published by David C Cook. All rights reserved. Shared with permission.
If you receive this blog by email, leave a comment here.
~~~~~~~~~~~~~~~~~~~~~~~~~~~
Kara Tippetts' life was dramatically changed in 2012 when she was first diagnosed with breast cancer. She shared her journey on her popular blog, www.mundanefaithfulness.com. She was the author of The Hardest Peace and the co-author of Just Show Up. Since her death in March 2015, her husband, Jason, is parenting their four children and leading the church they founded in Colorado Springs, CO.