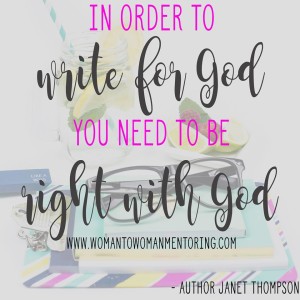 Dave and I have always had a heart for turning our home into a refuge for friends and a retreat for couples in ministry. When we lived in Southern California, we bought our cabin in the mountains for that very purpose, along with using it for my writing retreat. I did more writing there than entertaining when we lived in So Cal, even though we repeatedly invited couples and family to come visit. But now that we've moved away, when we go back to the cabin, we're "booked" solid. Funny how that happens more now that we're gone then when we lived there. We're just glad the Lord has allowed us to keep that cabin and use it for His glory.
When we moved to Idaho, our home has a basement apartment perfect for guests. Many friends and family have accepted our open invitation to visit and let us pamper them with food, fun, field trips, and peaceful relaxation.
A special treat has been opening our home to fellow authors/ speakers I know through AWSA (Advanced Writers & Speakers Association), or through networking among those of us in the ministry of writing and speaking. Even though we might not know each other well, we know that what we have in common as Christian writers and speakers is enough for us to have a blessed time together.
The adventure for my hubby, Dave, is that he has never met any of the authors and their husbands who come to stay with us. But he knows it's going to be a great time because we're fellow Christians and that's enough to build a friendship and relationship.
I was talking to a friend who is not a believer and explaining how we've never spent time with, or in some cases even met, some of the guests coming to our home. She said, "Well you share the same morals and values so you know they're not going to do you any harm." I thought to myself, she gets it. Even though she's not a Christian herself, she understands the camaraderie Dave and I share with fellow Christians and what a testimony this is to her and others.
The First Time
The first time I introduced my husband to the experience of hospitality with people neither of us knew was when we took a trip to Montana. I knew author/speaker Tricia Goyer lived in Montana at the time. So I contacted her online and said we would be visiting her town and suggested we meet for coffee. When we got into town and I called her, she invited us to come to her home for dinner instead of coffee. As we walked up to her front door, Dave said, "You've met Tricia before, right?" Chuckling, I said, "No, we've never met!" My husband was shocked and replied, "This should be an interesting evening."
We both had the best time and stayed until almost midnight. After that wonderful experience, he has never hesitated when I say, "Guess who's coming to stay with us for a few days?"
Opening Our Home to Traveling Friends and Authors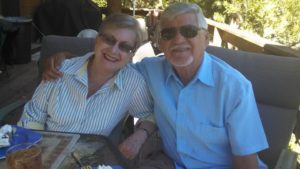 Two years ago, author and speaker Kathi Macias and her hubby Al were coming through Idaho, and I invited them to stay with us. I knew Kathi, and had met Al at an AWSA conference where we discovered that we all attended the same high school. I was in the class ahead of them. We had a wonderful time during their visit with us, and Al and Dave quickly became great friends. When we visit our So Cal cabin, which is near the Macias's home, they come to visit, and Al and Dave have even spent a day on the golf course together.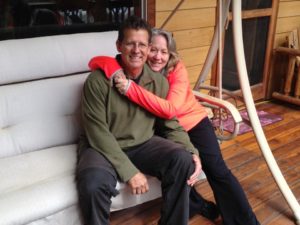 This past week, Pam and Bill Farrel, who have love-wise marriage ministry together, were speaking in Montana, and I invited them to spend a few days with us in Idaho. You guessed it . . . Dave had never met either of them before, but by now, he already knew it would be a great time. And so it was. The Farrels were coming off a speaking weekend and going home to face a home remodel, and hopeful sale of their home. They were so ready for a break, and that's what we hope they experienced while here. We enjoyed our first float down the river with them, a mountain walk, and hours on the deck with deep and meaningful conversation, laughs, fellowship, ministry discussions, and again, making new forever friends in Christ.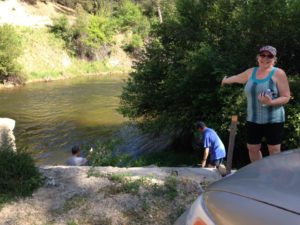 Recently, a friend from our Couple's Bible study said, "You really have a lot of company." We had hosted California friends in December and January, and always savor our times when the grandkids are here for a visit. Dave and I have truly come to know the blessing of the Apostle Paul's advice: Cheerfully share your home with those who need a meal or a place to stay. 1 Peter 4:9 NLT. We also have been the blessed recipients of cheerful hospitality from so many of our friends and family when we travel.
Dave and I offer our home and our hearts and invite friends, acquaintances, and fellow ministry workers for Christ to come and experience what we love about God's beauty in our mountain paradise. Many have taken us up on that offer, and we pray that many more will enjoy what those who have visited call: "The Thompson's 5 Star Bed and Breakfast." But don't worry; we'll feed you three meals and snacks too!
Share with the Lord's people who are in need. Practice hospitality. Romans 12:13

Do not forget to show hospitality to strangers, for by so doing some people have shown hospitality to angels without knowing it. Hebrews 13:2
If you received this blog by email, leave a comment here.
You can read more about how God helped me become more hospitable and balance my Martha with my Mary, in my Bible study Face-to-Face with Mary and Martha: Sisters in Christ.