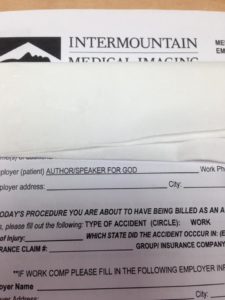 Saturday, I woke up dreading the MRI I would be having later in the day. I've noticed that every time I have a problem lately, doctors want an MRI. I don't like closed in places, so going into that MRI tube is one of my least favorite things. I have to take something to relax, put a washcloth over my eyes, and have Christian music playing in the earphones they put on you. And pray a lot and have many people praying.
So hubby and I showed up for my appointment at what was a new hospital to us. I'd usually had tests done through the other hospital in town. I walked up to the registration desk and the receptionist said, "Oh yes here is your paper work right here. We just need you to fill in where highlighted and sign the form."
Expecting to have to fill out all the usual questions, I was delighted to see most things already typed in, and I just needed to put in a cell phone number and verify my address. And then  . . . I saw it . . . I can only say I took in a deep breath and for a moment just stared at the form.
Next to "Patient's Employer" these words were typed in caps on the form "AUTHOR/SPEAKER FOR GOD." I hadn't previously filled out any paperwork for this facility online, over the phone, or in person; but there it was staring back at me on the hospital form!
Several things quickly crossed my mind as I had an instant flashback of my new book Forsaken God?: Remembering the Goodness of God Our Culture Has Forgotten, and all the ways I talk about recognizing, remembering, and celebrating our amazing God. The thoughts came in this order, along with a quote from Forsaken God?
I need to take a picture of this form. I never want to forget this!
"Pictures are a great way to remember the attributes of God and his goodness in performing miracles and blessed experiences."
This was a witness to whoever filled out this form! Where had they got this information? They could have so easily just put Author/Speaker, but they added "For God" and put it all in caps! How did this happen? I need to share this with everyone who asks how the MRI went.
"The God of past miracles is the same God of today's miracles. His wondrous ways should still command our awe-inspiring respect. Look for miracles in your life and in the world around you. Remember them and tell the spectacular, miraculous stories of God's goodness over and over!"
Never think something like this is just a coincidence.
"God is perpetually at work in a believer's life, whether or not we recognize him. I firmly believe there are no coincidences, only God-incidences and divine appointments. When I hear people speak of serendipity, I kindly reply that was God, not karma or chance."
God is making me aware of His presence. He wants me to know He will be with me and comfort me in that MRI tube.
"God shows his presence in memorable ways to us too, but how well do we recognize him? We're always in his presence, "The Lord is with you when you are with him. If you seek him, he will be found by you, but if you forsake him, he will forsake you" (2 Chron. 15:2)."
You can be a bold witness for God in everything you do and say, even on a medical form!
"People say I'm bold about my faith and it surprises me that's considered an unusual trait … because shouldn't every Christian be bold? Our faith isn't a secret to hide; it's the answer to the world's woes. Unfortunately, Christians often worry more about offending the world than offending God. Bold doesn't mean obnoxious. It simply means not being afraid to speak the truth, even in the face of adversity: "Therefore, since we have such a hope, we are very bold" (2 Cor. 3:12)."
Who would do that? Who did that? Only God knows. I always fill out forms, or when asked, my occupation: "Christian author/speaker." When asked the name of my business: "About His Work Ministries." And when asked who is my employer I write, "The Lord" or "God." Somewhere in the Boise medical system, I had used these terms on previous forms and this facility arrived at SPEAKER/AUTHOR FOR GOD. I've never phrased it that way, but I think I will now!
The receptionist told me to carry the form with me everywhere I went that day! You can be sure I did.
A Similar Experience
In Dear God, They Say It's Cancer, I tell a similar story that happened when I was first diagnosed with breast cancer in 2002. The Breast Care Center sent forms to fill out, and for occupation, I had started to write "self-employed," but I heard the Lord nudge, "Janet, you aren't actually self-employed. I AM your employer and Boss. After all, your ministry name is About His Work Ministries." So I did put my employer was "The Lord."
That form went with me everywhere during my surgery and treatment, and I had so many people letting me know they had the same "Boss" I did. It opened up so many doors of comfort and conversation, and I became best friends with the patient advocate, Grace, who said, "Interesting Employer." I said, "Yes, is He yours too?" Grace said, "Absolutely," and we became co-workers for Christ and breast cancer awareness.
Where Does God Want You to Acknowledge Him?
We believers who have given our lives to Christ, should recognize that being a Christian is our identity that surpasses all other life roles.
What do I hope you will take away from this blog post?
Do your best to present yourself to God as one approved, a worker who does not need to be ashamed and who correctly handles the word of truth.—2 Timothy 2:15
For I am not ashamed of the gospel, because it is the power of God that brings salvation to everyone who believes: first to the Jew, then to the Gentile.—Romans 1:16
I eagerly expect and hope that I will in no way be ashamed, but will have sufficient courage so that now as always Christ will be exalted in my body, whether by life or by death.—Philippians 1:20
On a Side Note
If you have read Forsaken God?, I would love to hear how God is using it in your life. Two women from different generations, one a young brand new believer and one a seasoned elderly Christian approached me at church this morning. I share this with you for you to know that wherever you are in your faith, I think you will find this book relevant. Also, as we read more and more about the moral chaos in our culture, you can find peace and conviction in remember the God of the past is also the God of the future.
Here is a post from Facebook today, Sunday May 15:
God truly blessed me this morning. Before church started, a young new believer who is getting baptized this month, came up to me holding Forsaken God?: Remembering the Goodness of God Our Culture Has Forgotten and told me, "I can't put it down!" Then she stood up and told the entire church what a good book it is. I had never met her before today.
After church, a sweet elderly, seasoned Christian woman gave me a hand-written note a portion of which reads: "I have appreciated so much your book "Forsaken God?". It is full of truth and honor for our God…it is such a sweet savor…."
Thank you Lord that the message of Forsaken God? reaches all generations and for giving me the encouragement I needed today to press on writing the next book.
Forsaken God? speaks to Christians in today's culture … I hope you will not only read it, but apply what you read…God had me write it for such a time as this! Here's the link to check it out if God leads you to do so…
If you received this post in email, leave a comment here.