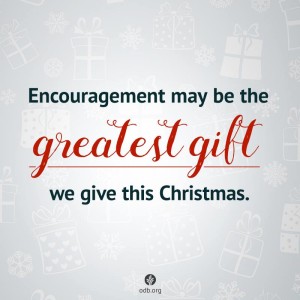 Last week, I mentioned that I'm always wondering what God will have me share with you and often He waits until the end of the week to let me know, but He always confirms the topic in several different ways. Thursday night at our Couples Bible Study, we were talking about when "Saul," who was persecuting Christians, had a conversion experience on the road to Damascus and became Paul the evangelist. Someone in our group mentioned how hard it must have been for the persecuted Christians to trust Paul and believe he had truly repented. I reminded the group it was Barnabas who believed Paul's testimony and assured Christians they could believe that Paul's conversion was genuine. Barnabas mentored Paul in his new faith.
Then Friday morning, I opened up Our Daily Bread devotional and the topic was "The Gift of Encouragement." Who do you think they were talking about? Yes, Barnabas and the story I just told you with the added explanation that Barnabas means "son of encouragement." So there it was . . . God wanted me to talk about encouragement at Christmas. I've received so many emails, comments, and social media messages of how last week's post, Who Will Care for the Widows and Fatherless Children, was a timely reminder, so I'm trusting today's blog post will be also.
How Was Barnabas an Encourager?
In addition to encouraging Paul in his faith, we see in Acts 4:36-37 that Barnabas sold a piece of property and donated the money to help other believers in need. Sometimes encouragement does involve tangible giving when someone is facing a lean Christmas. Some churches take food and toy boxes to families in the community and in their church who are going through hard times and those parents are so grateful and encouraged that their children will have a "normal" Christmas like all their friends.
But encouragement doesn't always have a dollar sign attached to it. As I talked about in last week's blog post, no matter how many gifts you give someone who has just lost a loved one, the pain and loss remains.
Or maybe you're experiencing a difficult time yourself, but you can still be a source of encouragement to others this Christmas. Here are some ways I thought of, and I know you can add to my list.
Give the Gift of Encouragement by Letting Others Bless You
Letting others bless you might seem strange because isn't this supposed to be a blog about encouraging others? Yes! When others want to bless you and you let them, it's a source of encouragement to them. Let me give you an example of what I mean. I have a sweet neighbor with multiple sclerosis, now confined to a wheelchair. With the biggest smile, she said to us, "We want to have you over to dinner some time." I responded to her dinner invitation, "That would be lovely, just let us know what we can bring."
Can you imagine how discouraging it would have been to her if I had said something like, "Oh, no, that would be way too much work for you. We couldn't possibly have you go to all that trouble." I'm sure the smile would have disappeared from her face with disappointment. So often what we see as work is another person's joy. Have you ever had to practically arm-wrestle someone to let you bless them? We need to learn how to receive kindness, hospitality, and love joyfully and graciously. When we let people use their God-given gifts to bless us, it's a source of encouragement to them and we both get blessed.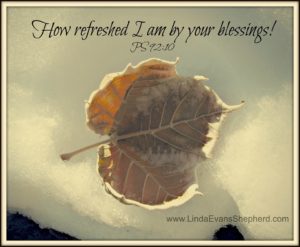 Give the Gift of Encouragement by Letting Others Know When They Bless You
I recently received a comment from Lisa telling me how much she enjoys Monday mornings to see what I've written in my Monday Morning Blog posts. Wow, that encouragement will keep me writing those posts for another year. I have no idea if the posts are even being read, except for the occasional comment like Lisa's, and then one day in church a young woman came up and gave me a hug and told me how much my blogs and Facebook posts ministered to her. Another encouragement blessing boost!
The Lord knows just when I need a jolt of encouragement to keep going.
Everyone needs the gift of encouragement . . .
My hairdresser says she can always count on a text from me telling her how someone loved my latest haircut. I know that encourages her and she blesses me with a fabulous hairdo.
Tell your pastor how his sermon blessed you. He hears complaints, but how often does he hear encouraging words?
Let your husband or kids know how their latest accomplishments bless you. Wow that would encourage them!
If you hand out Christmas gifts or bonuses to employees, how about telling them sincerely how they are a blessing to the company. Watch production soar.
What other ways in your life can you let others know how much they bless you?
Give the Gift of Encouragement with Your Words
We all know how words can tear down or build up.
As women how often do we look at another woman with a critical eye as we check out. . . her outfit, makeup, hairdo … how about switching that appraisal to looking at everyone with one encouraging sincere word to say to them.
Tell the person struggling to lose weight how pretty she looks or what a nice outfit she's wearing.
When you ask someone what they're doing for Christmas and they say nothing, instead of saying that's too bad or telling them what you're doing . . .  invite them over.
To the person who is struggling with an illness or surgery at Christmas, don't try to fix it or tell them another person's horror story, ask how you can pray for them and what can you do to help.
When someone cooks a nice meal for you, say "It was delicious, thank you" instead of "You shouldn't have gone to all that work."
Be as gracious and kind with the words you use with your family, as you are with the words you use with your church family.
Give the Gift of Encouragement by Telling the Christmas and the Easter Story
I cringe when I hear Christians talking negatively about Christmas. This is our time of year. This is our celebration. This is our Savior's birth. If any time of year, Christmas and Easter is the time we should be joyfully sharing the encouraging, free gift of salvation with everyone we meet.
While many say our actions speak louder than words, we use words to tell the salvation story, the Gospel. People need to hear how Jesus lowered himself to the status of a baby born to a virgin, and lived as a humble man until he started his ministry at the age of thirty. After three years of performing miracles, teaching, preaching, casting out demons and healing the sick, he was crucified on the Cross to bear the sins of those who turned to Him for forgiveness of their sins, repented, and believed in Jesus as the Son of God who rose again in three days so every believer could have eternal life! Now that's a "Christmas story" to tell.
Our loving actions will open the door to share the Good News story, but we must take the next step and tell the salvation story to hearts seeking forgiveness and repentance. The gift of eternal life is available to everyone, but not everyone accepts and opens it.
Can you imagine a more encouraging Gift to give someone who is not saved then to share the Christmas and the Easter story with them! Because you really can't tell one story without the other . . . now can you.
"This is how much God loved the world: He gave his Son, his one and only Son. And this is why: so that no one need be destroyed; by believing in him, anyone can have a whole and lasting life. God didn't go to all the trouble of sending his Son merely to point an accusing finger, telling the world how bad it was. He came to help, to put the world right again. Anyone who trusts in him is acquitted; anyone who refuses to trust him has long since been under the death sentence without knowing it. And why? Because of that person's failure to believe in the one-of-a-kind Son of God when introduced to him.

 "This is the crisis we're in: God-light streamed into the world, but men and women everywhere ran for the darkness. They went for the darkness because they were not really interested in pleasing God. Everyone who makes a practice of doing evil, addicted to denial and illusion, hates God-light and won't come near it, fearing a painful exposure. But anyone working and living in truth and reality welcomes God-light so the work can be seen for the God-work it is." John 3:16-21 The Message

If you receive this post by email, leave a comment here.