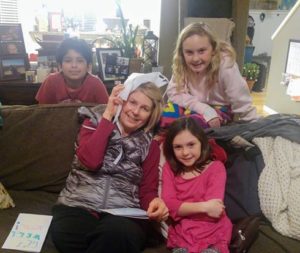 Happy New Year! I know I promised I would be back with my Monday Morning Blog this morning, but you know how we make our plans but the Lord directs our steps. Well I'm not sure He directed my steps on Christmas Day around 4:00 PM when I stood up to go charge my cell phone and play a game with the grandkids, and the next think I remember was the sound of my head hitting the edge of a wooden chest across the room. To hear the story from my shocked hubby and daughter, I stumbled and literally flew across the room and my head took the full brunt of the fall.
Well with a nice gash in my head, off to ER we went and came home with 5 staples in my head. I'm smiling in the picture above because they put about 10 shots of Novocaine in my head, which always effects my whole bod,y so I was literally feeling no pain until the middle of the night, as my daughter and hubby had to wake me up all night.
Anyway, it seems now I have a concussion and constant high pitched ringing in my ears, so later today I'm having a brain MRI just to be sure I didn't do any major damage. I could use your prayers for that. But God is so good that I had in my files this wonderful guest blog from Shirley Brosius, who just happens to be talking about the Joy of Connecting and even mentions mentoring as a  New Year's goal. Shirley and her mentees Kim and Janine tell their story in my book Mentoring for All Seasons: Women Sharing Life's Experiences and God's Faithfulness, releasing with Leafwood Press later this year. So enjoy this wonderful post from Shirley and I hope to be back with you next Monday.
The Joy of Connecting
By
By Shirley Brosius
Women who say they don't need to connect with other Christian women don't realize what they're missing. "As iron sharpens iron, so one person sharpens another." (Proverbs 27:17 NIV)
I currently enjoy two mentoring relationships. I meet weekly to discuss Christian books with Kim and Janine, two women young enough to be my daughters.
I chat weekly about writing and spirituality with Michelle, a young mother who lives a few hours from my home.
Here is how these women and I sharpen each other.
We inspire one another. For instance, Kim set a New Year's goal to control her thought life, and that inspired me to set a goal to not say anything this year that puts someone else in a bad light. Lofty goals, we know, but at least we're trying.
We pray for one another. If I've asked for prayer for something coming up during the week, I'm sure to get a text from Janine at that specific time, telling me she's praying. I value her prayers.
We accomplish more together than we could individually. When we decided we wanted not just to study together but to serve together, Kim, Janine and I dubbed ourselves Friends of the Heart and developed a website. We have now spoken to more than 10,000 women over the last ten years. Neither one of us could have developed such a ministry on her own.
We know we're not alone on the journey. We relate to each others challenges and walk each other through tough times holding hands.
We rejoice with each other. I might feel like I'm bragging if I tell a friend that an article was accepted for publication, but Michelle and I know the struggles of writing, so we can genuinely rejoice together when one of our articles finds a home.
We hold each other accountable. At times we set weekly goals and check on each other the following week: Did you make that call? Did you read your Bible today?
We enjoy each other. With Kim and Janine, it's fun to meet over a cup of tea or coffee, and in between meetings, we keep in touch by phone, e-mail or Facebook. Not a week goes by that we don't laugh about something—often funny stories about Kim's classroom antics or a corny joke that Janine can hardly share for laughing. I visited Michelle this past summer, and we plan to get together again this fall. She has become a special friend.
We alert each other to life. I'm way ahead of them journeying down that road, and they watch me relate to adult children and keep in touch with grandchildren. Not that I'm a perfect model; sometimes I serve as a model of what not to do. And I learn about today's world through their eyes.
Now I realize mentoring relationships may not appeal to everyone. But everyone can plug into some sort of group. I attend a Bible study at my church, and I've watched our group knit and share more deeply as the years go by. I also appreciate discussing spiritual direction in Sunday school classes.
If there's no group that appeals to you, start one—a book discussion group, a young moms group, a teen moms group. You might ask someone to partner with you to pray. It's always a blessing to hear someone else pray for your needs. Or like the women I've mentioned, ask an older woman to mentor you; if you're an older woman, offer to support a young woman who might benefit from your expertise.
So get connected. You'll be challenged and blessed. Don't be afraid of deepening relationships within the body of Christ. After all, God made ministry a group project.
Read more about Friends of the Heart in Janet's new book Mentoring for All Seasons: Women Sharing Life's Experiences and God's Faithfulness releasing later this year.
Please comment to let us know other ways you've made valuable connections with other Christian women.
If you received this blog by email, please comment here.