I'm back! I'm sure that many of you who are used to receiving my Monday Morning Blog wondered what happened to me the month of April. I'm sorry that I didn't have time to explain, but I was completely unprepared for the events that knocked me down so fast and hard. I didn't have any warning myself.
Let me explain. If you've followed me for a while, you will remember that on Christmas Day I tripped on a rug and landed head first on a wooden chest. So I started 2017 with 5 staples in my head, a concussion, and a constant ringing in my ears. I wrote about that experience on January 9 in the blog post 8 Reasons to Make 2017 the Year of New Connections, when one of the opening sentences was, "You know how we make our plans but the Lord directs our steps." And the next week in, What If You Didn't Get to Say Goodbye I wrote, "I don't remember ever having an accident like that before."
I did not see that accident coming or the length of time it would take to recover from the concussion. By February, I had come to terms with the fact that I would probably live the rest of my life with the ringing in my ears as an array of doctors told me there was probably no hope it would ever go away. Many people told me their stories of living with this distraction and all the many cures, but I am an easily distracted person so I knew it wouldn't be easy for me to overcome, but with the Lord's help, I will not be shaken.
Then I started feeling bad the beginning of March in a part of my body unrelated to the concussion—my lower stomach, from my navel down. After several weeks, it got worse so I started the round of doctors, ending up at an urologist who did a CT scan revealing I had kidney stones and gallbladder stones, but he was sure my pain was coming from one kidney stone that looked to be lodged in the top of my bladder. He sent me home for the weekend to drink gallons of water and lemonade, but nothing had changed by the time his office called to check with me on Monday, the last Monday in March and the day of my last blog post to you.
Two days later, on Wednesday at 6:30 AM I was being prepped for surgery to remove what we all thought was one stuck kidney stone. I told everyone I would be back in my office Thursday, including my publisher as we were working on the cover for my new book Mentoring for All Seasons: Sharing Life Experiences and God's Faithfulness. Everyone I knew who had ever had kidney stones assured me by Wednesday night I would be feeling great!
Well I wasn't feeling great. I opened my eyes after surgery and felt twenty times worse! What?! I cried I was so disappointed and one of the nurses said, "Who told you that you were going to feel better?" All my Facebook friends, and I just assumed it would be an easy surgery. Wrong!!!
It turns out I had "dozens" of small stones stuck in both ureters—the tubes that come out of your kidneys. Yes you read right, I had been walking around with dozens of stones!!! So that meant cameras, wires, surgical tools all had invaded both ureters to scrape out the dozens of stones, as well as removing any left in my kidneys. I came home with stints in both ureters, excruciating cramps and pain, and was knocked flat on my back for weeks.
As many of you know I've had breast cancer surgery three times, so I am not a wimp and I have a very high threshold for pain, which is how I went so long with all these stones; but I was in agony after this surgery. The recovery has been so much slower than I could have ever expected. There were times when I couldn't even pray except to groan, which the Bible tells me the Holy Spirit interpreted those groans to God for me.
"In the same way, the Spirit helps us in our weakness. We do not know what we ought to pray for, but the Spirit himself intercedes for us through wordless groans." Romans 8:26
Analysis of the stones showed the cause was a medication I was taking for a neurological condition, so in the midst of all this, I had to transition off those meds and onto a different one that made me nauseated, dizzy, and knocked me back down again.
So that's where I've been this past month. But I made it back to church today and once we get these medications figured out, I pray the rest of the year will be better.
Points to Ponder
One Sunday morning, I was sobbing in pain and my husband asked what could he ask the church to pray for during their time of "Praise, Prayer, and Share." The only thing I could say was, "Hope." But I told him don't say that or people will think my faith if faltering, but what I meant was hope that I was going to wake up one morning and feel better. I think he asked for prayer that there would be a turn for the better in my recovery.
He came home from church that morning with a gift bag from a sweet woman who serves our church by sending get well cards and gifts when a parishioner is ill. She had no idea of my plea for hope. In the bag was this cup!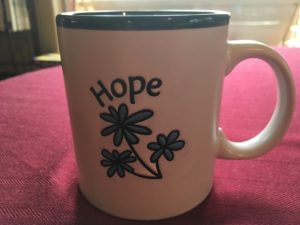 Interestingly, the day before surgery I had turned into Crosswalk.com, who I write for regularly, a blog 10 Ways Not to Help a Suffer. Crosswalk posted that blog exactly one week after surgery. The blog talks about things not to do when someone you know is suffering, with the corresponding ten ways to help someone suffering. My church family, small group, and small mountain community were the example of everything to do to help someone. They showed up at the door with meals, sent cards, called faithfully, and prayed continually. As I walked into church today, I was greeted over and over by "It's so good to see you back and I was praying for you!"
My next article assigned by Crosswalk is "How to Remain Hopeful When the Pain Won't Stop." I'll let you know when that posts because I will share more of what kept me going and hopeful this past month.
Two days after surgery, the copy edits from my publisher arrived for me to review. It would be my last chance to make any changes or corrections and to review the changes their editors had made. When I let the product manager for Mentoring for All Seasons know about the surgery and it would probably be a few weeks before I could look at these, she quickly extended the April 21 deadline to today May 1. During the month, she checked in to see how I was doing, and often I was miserable. She continually sent me prayers along with this sweet graphic.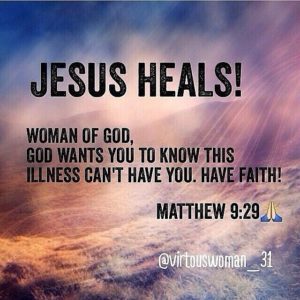 So while the health issues this year caught me completely by surprise, I know that God is never caught off guard and He sustains me. The word He gave me in both the concussion and the recovery from this surgery is: I will not be shaken.
God willing, I will be back next week. Thank you for those who prayed for me that knew about this, and the many Facebook friends who let me know their prayers and thoughts were with me. I was so blessed to see all of your comments when I felt up to checking in on Facebook. I pray if any of you are suffering, you also know that our hope is in the Lord who never leaves our side.
If you received this post by email, please comment here.