I always teach that mentoring the next generation starts with our own family. But what do you do when your children or grandchildren are walking with the world instead of with God? As many of you know, parenting prodigals is dear to my heart and prompted me to share our family's journey in Praying for Your Prodigal Daughter: Hope Help & Encouragement for Hurting Parents.
Today, my author friend, and licensed parent and family educator Lori Wildenberg offers practical grace- and truth-filled ways of navigating your relationship with a detoured child whether they are rejecting faith, dabbling in sin, or wholeheartedly embracing sinful behavior.
Lori knows the heartache of having a rebel child. Her new release Messy Journey: How Grace and Truth Offer the Prodigal a Way Home is for parents walking the difficult road with a wayward child. Be inspired to drink the deep waters of peace as you draw closer to the Father of all prodigals. There is hope. After all, their struggle isn't really with you, it's with God.
MESSY LIFE by Lori Wildenberg
"When her parents discovered she was pregnant, they kicked her out."
This single mom has defied the odds. She is raising her child, going to college, and working to support the two of them.
Not easy.
I don't know the details of this woman's story. I have no clue as to the relationship she had or has with her parents. I don't know all the times of trouble that led up to this separation.
But…
I do know a number of families in a similar situation who chose to do life differently. They chose to support their unwed pregnant daughter and help her in her time of need. Three of the girls kept their babies. All three are now married (not to the baby daddy), another girl miscarried (now married with kids), and a fifth made an open adoption plan.
During the most difficult time in their life, each young mom knew her parents were there for her. Each woman in the middle of the mess knew she could count on her parents to help stabilize the shaky ground. All girls are now thriving.
As daughter's of Eve and sons of Adam, we make decisions that are not in our best interest, ones that are not God's best for us.

Humans have a wandering propensity.
Some young people stray due to an unwed pregnancy, sexual sin, porn, substance abuse, or a rejection of faith. When we have a prodigal, sometimes we are to let 'em go (see Luke 15) and other times we are to chase after our lost sheep (see Luke 15).
Either way, we need to keep the bridge built so our prodigal is able to return.
I have a child who, for a season, stepped away from the family. It was the most painful thing I have ever endured. There were times I chased her down like the shepherd and other times I waited like the dad.
I cried. I prayed.
I was a mess. I was weak.
God was strong.
Praise God, He brought her back to us.
I am thankful I kept the drawbridge down so she could cross it.
If your young person has taken a detour from the way in which he should go, keep the bridge open.
Don't destroy it, build it.
During a messy life, lay down the planks of unconditional love: grace, humility, mercy, forgiveness, honesty, and truth.
Build the bridge and yes…they will come.
Back.
"Rejoice with me; I have found my lost sheep."
Luke 15:6b (NIV)
Where is God calling you to build or rebuild a relational bridge?
If you received this post by email, leave a comment here.
Lori Wildenberg is passionate about helping families build connections that last a life time. She is a licensed parent-family educator and co-founder of 1 Corinthians 13 Parenting. She has written 4 parenting books with Messy Journey: How Grace and Truth Offer the Prodigal a Way Home published by New Hope as her most recent. She is a parent consultant, national speaker, and lead Mentor Mom over at the Moms Together Facebook Community Page. Lori is a contributor to a number of on-line magazines. Every Monday you can find her blogging about faith and family. Mostly, Lori is wife to Tom and mom of four. The Wildenberg's home is nestled in the foothills of the Rocky Mountains. A perfect day in Lori's world is a hike with her hubby, four kids plus a daughter-in-love, and Murphy the family labradoodle.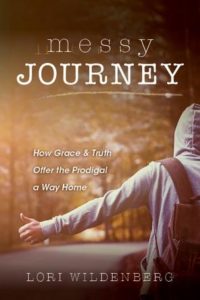 Find Messy Journey: How Grace and Truth Offer the Prodigal a Way Home at Amazon.
Additional Books:
Raising Little Kids with Big Love (for parents of toddlers- 9)
Raising Big Kids with Supernatural Love (for parents of tweens-young adults)
www.loriwildenberg.blogspot.com
www.facebook.com/1Corinthians13Parenting
www.1Corinthians13Parenting.com
https://twitter.com/LoriWildenberg
https://pinterest.com/loriwildenberg/
Instagram: LoriWildenberg