While chatting with several women at the July 4th church potluck, the conversation turned to menopause. The women were going through it now and struggling with the changes in their bodies. I have to admit, I'm so glad to be on the other side of that season of life, even though I did go through all the symptoms again when I was on Tamoxifen after breast cancer. My friend's discussion of menopause symptoms brought back memories of never knowing how many nightgowns I was going to go through in a night or wondering if my face and neck would suddenly turn red and blotchy while speaking.
But I also remembered a conversation I had with an elderly woman in our church about menopause when I started Woman to Woman Mentoring twenty years ago. You can be sure in my new book Mentoring for All Seasons: Sharing Life Experiences and God's Faithfulness, there's a chapter on menopause! Here's a sneak preview into that chapter:
When I started the Woman to Woman Mentoring Ministry at Saddleback Church, an elderly woman said she felt the church let her down when she went through menopause. Someone in "the church" should have prepared her for the body and emotional changes she would experience. Since I was a few years away from menopause, I made a mental note, because if this was so important to her, it must be a season mentoring should address.

Then I went through menopause! I called everyone I knew my age to see if what I was experiencing was "normal." I finally found a Christian book on menopause, which I later gave to another clueless menopausal friend.
When I told my girlfriends lamenting menopause about this, they eagerly asked if I still had the book?! I said no, but it's definitely a season covered in Mentoring for All Seasons. Menopause is one of those seasons where one woman can share from her life experience what helped her and be there to pray and encourage a younger woman going through "the change." You'll laugh, cry, and truly relate to author, speaker, and a dear friend of mine, Pam Farrel, who shares about her own midlife years and how she became a mentor to many women by starting a "seasoned sisters" group.
Another friend who shares in Mentoring for All Seasons about being mentored during early parenting years is now also in menopause, and she's started a Facebook group called Menopause Maidens.
We know that life is full of change in every season, but God has given us the tools to help each other through them. We just need to be willing to do what he asked of us in so many places in the Bible: reach out and mentor each other. I was incredibly blessed to have sixty-five women, including some of you, share mentoring stories—both mentees and mentors—in Mentoring for All Seasons. These women had experienced the blessings of mentoring, as mentors and mentees, and wanted to encourage other women that they can do it too, and it's a fabulous blessing! I also give God's perspective from Scripture to use in mentoring and tips in how to mentor and be a mentee in all seasons, along with sharing biblical M&M relationships.
There is a time for everything, and a season for every activity under the heavens. Ecc. 3:1
I could use your help in spreading the word, however you feel led!
Pray for God to take Mentoring for All Seasons from coast to coast, from woman to woman, to equip them to do what He has asked of every Christian woman. Not just to be a mentor, but to seek a mentor also. We're always coming out of a season to mentor from that experience and going into another season where we need a mentor!
Share with your friends, church, women's ministry, social media, blogs, websites. It's now available for order on Amazon. You can read more about the content of the book there and order a copy for yourself.
Tell me what ministries we should share this book with? Do you have a contact or know who we should contact?
Do you have a blog where I could be a guest blogger or you would post a review?
What other ideas do you have?
If you've followed me on this Monday Morning Blog for very long, you know God has given me a passion for evangelism and mentoring. Many women become believers, but they have no idea how to live the life. Or they hit a difficult season and feel alone or distanced from God. You know this was never God's plan. So won't you help me turn my small contribution into a revival of women mentoring women!
"He comes alongside us when we go through hard times, before you know it, he brings us alongside others who also go through hard times so that we can be there for that person just as God was there for us." 2 Corinthians 1:4, The Message
Likewise, teach the older women to be reverent in the way they live, not to be slanderers or addicted to much wine, but to teach what is good. 4 Then they can urge the younger women to love their husbands and children, 5 to be self-controlled and pure, to be busy at home, to be kind, and to be subject to their husbands, so that no one will malign the word of God. Titus 2:3-5
In reflecting on the many women in my life who have helped me through all kinds of seasons . . . I've been blessed to have many women speak into my life and influence me in different ways. From the way I entertain using their examples of hospitality to my deeply, personal involvement in my friends' lives, I have had beautiful, courageous women of faith who were there to teach me and train me. They helped me with my floundering anxieties as a young mother, supported me as friends during my children's busy school years, and many are faithful friends who have stood by my side in ministry for decades now. Where would I be without these generous hearted friends? I'm grateful I'll never have to know. Joneal Kirby, founder of Heartfelt Ministry, endorser and shares a story in Mentoring for All Seasons.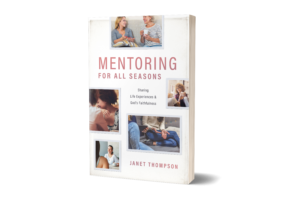 Available for Order and on Kindle
Author Bio
Janet Thompson is an international speaker, freelance editor, and award-winning author of 19 books. Her latest release is Mentoring for All Seasons: Sharing Life Experiences and God's Faithfulness. (September 12, 2017)
She is also the author of Forsaken God?: Remembering the Goodness of God Our Culture Has Forgotten; The Team That Jesus Built; Dear God, Why Can't I Have a Baby?; Dear God They Say It's Cancer; Dear God, He's Home!; Praying for Your Prodigal Daughter; Face-to-Face Bible study Series; and Woman to Woman Mentoring: How to Start, Grow, & Maintain a Mentoring Ministry Resources.
She is the founder of Woman to Woman Mentoring and About His Work Ministries.
Visit Janet and sign up for her Monday Morning Blog and online newsletter at womantowomanmentoring.com.
www.facebook.com/Janetthompson.authorspeaker
http://www.linkedin.com/in/womantowomanmentoring/
www.pinterest.com/thompsonjanet