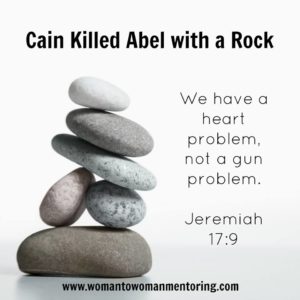 We all woke up a week ago to the tragic news of the horrific shooting in Las Vegas. Those of us who know Jesus Christ as our Lord and Savior began to pray. We prayed for the families who had lost loved ones senselessly and for those who watched their friend or family member die in their arms. We prayed for those fighting for their lives in hospitals and the doctors and nurses going without sleep and rest to save as many as possible.
We heard the heroic actions of so many and the amazing, fearless first responders who walked into danger, not knowing if they would walk out, and we praised God for them. The very courageous police force, the subject of recent unjustified ridicule and disrespect, were the very men and women everyone relied on to stop the carnage. Because that's what they do . . . regardless of skin color, gender, religious beliefs or political views—their goal and mission is to save lives, even at their own peril.
It didn't take long however for the liberal media, Democrats, and Hollywood to politicize this tragedy. Pointing fingers, nasty words, criticism, turning their platforms into a political agenda even as many lay dead and hundreds wounded.
As our president called for prayer and unity, many chose harsh words of disunity. They turned a tragedy into an opportunity to create more strife and grief in our country. Not one of the opportunists praised our president for calling for prayer and putting flags at half-mast—the very flag that has been the subject of protest and unpatriotic shameful rejection.
But the comment I can't shake from my mind, I heard on a news clip "We don't need more prayer, we need more laws." God and the value of prayer discounted and replaced by opinions and verbal attacks. The name of God used only in exclamation not reverence.
Last week, I wrote about Steve Scalise's shooting. He gave all the glory to God and prayer for the miracle of his survival and recovery. When asked in an interview if he had changed his mind about the 2nd Amendment, he said, absolutely not. Had he not had armed security with him on that baseball field, all might have died.
I'm not going to argue the 2nd Amendment, but the blatant hypocrisy of liberals arguing that more gun laws are the answer to violence and evil is misguided and misinformed.
Hollywood glamorizes violence, bloody shootings, death, and random killing—the more gruesome the better—to depict graphic and horrific ways to take lives for the shock value and "thrill" for box office dollars. Stars live in alarm-protected homes with bodyguards and heavy protection.
Then you have those people glamorizing the assassination of our president and supporting riots and protests, not condemning Antifa but encouraging them. People like Nancy Sinatra tweeting "murderous members of the NRA should be executed by a firing squad." A former CBS lawyer saying she "was not even sympathetic" for those killed in Las Vegas because "country music fans often are Republican gun toters." Right out of the terrorists' and shooters' playbook: kill those who don't agree with you.
Late-night so-called "comedians" becoming liberal politicians attacking the administration and the country.
These same people want to remove every mention of God and the "original law"—the 10 Commandments—from public places, schools, courts, the public square, and yet, think more manufactured laws will trump "thou shalt not kill." "Thou shalt not lie."
There's no agreement on additional laws needed, ignoring the fact that criminals and evil people don't follow laws.
Football players politically and publically disrespecting our flag, the National Anthem, the police force, and our President.
To have their liberal voices heard in protest, they divide the country even more by blaming everything on our President, gender, race, political party, denouncing our history . . . everything and anything except what would really make a difference—turning our country back to God.
Jesus knew their thoughts and said to them: "Any kingdom divided against itself will be ruined, and a house divided against itself will fall." Luke 11:17
And that's what our enemies see right now, a divided country ready for a fall.
THE ONLY GUN LAW WE'LL EVER NEED:
Thou shalt not kill (Deut. 5:17 KJV)
Christians Can Make a Difference
"One day Jesus told his disciples a parable to show that they should always pray and never give up." Luke 18:1
I would encourage you to read the story Jesus shared with his disciples of the persistent widow in Luke 18:1-8.
In Mentoring for All Seasons, I have a chapter on Mentoring in a World Forsaking God, and you may remember that I wrote a book last year Forsaken God?: Remembering the Goodness of God Our Culture Has Forgotten. The world needs to remember God and we can make this happen.
We live in tumultuous times in both the church and the world. Confusion and fear reigns among newer believers who don't have a solid foundation in the truth to help them discern evil from good, lies from truths, abnormal from normal. If more women would reach out to each other with understanding, prayer, and biblical truths, there would be far less fear, backsliding, and sin in women's lives.
Since Adam and Eve ate the forbidden fruit in the Garden of Eden, every generation has lived in a fallen evil world. One of their sons killed the other one and since then, what one generation does in moderation, the next generation does in excess. Just as the apostle Paul saw the need for mentors in his day, we desperately need mentors today. Yet, many who should be stepping up to mentor and teach the next generation are falling away from Titus 2, just as quickly as our world is falling away from God.
What Can We Do?
So how do we ordinary Christian women make a difference in today's confused and fallen world? As mentors, we speak, teach, and train the truth to our mentees, straight from the Bible. We must daily read our Bibles and let God's Word speak, teach, and train the truth to us so we can respond to life's issues from God's perspective. Together M&M's learn spiritual wisdom and scriptural principles to help navigate the moral decline of our culture, and in some cases, the foundation of the Christian faith.
We can't lose hope.
We can't ignore what's happening around us.
We can't live fearfully.
We can pray for revival.
We can pray for everyone blinded by lack of faith in God . . . yes, all of them!
We can pray for the victims of evil.
We can ask God what He wants, us, His people, to do. What action does He want us to take?
We can share Jesus because we live in a time of uncertainty.
We can reassure our children and grandchildren that they can make a difference in this world too.
We can live by the 10 Commandments in our personal lives, and know that it's not by law we're saved, but by the grace of Jesus. We don't follow God's laws because we have to, we follow them because we have Jesus in our heart.
We live as godly role models in a world that has forsaken God.
Before the way of faith in Christ was available to us, we were placed under guard by the law. We were kept in protective custody, so to speak, until the way of faith was revealed.

24 Let me put it another way. The law was our guardian until Christ came; it protected us until we could be made right with God through faith. Galatians 3:23-24 NLT
Excerpts from Mentoring for All Seasons used with approval from Leafwood Publishers
Mentoring for All Seasons: Sharing Life Experiences and God's Faithfulness, available at all Christian bookstores, online book stores, Amazon, and signed by Janet at our website store.
Forsaken God?: Remembering the Goodness of God Our Culture Has Forgotten also available at Christian bookstores, online bookstores, Amazon, and signed at our website.
If you received this post by email, please leave a comment here.