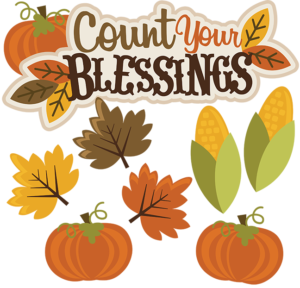 Many of you read my blog regularly, though we've never met, and others I know quite well or we've had the opportunity to meet and fellowship together. But I want you to know that when I write this Monday Morning Blog,  my monthly newsletter, or any of my books, you are on my mind. I'm wondering what you're thinking about world events and how I can encourage you with the Word of God.
Often you tell me that a particular blog or book was just what you needed at the time, and we both know that it was God using me as His messenger. To God be the glory!
As I read Paul's letter to the Philippians, I noticed that Chapter 1:3-11, 27-28 in the NIV translation has the heading: Thanksgiving and Prayer. I thought how appropriate to personalize this passage as my Thanksgiving prayer for all of you.
Adapted from Paul's letter to the Philippians Chapter 1
Thanksgiving Prayer (Adapted from Philippians 1:3-11)
I thank my God every time I remember my family, friends, peeps, church family, readers, blog/newsletter followers, brothers and sisters in Christ, fellow authors and speakers . . . . In all my prayers for all of you, I always pray with joy for those who partnership in the gospel from the first day until now, being confident of this, that He who began a good work in and through you will carry it on to completion until the day of Christ Jesus.
It is right for me to feel this way about all of you, since I have you in my heart whether I am chained to the computer writing the next book, blog, or newsletter . . .  or defending and confirming the gospel and mentoring . . . all of you share in God's grace and ministry with me spiritually, and sometimes physically, through prayer, communication, and social networking. God can testify how I think of all of you with the affection of Christ Jesus.
And this is my prayer: that your love may abound more and more in knowledge and depth of insight, so that you may be able to discern what is best for you and those you love and cherish, and you will remain pure and blameless for the day of Christ. That you will lead, guide, encourage, parent, serve, and mentor others and be filled with the fruit of righteousness that comes through Jesus Christ—to the glory and praise of God.
Living a Life Worthy of the Gospel (Adapted from Philippians 1:27-28)
Whatever happens, conduct yourselves in a manner worthy of the gospel of Christ. Then, whether I know you, or never meet you but only hear about your great work, I will know that we stand firm in one Spirit, striving together as one for the faith of the gospel without being frightened in any way by those who oppose us. This is a sign to them that they will be destroyed, but that we will be saved—and that by God.
From Janet
This Thanksgiving, and every day, go and represent Christ to a depraved and fallen world, so that because of your witness and sharing the Good News of Jesus, more will be saved than lost ("destroyed") when Christ returns.
I thank God in remembrance of each of you.
About His Work with you,
Janet
You can sign up for my monthly online newsletter or weekly blog on my website.
For more on what I'm grateful for this year read the November 2017 issue of About His Work Ministries Newsletter
If you receive this blog by email, leave a comment here.
*Picture from clipart.org.