If you've followed my Love Your Body posts on the last Monday of the month, you know I'm not a fan of "diets," especially those that limit or reduce a particular food group. I've heard of the Ketogenic Diet, as probably many of you have too, but always dismissed it since it goes against everything we've ever learned about eating large amounts of fat. I've always eaten healthy fat, but only in moderation and have enjoyed good heart-healthy blood tests over the years.
Now I'm suffering from a neurological disorder and on the sixth medication trying to control it. Many of you were following me earlier this year when the fourth medication led to numerous kidney stones and horrendous surgery. Since going off that med, I've tried two more and we're running out of options if this one doesn't work.
So I did what many of us do and started researching more to see if there was anything else I could try. Mind you, I had read and read about this condition and felt like I was doing everything the doctors and I could do, but still the symptoms or adverse reactions to a medication continue.
Then suddenly last week, while back on the internet, I saw this: Sometimes going on a Ketogenic diet can help. Whoa, why hadn't that appeared in any of my previous research? I contacted my neurologist to see if they had any success with this diet and they hesitantly said, "Some, but you would need to be followed by a Pediatric Dietitian and it will not replace medication." I was surprised about the "pediatric" part, but it could be because they've only used it with children, which my research showed was easier for kids to follow this diet than adults. I thought that was interesting.
Since many of you know my first career out of college was a Registered Dietitian, I felt confident I could figure this diet out on my own.
I mentioned the diet to my endocrinologist and he said, "Oh it's just the Atkins diet, but it could really help your LDL levels" (which had suddenly started rising). He encouraged me to try it.
This diet is also supposed to help reduce causes of cancer, and since I'm a three-time breast cancer survivor, this peaked my attention too.
When I started checking out the diet on different websites, I became more and more confused. It's not the old Atkins diet. Then a dear friend loaned me a big book by a doctor, and I'm trying to wade through it. I have so many questions, and I'm hoping some of you who have successfully been on this diet could mentor me and others thinking about also trying it.
Here are some of my questions. Please write in the comments at the end of this blog, if you have answers:
Did you gradually go on the diet, how did if feel when you started, and how long did it take to go on it completely?
What did you follow to know foods to eat and foods to avoid?
How do you know if you're in Ketosis? What do you use to test?
Any websites or books you suggest reading to learn more and find recipes?
Did you see any changes in your cholesterol or LDL levels?
How do you feel after being on it for a while?
I'm not trying to lose weight, but did you lose weight?
Did your family go on this with you, and if not, how did you make it easy to cook this way just for yourself? Because if your family eats high fats and doesn't reduce carbs, that can be bad for their health. I did figure that out, and I don't think hubby is going to do this with me.
How long did it take you to see results?
Did you go on this diet for health reasons?
What tricks do you have for eating out and staying faithful, especially with the holidays approaching?
How do you prepare kale?
I could go on and on with questions, but I know your answers to these questions will help me get started, and maybe help others who have been considering going on it too.
Don't feel you have to answer all these questions to respond, but I would love to hear from you in a comment below, so we could all learn about your experience on this Ketogenic Diet.
Also, feel free to ask more questions in your comments, because I'm sure someone is going to have the same question and/or know the answer.
This is Mentoring!
I hope you've had an opportunity to pick up a copy of my new book Mentoring for All Seasons: Sharing Life Experiences and God's Faithfulness. Mentoring is just what I'm asking us to do in this post . . . share our experiences with those who are in a new season of life. You may be younger or older than me, but you can help me learn more about the Ketogenic Diet. Then I can pass on to others the knowledge and help you've given to me and everyone reading this post.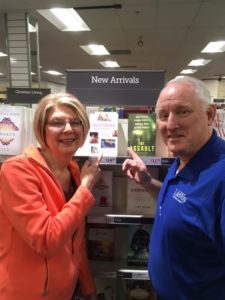 I had fun last week stopping by our new LifeWay Bookstore in Boise to take pictures of Mentoring for All Seasons with the manager of the store. It never gets old seeing your "baby" on the shelf, and it was right in the front on the "New Release" shelf. If you have a LifeWay Bookstore near you, why not stop by, pick up a copy, and support your local Christian bookstore.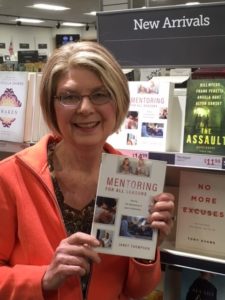 I didn't hear from any of you last week, but the publisher is offering an incredible discount on 5 or more copies of Mentoring for All Seasons through the end of December. You can use it yourself, share with your church, your women's ministry, small group, or whoever would benefit from the book. Contact me and I'll send you the information.
You can also purchase on all the online bookstores, Amazon, or I'll sign and personalize it from our website store.
Ok, remember two are better than one, and I need your help figuring out this Ketogenic Diet. I hope many of you will leave comments and give me some advice.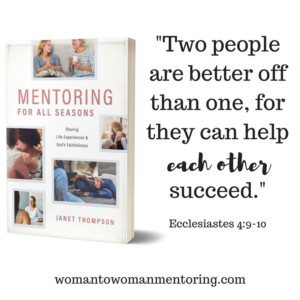 If you receive this post by email, leave a comment here.