If you've followed me for awhile, you know I've been writing, editing, and proofing a new book, Mentoring for All Seasons: Sharing Life Experiences and God's Faithfulness. Last week, I turned in my final proof edit to the publishers, Leafwood Publisher, as I anticipate it's September 12, 2017 release. Then I learned the exciting news that this book is now on Amazon ready for preorders! You can order now, and as soon as it's in stock at Amazon, you'll receive your pre-release copies. The more preorders, the more they bring in stock. Will you help me get this book into the hands of mentors and mentees, those wanting to know how to be a mentor or mentee, and Women's Ministry Directors to guide women in all seasons of their life.
This book will guide and equip women from tweens to twilight seasons in how to biblically mentor or be a mentee! I think it's the first book of it's kind written for both M&M'S! One endorser has already said every Women's Ministry Director needs this book in her library. As the summer goes on, I'll share more tidbits about this book for all women.  So drum roll please . . . I'm unveiling the cover!
The Mothering Season
When I speak to women about mentoring, I tell them that their first mentoring responsibility is to their daughters if they have daughters or nieces. They're the role model for these young girls and they're mentoring to them what it looks like to be a woman today: either a woman of the world or a woman of the Word. And then, I ask the question: Are you the woman today you want your daughters to become because they're watching you, and as much as they don't want to be like you, they will probably become just like you at sometime in their life.
In Praying for Your Prodigal Daughter, I share how during my backsliding years, my daughter wanted to be just like me. I realized some of the poor choices she was making were a reflection of the poor choices she was watching me make.
That was a huge revelation to me that I needed to make some changes in my life. When I did rededicate my life to the Lord and start living a godly life, she didn't want any part of it. She liked the way we were living more by the world's standards than by God's ways. And that's the story I talk about in Praying for Your Prodigal Daughter. I went down on my knees and prayed Scripture for her daily for six years; all the time showing and role modeling for her the blessings of being a rededicated woman of faith.
I'm happy to say our story took a happy turn and Kim did eventually give her heart to Jesus, and she has done a much better job than I did raising her three children in a Christian household. She's mentored them in character qualities that her two daughters and son are obviously noticing. For a school project, 3rd grader Sienna was to write why her mom should be in People Magazine. I must admit, I was troubled by this teacher's choice of a magazine that 3rd graders had no business knowing about or writing an article for, so I was relieved when Sienna said she had no idea what People Magazine was, anyway!
But what did impress me were the character qualities Sienna wrote that she saw in her mom. My daughter is a fitness instructor with a fabulous figure, she's gorgeous, dresses stylishly, and always looks beautiful. So when Sienna decided to write about why her mom should be on the cover of People Magazine, she easily could have talked about these superficial, outward qualities, but at eight-years old this is what she wrote, exactly how she wrote it, no edits from Grammie: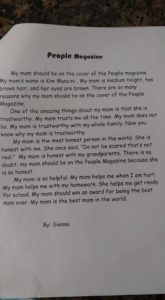 My mom should be on the cover of the People magazine. My mom's name is Kim Mancini. My mom is medium height, has brown hair, and her eyes are brown. There are so many reasons why my mom should be on the cover of the People Magazine.

One of the amazing things about my mom is that she is trustworthy. My mom trusts me all the time. My mom does not lie. My mom is trustworthy with my whole family. Now you know why my mom is trustworthy.

My mom is the most honest person in the world. She is honest with me. She once said, "Do not be scared that's not real." My mom is honest with my grandparents. There is no doubt, my mom should be on the People Magazine because she is so honest.

My mom is so helpful. My mom helps me when I am hurt. My mom helps me with my homework. She helps me get ready for school. My mom should win an award for being the best mom ever. My mom is the best mom in the world.

By Sienna
"The Lord does not look at the things people look at. People look at the outward appearance, but the Lord looks at the heart." 1 Samuel 16:7
Sienna's mom, is trustworthy, honest, and helpful. Later she wished she had included hardworking. Isn't that what every mom wants all her children, not just her daughters, to say about her?! Good job Kim.
What would your kids write why you should be on the cover of People Magazine?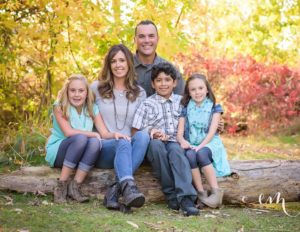 The Mancini family. Sienna is next to her brother
If you received this blog by email, please leave a comment here.