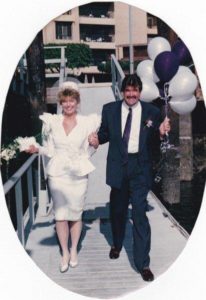 Yes, as you read today's Monday Morning Blog, December 19, 2016, hubby and I are celebrating our 24th wedding anniversary! Several of you have mentioned you enjoy learning a little about my life lessons in these Monday mornings blogs, so as I pondered what to share with you so close to Christmas, I thought what better words of wisdom than what God has taught me about loss, life, and love in our marriage. I hope you'll keep reading, even if you're not married, because the principles God has taught me can apply to any relationship.
Loss of Expectations
Our wedding, just six days before Christmas, was a second marriage for both of us. Dave had three children and I had one daughter. I was single for seventeen years and Dave only a few years. The kids ranged in age from fifteen to nineteen, so I didn't anticipate any problems in everyone living happily ever after.
Well, if you've blended a family or been around one, you're probably laughing hysterically about now. Blending didn't come without its challenges, and we all brought baggage and different ways of doing things from our original families. I learned right away that I was going to have to lower, and in many cases lose, my expectations: we would never be a nuclear family. Christmas or holidays or special occasions would always be a compromise of negotiating between two families, which would only become more complicated as the kids married and added extended families with their own traditions.
I couldn't control who would be with us on what day or at what time . . . or even at all. There has only been one time since all our grandchildren were born that all four children, their spouses, and the eleven grandchildren were together, and that was at Thanksgiving six years ago at our son's house—it wasn't even at our home. For Dave's 70th birthday last year, I had a dream . . . still hadn't let go of all those expectations . . . of the whole family celebrating together for a reunion at our home in Idaho, where some had yet to visit. But one family couldn't join us.
Dave and I have learned to pray about each event, and then enjoy who comes and not worry over who doesn't. That hasn't been an easy lesson for me to learn, but it has been necessary to maintain sanity and family relations. It relieves stress, worry, and disappointment when I let go of my expectations and let God fulfill His.
For I know the plans I have for you," declares the Lord, "plans to prosper you and not to harm you, plans to give you hope and a future. Jeremiah 29:11
What Divorced Christians Want You To Know
Life Is Ever Evolving
When we were first married, Dave had a wonderful job with great benefits. I was so happy that I would have some relief from the pressures of supporting a family after seventeen years of being a single mom. So after three years, we decided when the last child left home, I could quit my job and go into full-time lay ministry starting the Woman to Woman Mentoring Ministry at Saddleback Church. If you're not familiar with the term "lay ministry," it means no pay. I was never on staff at Saddleback. Three months after I quit my job, Dave was laid off from his corporate career and that was the end of a corporate job with benefits and great income . . . forever!
Read more of that story at About His Work Ministries.
Dave eventually found various labor-intensive jobs, until the last one resulted in him having to have reconstructive foot surgery and medically retire, which is how we ended up moving to Idaho. I tell that story, along with his multiple layoffs, in Dear God, He's Home!: A Woman's Guide to Her Stay-At-Home Man.
Right before Dave's second layoff, I had my first battle with Breast Cancer and started radiation two days before our 10th wedding anniversary. Little did we know then that I would go on to have breast cancer two more times, and 6 ft. 4 in. Dave would take a job that had him in a uniform crawling on his belly under houses and in attics. But through it all, God has kept me About His Work, and used us in a mighty way. Dave supports me as I write and speak for the Lord. Dave is my helpmate with his techie abilities, helping with the website, and for those of you who receive our newsletter, I write the articles but he puts it together.
Dave now travels with me when I speak, and the women really appreciate how we work as a team with him "manning" the book table. I used to pray that God would send me an assistant . . . I just never expected it to be Dave. Our personalities and gifts are polar opposite, but God has taught us, as life has evolved over these twenty-four years, how to combine our differences into a united effort working together for the Lord. What Satan tries to pull apart and use to separate us, we've learned to identify and let God make us stronger and better together.
"There is a time for everything, and a season for every activity under the heavens." Ecclesiastes 3:1
Love Jesus First
If you've read Praying for Your Prodigal Daughter or Dear God, He's Home! I talk about a Marriage Builders course taught at the time by Pastor Pete McKenzie who married us [picture above]. On a whiteboard, Pastor Pete would draw a triangle with God at the pinnacle, a stick figure man in one lower triangle corner, and a stick figure woman in the opposite corner. Then he would draw an arrow across the bottom of the triangle explaining that when we have our eyes on each other, we're the farthest apart. Next he would draw arrows up each side of the triangle, explaining that as we each move closer to God, we move closer together.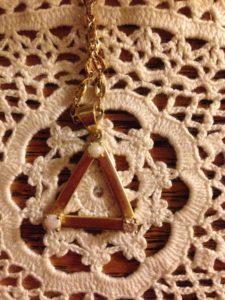 On one of our early anniversaries, Dave had a charm made for me (picture above) symbolizing that triangle with the pearl of God at the top and our birthstones on each corner. Yes, my birthstone is a diamond! As long as Dave and I remember to keep Jesus first in our lives, everything runs smoothly in our marriage, no matter how our expectations are dashed, or how our life is evolving for good or bad. But if we take our eyes off Jesus, even for a moment, chaos can reign in our home.
All relationships have challenges, and so often those magnify at Christmas and holidays. I hope the three lessons I've learned in my marriage, will help you maintain peace, joy, and Jesus's love no matter what your circumstances or challenges this year or in the New Year. They're definitely not the only three lessons I've learned, but they're definitely at the foundation of all the others.
"Grace to all who love our Lord Jesus Christ with an undying love." Ephesians 6:24
Merry Holy and Blessed Christmas to all my dear friends and family.