Born Again!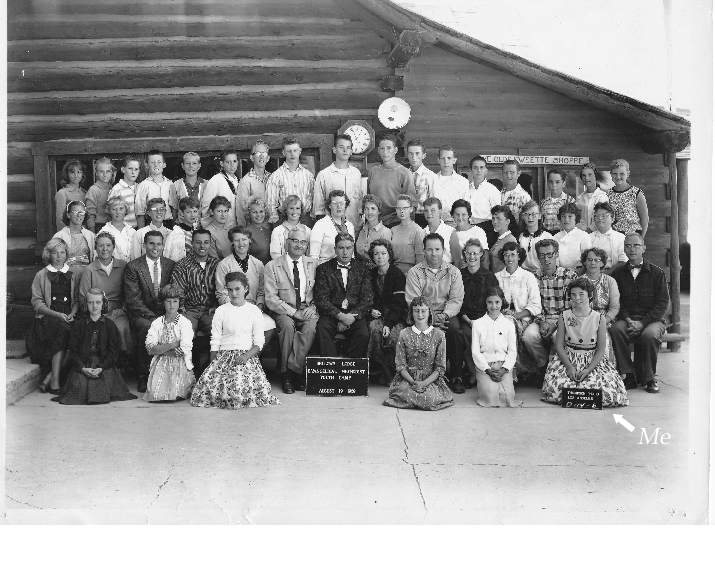 MY TESTIMONY begins when I became a Christian at the age of eleven—a year after my California Highway Patrolman father was shot and killed in the line of duty. Our family dealt with tragedy at an early age: I was ten, my only sister four, and my mom a young widow at thirty-three. We each had our own way of dealing with his death. For me, it was accepting Christ as my heavenly Father in place of my earthly, dearly loved father whom I had just lost.
I accepted Jesus into my heart at a church youth camp when a camp counselor and the pastor's wife sat on my cot and said: 'We know you've lost your earthly father, but would you like a Father who would never leave you or forsake you?' I eagerly said, 'Yes,' and they prayed the salvation prayer with me.
I stayed on fire for the Lord, even during a bout with crippling scoliosis in my teens which put me at home in a plaster body cast for two years.
However, the day after graduating from college, I married without consulting the Lord and no one stepped in to counsel or mentor me. Sadly, that marriage only lasted six years, but God blessed me with a sweet baby girl, Kimberly Michele.
 

Rededication
I WAS A SINGLE PARENT for seventeen years—moving up a successful career ladder—but miserably backsliding in my faith. Then my daughter Kim and I moved to Lake Forest, California and started attending Rick Warren's Saddleback Church. Every Sunday, I could hear the Lord reaching out to me through Pastor Rick's messages.
Finally, in the summer of 1992, I rededicated my life to Christ at a Harvest Crusade and that same year met and married my godly husband, Dave. We became a blended family with Dave's three children, Michelle, Shannon, and Sean, and my Kim. Dave and I quickly accepted each others children as our own, and both refer to our stepchildren as our daughters and son.
 Feed My Sheep

A YEAR AFTER my wedding, I felt a call from the Lord to go into ministry. I had enrolled in Fuller Theological Seminary to obtain a Master of Arts in Christian Leadership, with a focus on equipping the laity. Since I had an MBA, the MACL degree would equip me intellectually and spiritually to serve God in the business world, where I had spent most of my adult career. Surely that was the Lord's plan, because the Lord knew I didn't want to serve in Women's Ministry.
In the business world, women often mistreat each other, and during my years as a single working Mom, I felt ostracized by the women's groups in church. I had never attended any of the women's events or Bible studies at Saddleback Church, so surely God wasn't going to use me in Women's Ministry!
Wondering about other options when I completed seminary, I decided to attend a "Women in Ministry Leadership Conference." All the women I met there were in Women's Ministry, but I knew the Lord would answer my prayers and help me discover His plan for me.
And answer He did! After dinner the second night of the conference, I heard a whispered, 'Feed My sheep.' In my mind I asked, What sheep? Where? And what would I feed them if I found them? Again I heard, 'Feed My Sheep.' I said an obedient, 'OK,' and then wondered: Who was I talking to and what did I just agree to do?
I called my husband later that night and we prayed for clarification from the Holy Spirit. The Lord was gracious to answer. The next morning the conference speaker taught from John 21:15-17, where Jesus is saying to Peter, "If you love me, feed My sheep." The title of that session was Shepherding Women in Your Church.
I was sure the Lord had the wrong woman. Hadn't I told Him I didn't want to work with women? But within weeks of returning home from the conference—and much prayer asking the Lord to reveal to me who the sheep were and what I was supposed to feed them when I found them—I heard the first bleating sheep calls.
Two women asked me to mentor them. One was a woman in my insurance company and the other a young college student. I quickly read Women Encouraging Women by Lucibel Van Atta (now out of print) and began mentoring both women. Maybe sheep were women and feeding was mentoring?
Several months later while working out at the gym, I ran into Saddleback's Pastor to Young Adults. As we chatted, he mentioned that many of the young women in his groups were asking were they could find a mentor. Reluctantly, I told him my "Feed My sheep" story, and soon he and the Pastor to New Ministries encouraged me to start a women's mentoring ministry. They handed me the Twelve Steps to Starting a Ministry at Saddleback Church—launching the Woman to Woman Mentoring Ministry.
I had told the Lord I would feed His sheep and there was no turning back. God began opening doors, and as I stepped through each one, He opened another.
And He closed a few doors too. Three months after starting the Woman to Woman Mentoring Ministry, Dave went through a layoff. He was out of work for a year and a half. As friends and family continuously asked if I was going back to work, Dave repeatedly answered, "Janet is working." When asked, "At what?" he replied, "She's about the Lord's work." Thus the naming of my writing and speaking ministry: About His Work Ministries, which we abbreviate to AHW Ministries. AHW Ministries has now expanded to Two About His Work, a speaking ministry with my daughter Kimberly Mancini.
Breast Cancer Journey

IN OCTOBER 2002 during my annual physical, I was diagnosed with breast cancer. For several years prior to the dreaded diagnosis, the statistics that one in eight women would get breast cancer in their lifetime haunted me. Often while speaking to groups of women, I would think: Lord, if these statistics are right, one or more women in this audience are going to get breast cancer! Then I would plead, Oh, Lord, please don't let it be me.
When it was me, I knew the Lord had been preparing me and there would be a purpose in my ordeal. During my treatment, I began to see that God was calling me to write for my breast cancer sisters the book I longed to have and couldn't find. I wanted one book where I could put all the notes and pieces of paper I was receiving, find information in laymen's terms, read snippets of other breast cancer sisters' stories, receive comfort and encouragement from the Lord, and have a place to journal my own story. That book is—
Dear God, They Say It's Cancer
A Companion Guide for Women on the Breast Cancer Journey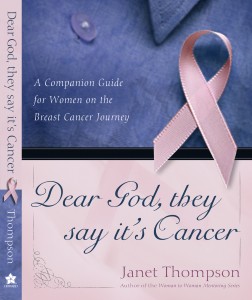 I've had two recurrences of breast cancer, but God has kept me About His Work and feeding His sheep with a prolific speaking and writing ministry, which seems only to be enhanced by a brush with my mortality.
God is not unjust; he will not forget your work and the love you have shown him as you have helped his people and continue to help them.—Hebrews 6:10