Enjoying the Good Days….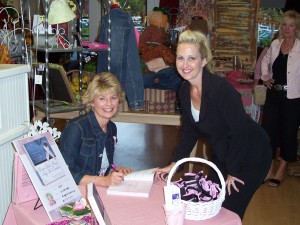 I'VE BEEN ON THE  Breast Cancer Journey three times and had the opportunity to write the book I wished I had going through my own journey: Dear God, They Say It's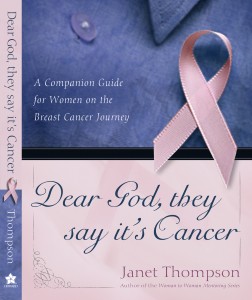 Cancer: A Companion Guide for Women on the Breast Cancer Journey. I wrote this book to be a walk-along-beside you source of support and comfort to all my breast cancer sisters and also for use in support groups.
 Here's a verse that opens the chapter on "Getting Needed Support":
All praise to the God and Father of our Master, Jesus the Messiah! Father of all mercy! God of all healing counsel! He comes alongside us when we go through hard times, and before you know it, he brings us alongside someone else who is going through hard times so that we can be there for that person just as God was there for us.—2 Corinthians 1:3-4 The Message
I know personally the value of positive influences surrounding you at this vulnerable time, and nothing can replace the comfort of the Lord and the camaraderie of a woman who has walked the journey before you and knows just how to mentor you…because she's been right where you're at now. I can be that mentor to you through this website and my book, but I encourage you to find, or form, a support group in your area, or at least seek out another breast cancer sister who is further along the journey.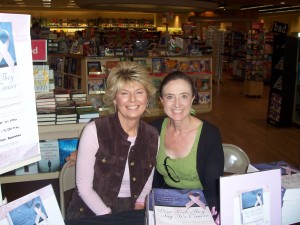 In Loving Memory of My Grace Abounds!
I WAS FORTUNATE TO HAVE A WONDERFUL MENTOR on my own journey. I called her my "Grace Abounds" and dedicated Dear God, They Say It's Cancer to her. Grace wrote the "Dear God, I'm Single" journal entry in the book and we became dear friends. I share the story in the book of how we met at the Breast Care Center during my first diagnosis and Grace was right there beside me during the recurrences.
The first step in our own healing is when we reach out to help someone else. When you're feeling better, maybe God will ask you to mentor someone, but if you're in the midst of treatment right now, let others help you!
Here is a poem my "Grace Abounds" wrote that I am sure you'll enjoy: "Step by Step" by Grace Marestaing

Articles and Links You Might Find Helpful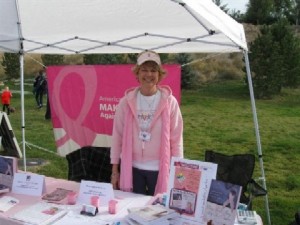 A Breast Cancer Sister Forms a Support Group
Our town is a big town but only 1 Cancer Support Group. I have prayed and feel lead to have a Breast Cancer Support Group in my church. I also would love to have a Mentor to talk and walk this journey with. I am so surprised that there is only 1 support group in a town this size. I am getting busy living and praying for God to move mountains and doors to open for this Breast Cancer Support Group to come about.  
Several Weeks Later…
Just an update about my starting a Breast Cancer Support Group in my church. I had a meeting with our Ministry Pastor and we had a great visit. He said he would love to have a ministry like this in our church. I am in prayer right now for a Co-Leader. I showed him your book and told him it would be a guide for the support group meetings. He loved the idea and now God has me in a holding pattern as to who and how and when this group can get started.  
I also told him of your Grace Abounds, as a Mentor, and that I would love to see something take off from these group meetings. He even took it further and saw a need to connect other ministry groups in our church for these women to be referred to.  
He saw a BIG PICTURE, so to speak, for our church and God to help out in any way, for any woman in need. He said he would also like to see the men in the woman's lives helped and anyone else's life that is impacted by all of this. WOW—God is SO GOOD!  
So my prayers go out to you and all that is going on in your life. Prayers for all the women impacted daily through Breast Cancer and all the support system people impacted by this also.

P.S I am doing great and putting one foot in front of the other. God moves mountains or carries us in His arms, going through it all! 
The Start-up Process Continued….
IT HAS BEEN AN AWESOME GOD ONLY WEEK: met with my connection at church, have a room for the group to meet, the flyer is done and handed in at church today, so we can get this group going by Thursday, Sept 27th PRAISE THE LORD!!!! Truly an awesome God thing and a Dream and a Passion to see this come about!
The Breast Cancer Support Group Became a Reality…
I wanted to share about our Breast Cancer Support Group meeting last Thursday night. We had 3 ladies show up! We spent the time with them sharing and "letting it out" so to speak. I gave them information on where to order your book. We will start up working in it and following in it and having speakers come, beginning in the new year. I mainly wanted to start before the holidays hit, so they would have a place to start healing and dealing.
A lot was said by 2 ladies, one who is very angry with God and not knowing where or who to turn to. She comes from out of town and saw my flyer at the  radiation wall at our Cancer Center. My "new family" at the Cancer Center have been so helpful in getting that information out. God is at work in so many people. It is Awesome to see so many "Angels" at work to help and heal others.
I once again want to Thank-you for your listening ear when I needed someone so badly. I pray God will use me as a mentor or instrument to further His work here on earth.
Your book is going out  into hands of women who don't know what to do, just like when you first started this journey. Your paying it forward to help them is truly a gift and a Blessing, to me and them!
God's love and peace to you, Cathie Schultz, Hope Church, Grand Forks, ND
Here's Another Support Idea…Therapeutic Horseback Riding for Breast Cancer Survivors
THANKS FOR WRITING Dear God, They Say It's Cancer. I feel like I am writing my own story! I was diagnosed in April 2009 with DCIS. Diagnosis, surgery, and radiation were planned and completed with many questions. The first and main question was, and still is, why me?
Well, I am beginning to figure that out. God keeps pointing me toward horses. I have always loved, ridden, and even studied horses. Last fall, I received a call from Cancer Services offering me an opportunity to participate in a therapeutic riding program for Breast Cancer Survivors. I was thrilled. My manager at work rearranged my schedule so I could ride. It made me feel so, good. Tuesdays were "all about me."
Now, I received an email from Cancer Services offering me an opportunity to be at a Therapeutic Riding Program for Breast Cancer Survivors booth at the "Cancer Survivors Info Day" in March. How cool is that! I'm excited and curious to see what God has in store for me combining breast cancer and horses.
Your book is certainly an inspiration to me. I found it when I made the last round of the Christian bookstore. It was the pink ribbon on the cover, and I knew I had to take it home. My treatment was tough to get thru, but I did it! Now, I have follow up appointments this week with my surgeon and radiation oncologist. I'm nervous, but feel confident all is well. Thanks for being who you are, and I thank God for bringing your book to me. —Sincerely, Carol Forestell