Prodigal Support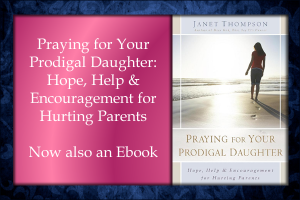 Help each other in troubles and problems. This is the kind of law Christ asks us to obey.—Galatians 6:2 NLV

Finally, a book I can recommend to parents of prodigal daughters! This message of hope and encouragement is for every parent who has experienced the pain of a wayward child. Thank you, Janet, for your honesty in sharing your own firsthand experience, as well as the experiences of others. Get several copies because you will want to pass this book around!—Vicki Courtney, national speaker and best-selling author of Your Girl: Raising a Godly Daughter in an Ungodly World
Hope for Parents of Prodigals Support Group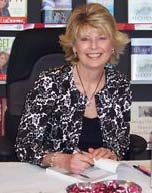 THE BIBLE TELLS US in Ecclesiastes 4:9-10 that "Two are better than one because they have a good return for their work: If one falls down, his friend can help him up." It's probably difficult and painful to talk about your prodigal daughter, maybe even embarrassing. That's why a support group is so valuable—everyone understands what you're feeling because they have the same feelings and concerns.
We need each other. God never planned for us to go through the trials of life alone.  Praying for Your Prodigal Daughter has discussion questions for families and support groups at the end of each chapter, and Chapter Eighteen discusses the value of a support group. The book can be used for prodigal daughters and sons.
All praise to the God and Father of our Master, Jesus the Messiah! Father of all mercy! God of all healing counsel! He comes alongside us when we go through hard times, and before you know it, he brings us alongside someone else who is going through hard times so that we can be there for that person just as God was there for us. We have plenty of hard times that come from following the Messiah, but no more so than the good times of his healing comfort—we get a full measure of that, too."—2 Corinthians 1:3-5 (The Message).
Connect With Support Groups In Your Area
YOUR BOOK IS HELPING ME through this ordeal by teaching me to turn my focus back towards God and taking my thoughts off what Satan tries to get me to focus on. However, a support group would really be helpful. My (now) 18-year old daughter left home at 17 May 21, 2010, and had limited contact until 9/28/10…that day she cut off all contact with me and told my husband she would never come home and never wants to see us again. She has married her (now) 17-year old boyfriend and has had complete support of his non-Christian Parents. Boy it is a long story going back several years. My daughter is a beautiful girl who had such a precious relationship with God for a couple of years, until this boy came back in her life.
Is there a support group anywhere in Mississippi?—A Praying Mom
THANK YOU FOR WRITING this book. And for creating this group! It has been a lifesaver. It is a lonely road and a weary one as well and it's nice to find support along the way. I have been praying for some friends who can relate to this pain…this is a God-send. 🙂
THANKS SO MUCH. We just received your book Praying for Your Prodigal Daughter and myself, my ex-husband, and my son will be reading and praying…without ceasing.
I prayed for a friend's prodigal daughter for over TWO years. Suddenly, one day, the girl left her male roommate and came back home. She has since moved out to her own apartment, but she calls her Mom often, invites her over, and apologizes for all the pain she caused her. So my advice to anyone with a prodigal child is 'Do not give up on her or him. God has his own timetable. Sharon
A Praying Mom's Song for Her Prodigal
I STILL CAN'T SING the song I wrote without crying. I believe His heart breaks over His children. If the song reaches one person for Christ I will be happy. I believe that God will use it to let people know how much He loves them. He is waiting for them to make the choice to be in His arms of grace.
Prodigal Child Song

MY FATHER SAYS
PRODIGAL CHILD SO LOST AND SAD
TRYING TO FIND YOUR PLACE
RUNNING AND SEARCHING FOR PURPOSE AND PEACE
SO FULL OF ANGER AND PAIN
MY FATHER SAYS
PRODIGAL CHILD I AM HERE
SLOW DOWN AND HEAR MY VOICE
IN YOUR HEART YOU KNOW THE TRUTH
THERE IS HEALING AND JOY
MY FATHER SAYS
MY CHILD YOU ARE LOVED
I WATCH EACH DAY FOR YOU
TURN TO ME AND I WILL RUN TO YOU
MY ARMS ARE OPENED WIDE
Support Group Documents
Janet Thompson and her husband started a Hope for Parents of Prodigals Support Group in their home and have developed some tools to help you start one in your area.
Additional Support Tools
Pray for you.

Pass along tips you learn about leading your group.

Comments about praying for your prodigals.

Help connect you with support groups in your area or let others know about your support group.

If you would like to receive our monthly newsletter to keep informed of new developments in support groups and other happenings in my ministry, About His Work Ministries, please sign up today.
Contact Janet

for Speaking Engagement