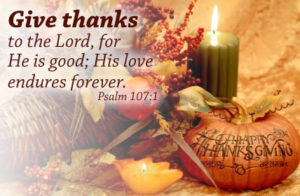 Today starts Thanksgiving week. I've talked to so many people who tell me that Thanksgiving is one of their favorite holidays. For Christians, it ushers in the season of thanking God for His provision, but most importantly thanking Him for sending His One and Only Son to die on a cross to offer each of us eternal life.
I wonder how many think about our Salvation at Thanksgiving?
We typically thank God for our family, our home, our jobs, our health, our friends… answers to prayers . . . all of which are so worthy of our praise. But I would like to challenge you this year, when it comes your time around the dinner table to answer the question: "What are you most thankful for?"
Your answer will be, "Jesus Christ in my life."
Thank God for your salvation . . . even if there are nonbelievers present . . . especially if there are! Then do everything you do to the glory of God whether it's cooking, playing games, fellowshipping, even watching football!
If we say that Jesus is at the center of our life and we put Him above all else, doesn't it only make sense that He would receive our greatest praise and Thanksgiving?
If we say we are blessed, it's important that we remember the source of all our blessings is God and we direct our attention to Him. In my upcoming February release, Forsaken God?, I talk about celebrating Thanksgiving as a way to remember God's goodness and I ask the question:
Thanksgiving is a day set aside to acknowledge and celebrate God's acts of kindness and provision to America. What could you do to put the focus more on God at Thanksgiving and less on feast and football?
I would love to hear how you answer that question. Leave a comment below and let me know.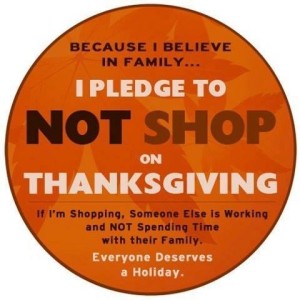 I also hope that you are not treating Thanksgiving as another shopping day, whether at the stores or online. That might seem like a harsh challenge, but you can read my thoughts on that in a post I wrote Thanksgiving 2013 "Acquiring Overshadows Thanksgiving." I would encourage you to read that post before you break out your credit card or grab your car keys.
A Thanksgiving Prayer from David
This Thanksgiving I bless you with a psalm of Thanksgiving. May this become your Thanksgiving praise also!
7 That day David first appointed Asaph and his associates to give praise to the Lord in this manner:

8 Give praise to the Lord, proclaim his name;
    make known among the nations what he has done.
9 Sing to him, sing praise to him;
    tell of all his wonderful acts.
10 Glory in his holy name;
    let the hearts of those who seek the Lord rejoice.
11 Look to the Lord and his strength;
    seek his face always.

12 Remember the wonders he has done,
    his miracles, and the judgments he pronounced,
13 you his servants, the descendants of Israel,
    his chosen ones, the children of Jacob.
14 He is the Lord our God;
    his judgments are in all the earth.—1 Chronicles 6:7-14
It has pleased Almighty God to prolong our national life another year, defending us with His guardian care against unfriendly designs from abroad and vouchsafing to us in His mercy many and signal victories over the enemy, who is of our own household. It has also pleased our Heavenly Father to favor as well our citizens in their homes as our soldiers in their camps and our sailors on the rivers and seas with unusual health. …Now, therefore, I, Abraham Lincoln, President of the United States, do hereby appoint and set apart the last Thursday in November next as a day which I desire to be observed by all my fellow-citizens, wherever they may then be, as a day of thanksgiving and praise to Almighty God, the beneficent Creator and Ruler of the Universe. And I do further recommend to my fellow-citizens aforesaid that on that occasion they do reverently humble themselves in the dust and from thence offer up penitent and fervent prayers and supplications to the Great Disposer of Events for a return of the inestimable blessings of peace, union, and harmony throughout the land which it has pleased Him to assign as a dwelling place for ourselves and for our posterity throughout all generations."
I pray a blessing over each of you this Thanksgiving Day as you give praise where praise is due!
If you receive this post by email, leave a comment here.