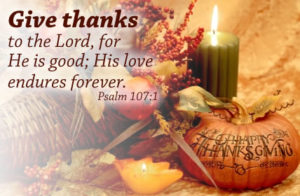 During our small group prayer request time, a reoccurring request went something like this: Please help us be a light on Thanksgiving with the eclectic group of people attending with differing political and faith beliefs.
Whether it was all family, all friends, invited guests . . . or a combination . . . most were apprehensive how the day would turn out.
In the fragile aftermath of a volatile election, I imagine many of you are having similar concerns and conversations. I remember my mom cautioning that if you want to keep the peace, don't talk about religion or politics, As a kid, I never understood her warning. Believers are supposed to tell everyone about Jesus. How could we not talk about our Savior, since our identity is in Christ? And isn't everyone entitled to his or her own political opinion?
Then I grew up and learned that Jesus and politics are indeed quite controversial, but I still don't think that means we shouldn't talk boldly about them . . . we just need to be respectful. My first priority in life is being a born-again Christian and all other roles follow after. But as I wrote in Forsaken God?: Remembering the Goodness of God Our Culture Has Forgotten: "Bold doesn't mean obnoxious. It simply means not being afraid to speak the truth in love, even in the face of adversity: 'Therefore, since we have such a hope, we are very bold' (2 Cor. 3:12)." For example, if someone asks what I write, I answer, "Christian nonfiction." Or I'll say, "I'm a Christian author and speaker."
For I fully expect and hope that I will never be ashamed, but that I will continue to be bold for Christ, as I have been in the past. And I trust that my life will bring honor to Christ, whether I live or die. Philippians 1:20 NLT
So never be ashamed to tell others about our Lord. And don't be ashamed of me, either, even though I'm in prison for him. With the strength God gives you, be ready to suffer with me for the sake of the Good News. 2 Timothy 1:8 NLT
Is Thanksgiving a Religious Holiday?
That could be an awkward question in some circles.
I was with a group of people when I mentioned how I hoped people would set their differences aside on Thanksgiving Day, and one person said, "It's just a time for eating a lot of food, watching football, and shopping online anyway."
Me: "I'm pretty sure the first pilgrims who celebrated Thanksgiving didn't have TV or Amazon.
Another responded: "Well at least Thanksgiving isn't a religious holiday."
I asked: "Who then are we thanking?"
Complete silence.
Of course, the answer is: God.
Abraham Lincoln made it an official national holiday "as a day of thanksgiving and praise to Almighty God, the beneficent Creator and Ruler of the Universe."
The English colonists we call Pilgrims celebrated days of thanksgiving as part of their religion. But these were days of prayer, not days of feasting.
We read in Genesis that God spoke everything into being, and yet, many will be sharing turkey and dressing with people who don't believe in, or discount, the existence of God. They don't know where they're going when they die, or where everything we enjoy on earth came from . . . and maybe they don't even care. They'll walk out of the room during prayer before the meal, and may try and start an argument over the election. Maybe after a few drinks, their conversation will turn ugly, even though innocent young eyes are watching and ears are listening to how "adults" interact.
As I prayed and talked to the Lord, here's a list I hope will help any who might be apprehensive this Thanksgiving. I'd love to hear your ideas too.
Don't worry about what to say—"Whenever you are arrested and brought to trial, do not worry beforehand about what to say. Just say whatever is given you at the time, for it is not you speaking, but the Holy Spirit." Mark 13:11 (Jesus was instructing his disciples, but I think it could apply to us too if we felt our faith was being tested or put on trial.)
Speak kind words— "Kind words are like honey— sweet to the soul and healthy for the body." Pr. 16:24 NLT
For your part, maintain peace—"If it is possible, as far as it depends on you, live at peace with everyone." Romans 12:18
Don't ask or answer antagonistic questions, walk away or change the subject— "Interfering in someone else's argument is as foolish as yanking a dog's ears." Pr. 26:17 NLT
Play with any children present— "We will tell the next generation about the glorious deeds of the Lord, about his power and his mighty wonders." Ps 78:4 NLT
Don't drink— "Don't be drunk with wine, because that will ruin your life. Instead, be filled with the Holy Spirit." Ephesians 5:18 NLT
Smile, Smile, Smile— "Fix my eyes on God— soon I'll be praising again. He puts a smile on my face. He's my God." Psalm 42:5 The Message
Listen— "Fools think their own way is right, but the wise listen to others." Pr. 12:15 NLT
Take a deep breath and think before you speak—"There  is more hope for a fool than for someone who speaks without thinking." Pr. 29:20 NLT
Less is more—"The more words you speak, the less they mean. So what good are they?" Ecc. 6:11 NLT— There's "A time to be quiet and a time to speak." Ecc. 3:7 NLT
Say mind prayers continuously.—"Pray continually" 1 Thess. 5:17
Have a secret sign or word between you and someone else that signals: Let's change the subject or move into the other room.—"Two are better than one, because they have a good return for their labor." Ecc. 4:9
Put on the Armor of God— "Put on the full armor of God, so that you can take your stand against the devil's schemes." Eph. 10:6:18
If you're Hosting—Pray and thank God for each guest. Ask to be a blessing and to share joy. Pray over your home and each chair at the table. Pray before the meal as you normally would, your guests know they're coming to a Christian home.—"Offer hospitality to one another without grumbling." 1 Peter 4:9
If you're a Guest—As you walk up to the home, pray you'll be a blessing and that God will stir up the fruit of the spirit in your heart. If you're hosts don't pray before the meal, bow your head and pray over your food as you normally would. — "But the fruit of the Spirit is love, joy, peace, forbearance, kindness, goodness, faithfulness,  gentleness and self-control. Against such things there is no law." Gal. 5:22-23
Thanksgiving is a day for harmony and focusing on God and giving Him thanks and praise in whatever way He leads. Fiction writers have a saying: "Show don't tell." Which simply means, you don't always have to speak Jesus with your words, you can show Jesus with your actions, and people will want what you have!
Enter his gates with thanksgiving; go into his courts with praise. Give thanks to him and praise his name. Psalm 100:4 NLT
Past Thanksgiving Blogs
Here are several past Thanksgiving blogs you might enjoy. I do give thanks for each of you who have followed me on my Monday Morning Blogs, and I pray you have a joyful, peaceful, and God-filled Thanksgiving Day.
Acquiring Overshadows Thanksgiving
What Are You Most Thankful For?
Love Your Body During the Holidays
Thanksgiving Tablecloth Idea
In Forsaken God?: Remembering the Goodness of God Our Culture Has Forgotten I share how to use your tablecloth as a "praise-cloth" to preserve memories for generations to come. Here is an excerpt from the book. I hope it gives you some ideas. I'll be taking our tablecloth with us this Thanksgiving, and here is a picture of ours. We're now writing down the sides.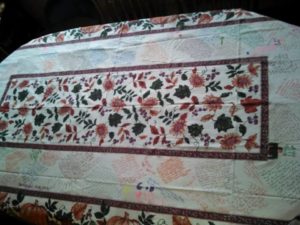 When my breast cancer journey started [2002], I became keenly aware of making memories with my family. At times like that, you think seriously about your mortality and the legacy you want to leave with your loved ones. You appreciate each new day of life. The sun rising every morning is an act of God to celebrate.

            Holidays like Thanksgiving have new meaning. Typically, Thanksgiving is a celebration where family and friends gather for a feast, and everyone says what they're thankful for in the past year. But after finishing the dishes and putting away the leftovers, how many really remember what everyone said?

The Thanksgiving following my first breast cancer surgery, I had an idea of a Thankful Tablecloth. I purchased a Thanksgiving themed tablecloth with plenty of white space and a box of wash-resistant colored markers. After Thanksgiving dinner, I brought out the markers and asked everyone—kids included—to find a spot on the tablecloth to write what they were thankful for that year, sign, and date it. We traced handprints for the tiny ones with their name and age.

Today, we have years of thankful messages to read every Thanksgiving and remember the many acts of God's goodness to us and the people who joined us at the celebration table each year. If we go to someone's house for Thanksgiving dinner, I ask if I can bring our Thankful Tablecloth and markers.

            When I go to be with the Lord, I pray my family will continue bringing out the Thanksgiving Tablecloth as a reminder through the generations of how good God has been to our family and friends. [Excerpt from Forsaken God?: Remembering the Goodness of God Our Culture Has Forgotten]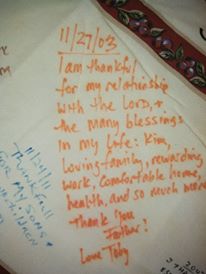 And let the peace that comes from Christ rule in your hearts. For as members of one body you are called to live in peace. And always be thankful. Colossians 3:15 NLT
If you receive this by email, you can leave a comment here.