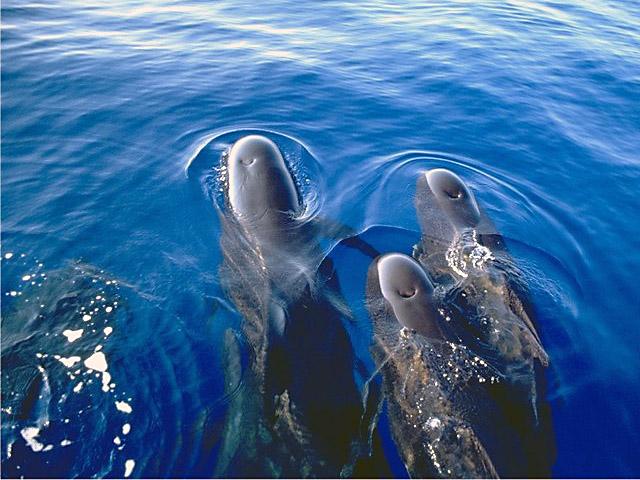 I recently learned that pilot whales are very social and their offspring stay in their mother's pod for life. The young swim alongside old, knowledgeable whales and learn from them how to feed, mate, and migrate in open waters.
The species is so good at following that occasionally they follow a bad decision by one of the lead whales, and they're all in for trouble. This is rare. Overall, the younger whales learn from the wisdom and experience of the older whales.
While it might be hard to relate to whales, how about Jesus leading His disciples. In The Team That Jesus Built, I describe how Jesus took fishermen, a tax collector, and eventually arrived at twelve ragtag men and told them to "Follow me." They followed Jesus around, watched, asked questions, listened, and gleaned from Him, and slowly they matured in their faith and understanding of what it means to be a true follower of Christ.
When Paul was growing the New Testament churches, he challenged believers in 1 Corinthians 11:1 "Follow me as I follow the example of Christ." Like the disciples, Paul hadn't lived an exemplary life, but he had turned his life around and had one incredible testimony! Still he never felt he had arrived. He was always fighting the good fight, running the race, and willing to share with others everything he learned in his seasons of spiritual growth. He begged people to follow his example, not because he was so great, but because he humbly was following and learning from Christ.
What Can We Learn From Whales, Paul, and the Disciples?
As Christians, we're continually growing and maturing in our faith, or at least we should be . . . right? No one ever "achieves" or arrives at total spiritual maturity. We never know enough or all there is to learn about the Christian life. But do we sometimes live as if we do? Do we spend more time focusing on the world's teachings than Jesus's teaching? Like the 650 whales beached on New Zealand's shoreline when they followed the wrong leader whale, our spiritual life can be beached too when we follow the wrong leader.
But we can get off the "spiritual beach" by seeking spiritual guidance. Maybe at a Bible study or retreat or deciding to have a consistent daily quiet time, we experience a newfound hunger to grow deeper in our walk with the Lord, but we're not sure how. There are so many unanswered questions and portions of the Bible still confusing. We live in fear with the circumstances of the world, and yet we know our faith should sustain us, but it doesn't seem enough right now.
Paul had the answer when he said in Titus 2:3-5 to have the women in a spiritually mature season teach and train the less spiritually mature. Some try to interpret those verses as strictly chronological age, but in mentoring we want to learn from someone spiritually older, not necessarily older in years. A great truth the Lord revealed when I was starting the Woman to Woman Mentoring Ministry.
Many mentoring ministries fail because they simply match older women with younger women without looking at their seasons of spiritual maturity. A woman might become a Christian at sixty-five and have worldly wisdom but not spiritual wisdom. Her mentor might be fifty but has walked with the Lord for many years.
We don't know the ages of the disciples, but since Jesus was only thirty when He started His ministry, there's a good chance they were older than Him. But they had so much to learn and only three years to spiritually mature. You and I are Christians today because Jesus mentored them to go into the world and teach what He had taught them.
Your Personal Spiritual Maturity Season
Sometimes I hear Christians say they feel spiritually dry. That saddens me because Jesus is ready and willing to give us living water from a well that never runs dry. If we drink from His well, we'll keep growing in spiritual maturity (John 4:10-15). Many of you know this already and someone in your life needs to hear how you continue maturing in your relationship with the Lord.
I'm afraid there's a growing epidemic among Christian women today to worry more about their own spiritual maturity than sharing what they know about Christ with a newer believer. I'm not referring to Bible study leaders, but the women sitting under their teaching in every church or Bible study group. Are they sharing what they're learning with the many women around them who need help with their spiritual maturity?
It goes beyond just inviting them to the Bible study for the leader or facilitator to teach them; it means helping them live a godly mature life outside the groups in daily life. It means more than inviting them to church on Sunday; it means praying and studying with them during the week.
It means every believer a mentor!
In Mentoring for All Seasons: Sharing Life Experiences and God's Faithfulness, I share stories of mentors who have met spiritually younger women at Bible studies and church and offered to mentor them. I encourage spiritually mature women to think about the role models in their life who helped them come to faith and spiritual maturity. We all have them. Women we admire who took the time to disciple us and share some of their life with us. Hebrews 13:7 tell us to: "Remember your leaders, who spoke the word of God to you. Consider the outcome of their way of life and imitate their faith."
"Imitate their faith." Exactly what Paul told the church and Jesus told His disciples.
Mentoring is that simple. How someone reached you with her faith is probably the way you will be the most effective in pouring into someone else who is younger in her faith.
In Mentoring for All Seasons, there are points to consider of how God could use you as a mentor and how to select a mentor. Here are just a couple.
If you've been a believer for a while:
Who challenged you and helped you grow in your faith?
How did she model Jesus to you?
Who needs you to do that for them? Consider also someone who might be a long-time believer but is going through a season of doubt.
Who do you need to invite to follow you and help her mature in her faith?
How could God enhance your spiritual maturity by mentoring and pouring into someone else?
If you're a newer believer and eager to learn and grow in your faith, or going through a spiritually dry time, God tells us two are better than one (Ecc. 4:9-10).
Who do you admire for her faith and the way she lives it out in daily life?
What about her faith would you like to emulate in your own life?
What's stopping you from asking her to mentor you?
Often, "You do not have because you do not ask God." James 4:2
Paul the great mentor of the New Testament reminds us that mentoring is always a two-way relationship and reward.
Do everything without grumbling or arguing, 15 so that you may become blameless and pure, "children of God without fault in a warped and crooked generation." [a] Then you will shine among them like stars in the sky 16 as you hold firmly to the word of life. And then I will be able to boast on the day of Christ that I did not run or labor in vain. 17 But even if I am being poured out like a drink offering on the sacrifice and service coming from your faith, I am glad and rejoice with all of you. 18 So you too should be glad and rejoice with me. Philippians 2:14-17
Mentoring for All Seasons is available for order now on Amazon or Kindle version or Signed by the Author
Author Bio
Janet Thompson is an international speaker, freelance editor, and award-winning author of 19 books. Her latest release is Mentoring for All Seasons: Sharing Life Experiences and God's Faithfulness.

She is also the author of Forsaken God?: Remembering the Goodness of God Our Culture Has Forgotten; The Team That Jesus Built; Dear God, Why Can't I Have a Baby?; Dear God They Say It's Cancer; Dear God, He's Home!; Praying for Your Prodigal Daughter; Face-to-Face Bible study Series; and Woman to Woman Mentoring: How to Start, Grow, & Maintain a Mentoring Ministry Resources.
She is the founder of Woman to Woman Mentoring and About His Work Ministries.
Visit Janet and sign up for her Monday Morning blog and online newsletter at womantowomanmentoring.com
www.facebook.com/Janetthompson.authorspeaker
http://www.linkedin.com/in/womantowomanmentoring/
www.pinterest.com/thompsonjanet