"Everyone thinks this about you."
"They're all talking about you."
"You make everyone feel" __________________.
"Everyone thinks you should"_____________.
These types of phrases can be negative or positive.
We love it when the context is everyone thinks you're wonderful! They're all talking about how you make everyone feel so good and everyone thinks you should do more to let people know about the great things you're doing!
But what about a negative context when everyone thinks you're not wonderful. They're all talking about you because you make everyone so uncomfortable and everyone thinks you should change your ways and keep to yourself!
When I was starting the Woman to Woman Mentoring Ministry, and then when other churches wanted to know how to start one and God chained me to the computer to write the Woman to Woman Mentoring resources, I heard both negative and positive comments. That was twenty years ago. If I had listened to the negative, there would be no Woman to Woman Mentoring Ministry today; but likewise if I had let the positive puff me up instead of just encourage and motivate me, I don't believe God would have blessed this ministry. Yet even as I sit here writing to you, I see a confirming email come in from a church telling me they started the ministry last year and they're so thankful for the resources. To God be the glory. Only God starts an international life-changing ministry and keeps it going! We can't do anything without Him, but with Him all things are possible.
Positive or negative comments; let's look objectively.
Receiving Negative Comments
No one can speak for everyone. More than likely there's a group with a perception about you, which could actually only be two or three people.
We hear sweeping comments in the news today, and it's easy to transfer similar all-inclusive conversation to our private lives. Especially, when someone wants to convey something negative. Everyone sounds more impressive, meaningful, and authoritative.
Words are easy to release, but impossible to retrieve!
Hurtful words and connotations are like an arrow to the heart. They penetrate our identity, our purpose, our character. As our curiosity fuels thoughts of who is "everyone,"  our anger and defenses go into high gear. We want to know why people are thinking or saying these things about us. We're hurt. People are gossiping about us, which never comes to any good!
A perverse person stirs up conflict, and a gossip separates close friends. Prov. 16:28
A gossip betrays a confidence; so avoid anyone who talks too much. Prov. 20:19
Without wood a fire goes out; without a gossip a quarrel dies down. Prov. 26:22
Remember Paul is talking to the church at Corinth here:
For I am afraid that when I come I may not find you as I want you to be, and you may not find me as you want me to be. I fear that there may be discord, jealousy, fits of rage, selfish ambition, slander, gossip, arrogance and disorder. 2 Cor. 12:20
It takes two to gossip—the gossiper and the listener—so beware of becoming an accomplice to sin by listening to gossip. Our role as Titus 2 women is "to be reverent in the way they live, not to be slanderers or addicted to much wine, but to teach what is good train the younger women." (Titus 2:3)
So consider the following when you hear an "everybody" negative comment about you. Believe me when I say, I haven't always done this on the spot, and sometimes need to give myself time to pray and put everything into perspective.
Rather than trying to defend yourself or lashing out—Say a quick mind prayer, stay calm, and ask God for wisdom. Ask yourself before responding: Why do I care what these people think?
Question: "Really, everyone thinks this?"
Ask: Why are they telling you this? Steer the conversation away from everyone to one-on-one.
My point:
We worry too much about what other people think about us and not enough about what God thinks about us. He's the only One we're concerned about. Consider if there's something you should search your heart about and act on and if not, let this go. If there is something, then take it to the Lord. And be watchful of not doing an "everyone" comment yourself.
Don't replay the encounter or comments over in your head, so Satan gets a foothold in your mind. It's best to forgive, pray, and carry on. Easier said than done? I offer many helps and tips in my Bible study Face-to-Face with Euodia and Syntyche: From Conflict to Community.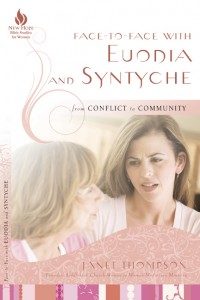 Receiving Positive Comments
But what if all those "everyone" statements are positive building us up and making us feel good about ourselves? Well there's certainly nothing wrong with encouragement, but again, we have to remember a couple of truths:
No one knows what everyone is speaking and they can't speak for them. Hopefully, there are many who agree with them, but "everyone" is still an encompassing sweeping generalization.
If we think that we're just fine because everyone likes us, then we might miss some areas we do need to change and improve, because after all . . . everyone thinks we're great.
And we know what that leads to—pride—taking credit ourselves, instead of praising God giving Him the glory and honor He deserves. Pride goes before destruction, a haughty spirit before a fall. (Prov. 16:18)
There will always be areas in our life we need to improve, change, sanctify, ask God for wisdom. We can be grateful for approval of how we're living and serving the Lord, but I guarantee that if you're living out loud for God, everyone is not going to like you. If everyone does, do an internal check and see if there are areas in your life you've compromised to be liked by everyone.
When Paul was accused by the Jewish high priest Ananias, some of the elders, and a lawyer named Tertullus, and they brought their charges against him before the governor, Felix for doing nothing more than sharing the Gospel, Paul told them in his defense: "So I strive always to keep my conscience clear before God and man" (Acts 24:16). That should be the goal of every Christian, don't you agree?
Sadie Robertson of the Duck Dynasty Family, who I've written about before, recently gave an amazing "sermon" to a college group and challenged those millennials who might be leaving their values and faith behind because they want to fit in: "Worry more about your relationship with Jesus than your reputation with people you don't even know." Here's the link and I recommend you listen to it with your kids or college age youth groups. It's excellent!
So I close with a modification of Sadie's advice:
Worry more about your relationship with Jesus than your reputation with everyone!
Be careful to live properly among your unbelieving neighbors. Then even if they accuse you of doing wrong, they will see your honorable behavior, and they will give honor to God when he judges the world. 2 Peter 2:12
If you received this post by email, please leave a comment here.
If you would like to know more about the Prayer and Launch Team for Mentoring for All Seasons: Sharing Life Experiences and God's Faithfulness releasing September 12, please contact me soon.