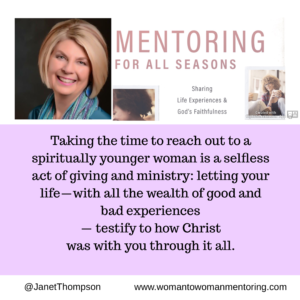 Hurricanes, earthquakes, floods, fires, riots, death tolls, North Korea, ISIS, our country divided . . . . Not to mention illness, dreaded diagnosis, family unrest, divorce, prodigals . . . . Protests against our President, Christian values, and God. Tragedy and uncertainty assails us when we turn on the news or browse through social media or listen to talk shows. No wonder many are living in fear and dread of the next crisis because there seems to be a new one every day. If there isn't a crisis, the media creates one.
You may be wondering why I would write on this topic the day before Mentoring for All Seasons: Sharing Life Experiences and God's Faithfulness officially releases tomorrow, September 12! Because mentoring is invaluable in all seasons of life; so yes, I include a Tragedy Season. It's not if tragedy happens, it's when! At sometime in our life, we're all going to need mentoring or we can mentor from our experiences.
What a blessing to see so many using social media to mentor from their experience with a crisis. As hurricane IRMA headed toward Florida, many who had just experienced hurricane Harvey in Houston were helping Floridians prepare by posting lists of what to stock up on and how to prepare their homes, cars, families. Those who lived in safe areas were offering shelter to strangers. The news couldn't help but report on how everyone was pitching in to help each other through the many tragedies and losses that occurred from these hurricanes.
Many focused on thanking God that they were still alive even though they lost all their earthly possessions and would have to start all over again. In at least nine states, including Idaho where I live, fires are raging out of control and air quality is unhealthy from the smoke. Christians experience tragedy and loss just like everyone else; it's painful and hurts. In the Season of Tragedy in Mentoring for All Seasons, I point out that "We desperately need assurance from someone who survived a crisis with her faith not only still intact, but stronger than before."
There are also Mentor Tips on what not to say or do with a mentee. The main one: don't minimize her feelings or make her seem like a bad Christian because her faith is tested and she questions what God is doing. The Mentee Tips point out that the mentor can't make everything right in the mentee's life; but she can offer encouragement, a source of Christian love, hope, support, prayer, and understanding.
Several Scriptures I suggest to study together during a tragedy or crisis are:
"And surely I am with you always, to the very end of the age." Math. 28:20b

"Remember your promise to me;
it is my only hope. Your promise revives me;
it comforts me in all my troubles." Psalm 119:49-50 NLT

"You have turned my mourning into joyful dancing.
You have taken away my clothes of mourning and clothed me with joy,
12 that I might sing praises to you and not be silent.
O Lord my God, I will give you thanks forever!" Psalm 30:11-12
There are so many others, especially in the Psalms. Journaling or writing down feelings helps to get them out too. A reminder that what feels overwhelming and horrendous will reflect God's love for us and be our testimony somehow, someway, someday.
Like many of you, I have family in Florida and it's hard not to obsess over every report of hurricane IRMA. But I'm in Idaho so instead of feeling hopeless and helpless, my husband and I pray continuously (1 Thess. 5:17). Just like the Scriptures tell us to do. We didn't just pray for our family; we prayed for everyone suffering—maybe that meant we were praying for some of you and your loved ones.
Sometimes it takes a tragedy to turn hearts back to God. Whatever you think of our President, or whether or not you voted for him, he declared Sunday September 3 a National Day of Prayer. He couldn't stop the hurricanes, the flooding, the winds, the next hurricane, the loss of homes, the heartache, but he could try to turn hearts back to God through prayer.
That gesture got very little coverage by the media or his critics, but it's exactly what will start the healing process in everyone's lives. We need revival in our country, and God's people need to lead the way back to a country founded on "In God We Trust."
In Mentoring for All Seasons, you can read more helps and tips on being a mentor and a mentee during tragedy, uncertainty, and crisis on pages 216-217. In the Mentor and Mentee Shares section, author Heather Gillis tells her tragic story of losing her young son. A mentor helped her take the healing step of writing, which led to Heather mentoring many suffering women. Exactly what mentoring is all about! Chapter Thirteen: A Difficult Season, covers numerous difficult seasons women encounter, including Illness and Health Issues—Yours or a Loved Ones, and many more.
Here's how you can help me spread the word about Mentoring for All Seasons!
If you've followed my blog and the Woman to Woman Mentoring Ministry, you know my heart is not about book sales. My passion is to bring the generations together and help them live out God's direction for all Christian women in Titus 2:3-5. I give all the glory to God for allowing me to be About His Work, by blessing me with the incredible privilege of starting this ministry, and then, blessing me again with the unexpected ability to write!
If you feel lead to help share the mentoring message of this new book, here are some ways:
You can also tweet from all the tweets in this blog.
Thank you! It's a privilege and honor to connect with you each week. Please let us know by leaving a comment how we can pray if you or a loved one has been in the path of Harvey or Irma.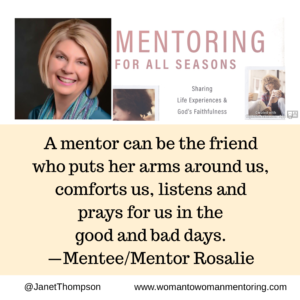 Mentoring for All Seasons: Sharing Life Experiences and God's Faithfulness is available now on Amazon, Kindle, and Signed by the Author at her website.
Author Bio
Janet Thompson is an international speaker, freelance editor, and award-winning author of 19 books. She is also the author of Praying for Your Prodigal Daughter; Forsaken God?: Remembering the Goodness of God Our Culture Has Forgotten; The Team That Jesus Built; Dear God, Why Can't I Have a Baby?; Dear God They Say It's Cancer; Dear God, He's Home!; Face-to-Face Bible study Series; and Woman to Woman Mentoring: How to Start, Grow, & Maintain a Mentoring Ministry Resources.
She is the founder of Woman to Woman Mentoring and About His Work Ministries.
Visit Janet and sign up for her Monday Morning Blog and online newsletter at womantowomanmentoring.com
Instagram: JanetAHW