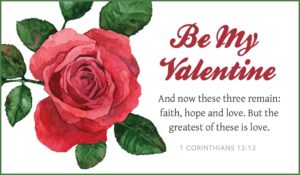 February is the month of valentines, flowers, candy, and love. It's also National Heart Health month, and at our house, we're hoping we'll begin to see the snow start melting and glimpses of spring around the corner.
As I thought about what to write this week, the Lord kept giving me the line from an old song "What's love got to do with it?" If you read my January 30 blog post, Love Your Body: Revive Sexual Purity, I emphasize that God designed sex to be an expression of love in marriage between a man and a woman, His creations. So love has everything to do with sex!
I've also written an article for Crosswalk.com on the importance of asking God and your spouse for forgiveness for sexual encounters before you got married, even with each other. I hope everyone has, or will, take that important step. It could save a marriage.
When I think about love, my mind always goes to Jesus. Yes, my husband and I make plans to do something special to celebrate our love on Valentine's Day, but we both know that Jesus is our first love. We wouldn't have made it through the stresses and trials of a blended family if we hadn't put Jesus at the center of our marriage; but most importantly, at the center of each of our lives. We don't want to ever forget who is our First Love, Jesus Christ. (Rev. 2:4)
Recently at church, the pastor asked the children how we know Jesus is alive today. The answer: He lives in each believer's heart. That's true love!
So whether you're single or married, I want to share three important points about what love has to do with our witness for Jesus, especially as we look at the tumultuous times we live in today.
Christians Need to Love Each Other
You did not choose me, but I chose you and appointed you so that you might go and bear fruit—fruit that will last—and so that whatever you ask in my name the Father will give you. This is my command: Love each other. John 15:16-17
Jesus was talking to his disciples in John 15:16-17, and we are Jesus's disciples today. God chose us to bear fruit and we can't share a message of love if we don't love each other. We can't have dissension in the church or among church members. Sadly, Satan has used the current political unrest to pit brothers and sisters in Christ against each other. In the Bible, there are no Democrats, Republicans, Progressives, Liberals, Conservatives . . . There is only One timeless Word of God (John 1:1, Heb. 13:8). There is also only one kind of Christian: "Jesus replied, "Very truly I tell you, no one can see the kingdom of God unless they are born again" (John 3:3).
As born-again Bible-Believing Christians, we're appointed to go out and bear testimony to the world together. We should unite as one in agreement on . . .
Whatever allows us to share the Good News that Jesus saves we're for; whatever prohibits that freedom or tries to silence us, we're against.
Whatever upholds the teachings of the Bible we're for; whatever prohibits or alters those teachings, we're against.
We stand together for the sanctity of human life, marriage between a man and a woman, God creating us as men and women, and we're not afraid to lovingly bear that fruit for Jesus.
Anything separating us on those issues isn't from God!
Christ Loves Us with a Never-Ending Love
For I am convinced that neither death nor life, neither angels nor demons, neither the present nor the future, nor any powers, 39 neither height nor depth, nor anything else in all creation, will be able to separate us from the love of God that is in Christ Jesus our Lord. Rom. 8:38-39
Sadly, we only have to look at divided churches, families, friends . . . all proclaiming to be Christians separated by issues where they should be united, and Satan wins because that compromises our witness. That's a shame! There's a lost world that needs to know the love of Christ displayed through a body of Christ that shows the love of Christ by agreeing on what it means to be a Christian. Today that's not the case. The good news is that nothing we do can ever separate us from the love of God for those who have truly accepted Jesus Christ as their Lord and Savior.
I had a man on Facebook tell me he had been a Christian for 50 years, read the Bible numerous times, been to church, talked to pastors, been in Bible study groups, and now has decided Christianity is a farce, doesn't work for him anymore, and he told me I needed to know that Jesus is not returning. Two things came to mind: (a) you can leave Jesus, but He will never leave you. (b) you can be a Christian in name only, but never have experienced the saving grace of Jesus Christ. His words were so harsh I fear he was in the latter group.
I remember singing a song as a little girl "I have the love of Jesus love of Jesus down in my heart. Where? Down in my heart to stay."
How Much Love Do You Have to Give?
"This is how much God loved the world: He gave his Son, his one and only Son. And this is why: so that no one need be destroyed; by believing in him, anyone can have a whole and lasting life. God didn't go to all the trouble of sending his Son merely to point an accusing finger, telling the world how bad it was. He came to help, to put the world right again. Anyone who trusts in him is acquitted; anyone who refuses to trust him has long since been under the death sentence without knowing it. And why? Because of that person's failure to believe in the one-of-a-kind Son of God when introduced to him. John 3:16-18 The Message
Do you Love Jesus Enough to Share Him with others or Are You Keeping All the Love To Yourself?
Another woman on Facebook wrote this:
FB woman: "There are many other religions who do not make Jesus/Satan part of their belief system. All destined to damnation? It's a big world out there, and much of it overcomes the negative."
Me: "Jesus answered, "I am the way and the truth and the life. No one comes to the Father except through me." John 14:6
FB woman: "Written by John a century later, an evangelist trying to convert the world to his new religion. PBS and History Channel do wonderful educational shows on the origins of the Bible. Check them out. I have read the Bible extensively Janet, I just haven't drawn the same dark conclusions. And the shows I mentioned are created by scientists and historians with no agenda but discovery. I wouldn't want to rest my eternity on what someone else says."
This woman was confused, but I was able to point out to her that John was actually with Jesus, not a century later, and she was resting her eternity on what scientists and television said rather than letting God speak to her through the Bible. Maybe I made some headway. My heart breaks for those misled by the liberal progressive godless agenda and the many "belief systems," and the Christians who have forgotten their first love. Love says we will take the time to share the truth.
During the election and since Donald Trump became POTUS, many have been mean, vicious, and vile on social media. I often have to remind myself that Jesus died for them too, and it's my job to let them know that in a loving way. It's up to them to make the choice. I don't try to convince them, because you can't reason with someone blinded by evil. If they're not following God, they're following Satan. Those are the only two roads; there is no middle path. But now they're accountable for knowing there is another way and maybe someone else will share a little more love down the road. Who knows, they just might decide that heavy load of anger, bitterness, revenge, meanness, bullying, whatever that has turned their heart so hard, just isn't worth carrying around anymore.
No one who trusts in you will ever be disgraced,
    but disgrace comes to those who try to deceive others.

4 Show me the right path, O Lord;
    point out the road for me to follow.
5 Lead me by your truth and teach me,
    for you are the God who saves me.
    All day long I put my hope in you.

Psalm 25:3-5 NLT
What does love have to do with it?
Love does not delight in evil but rejoices with the truth. It always protects, always trusts, always hopes, always perseveres. 1 Cor. 13:6-7
Opening picture from crosscards.com
If you received this post in email, leave a comment here.