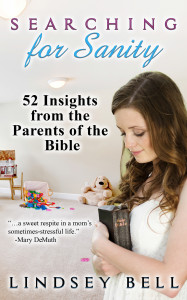 Our guest post today is by friend and fellow The M.O.M. Initiative mentor mom, Lindsey Bell. Next week, I'll be sharing how I set goals for the New Year for my personal, ministry, and married life. One of those goals is to read through the Bible in a year. I love to read in different translations or use different guides to change it up each year so I was eager to learn more about Lindsey's new book and how parents of the Bible could mentor us today!

A Resource for Spending More Time with God in the New Year
With a new year right around the corner, many of us are already thinking about our New Year's Resolutions. One New Year's Resolution that seems to be a favorite among Christians is to spend more time in the Word…to read the Bible every day, or pray more often, or go to church regularly.
I want to share with you today about a new resource that can help you spend more time with God.
It's a book called Searching for Sanity: 52 Insights from the Parents of the Bible.
This year-long devotional is designed for busy women who want to spend time with the Lord, but don't have a lot of time to spare.
Each week provides a new devotional, as well as simple activities to do throughout the week to help reinforce the application points.
Here's a little bit more for moms about the book:
Have you ever looked at your beloved children and wondered, what in the world am I doing? Why did God trust me—of all people—to raise them?
Motherhood is the most difficult job many of us will ever take. Searching for Sanity offers moms an opportunity to take a breath, dig into the Word, and learn from parents of the past.
In short devotions designed for busy moms, this book uses the parents of the Bible—both the good and the bad—to inspire today's mothers.
You can read through this devotional alone or with a group of moms!
Let's talk: what are your favorite resources to begin the year well?
This post is part of Lindsey Bell's December blog tour. To enter to win Lindsey's MEGA-GIVEAWAY (the winner will receive 6 books!), leave a comment on any of Lindsey's guest posts this month (including this one).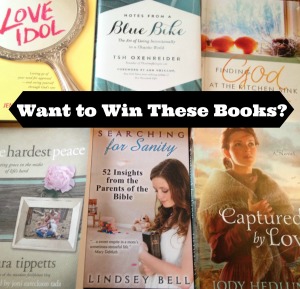 For a full list of participating blogs (and other ways to enter!) visit this post on Lindsey's blog.
You can pick up a copy of Searching for Sanity at Amazon or Barnes and Noble.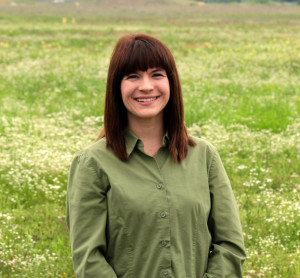 About Lindsey Bell:
Lindsey Bell is the author of Searching for Sanity: 52 Insights from the Parents of the Bible. She's also a stay-at-home mother of two, minister's wife, avid reader, and chocolate lover. You can find Lindsey online at any of the following locations:
Her blog: www.lindsey-bell.com
Her website: www.lindseymbell.com
Twitter: www.twitter.com/LindseyMBell
Facebook: www.facebook.com/AuthorLindseyBell
Pinterest: www.pinterest.com/LindseyMBell01