I'M BLESSED to be married to Dave, my godly husband and helpmate in About His Work Ministries. In January 1992, we met in a small group at Saddleback Church in Lake Forest, California and December of that same year, we blended Dave's three children—Michelle, Shannon, and Sean—and my daughter Kim into a loving devoted-to-each-other family.
We're incredibly blessed to be Grammie and Grampa Dave to eleven fun and amazing grandchildren. After living in Southern California my entire life and attending Saddleback Church for 23 years, where Dave and I both served in ministry, we now enjoy life in the rural mountains of Idaho and are members of Crouch Community Church. We're enjoying the empty-nest season of life I refer to as "parent's time to rest," although, we often comment we're busier about the Lord's work than any time in our lives!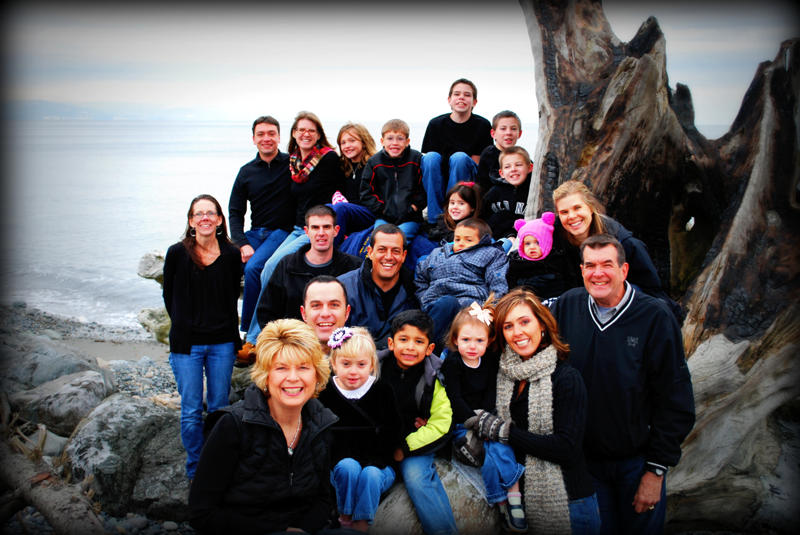 I LOVE being Grammie and sharing Jesus with these precious gifts from God. My grandchildren are my greatest legacy and I pray daily for each one to come to a personal relationship with Jesus. Although this picture was taken a few years ago, I still love it!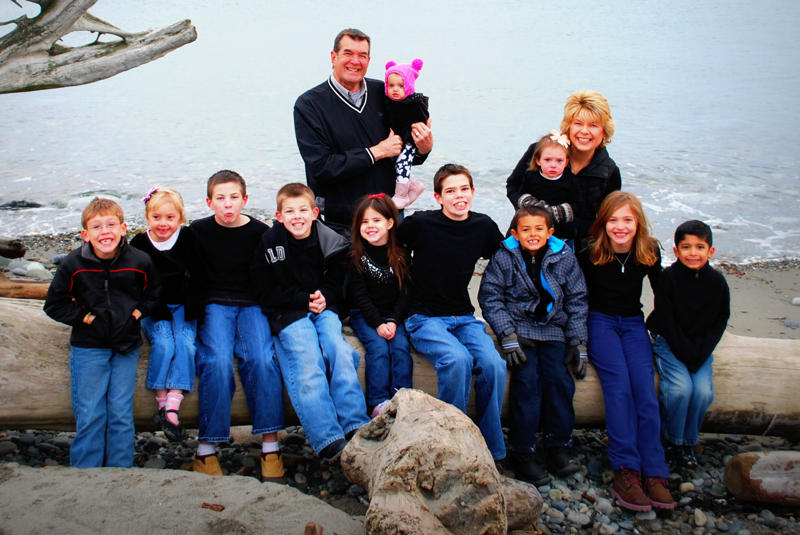 I hope they remember me as a woman who loved the Lord and lived what she believed.
A Few Life Experiences
IT MAY SEEM that published authors and public speakers have a charmed life and we have it all together. But often we're writing and speaking from areas of life that have touched us deeply. I've told the Lord that I don't have to experience everything women go through to be able to relate to them, but I often feel like He's saying, Yes you do! For example:
I was 10, when my highway patrolman father was murdered while on duty—I know grief.

I was told I'd never have children—I know the pain of

infertility

.

I was a divorced single mom for 17 years—I understand the struggle and stigma.

I remarried and worked hard to blend a family—it's not easy being Mom #2.

I watched our kids all move out—my nest is empty.

I reinvented myself at 50 with a seminary degree—it's never too late to follow a new dream.

I've watched a child turn her back on God—I know the heartache. 

I've had the blessing of

 praying a child back to God

— I'm a

praying parent and grandparent.

I'm a three-time

breast cancer survivor

 —I'm on the cancer journey.

I was a native Southern Californian before moving to the Idaho Mountains—transition is bittersweet.

I've had a

husband home from layoffs, disability, home office, and retirement—

I appreciate the adjustment.
For Fun I Like To
Enjoy a morning cup of coffee and a quiet time with the Lord

Play with my grandkids

Try new recipes

Walk, especially with friends

Read

Watch a movie or our favorite TV program with my husband

Entertain friends and family

Road trips with my husband

Social networking

Yes, and write
Not So Personal
MY FIRST CAREER was as a Registered Dietitian in hospitals. I've always enjoyed eating a nutritious healthy diet and experimenting with recipes. Today, we eat organic and raw and Trader Joe's is my favorite store!
Next, I changed sides of the desk and became a Manufacturer's Representative selling dietary products to hospital dietary departments. That's when I discovered I had a gift for sales and enjoyed it! But the position required a great deal of travel, so I sought a career closer to home.
I then became a Health Insurance Sales Representative and later a Division Manager. As a manager, I routinely recruited new sales reps and became one of the top recruiters in the company. One day while giving a group presentation, I heard the Lord speak to me—
Imagine using your recruiting skills working for Me.
The seed was planted. I enrolled in Fuller Theological Seminary, and within three years, I had left my lucrative management career to go to work for the Lord starting the Woman to Woman Mentoring Ministry at Saddleback Church in Lake Forest, California. You can read more about that journey at Mentoring and About His Work Ministries.
As a perpetual student of the Lord and knowledge, I have the following degrees:
Bachelor of Science in Food Administration: California Polytechnic University

Master of Business Administration: California Lutheran University

Master of Arts in Christian Leadership-emphasis equipping the laity—Fuller Theological Seminary
Professional Affiliations
A CLASS (Christian Leaders Authors and Speakers) graduate

A member of AWSA (Advanced Writers and Speakers Association)

Served on the Mentoring Team for The M.O.M. Initiative


Idaho Author's Community

Speakers 4 Him

Idahope Writers Association
How I Became An "Author"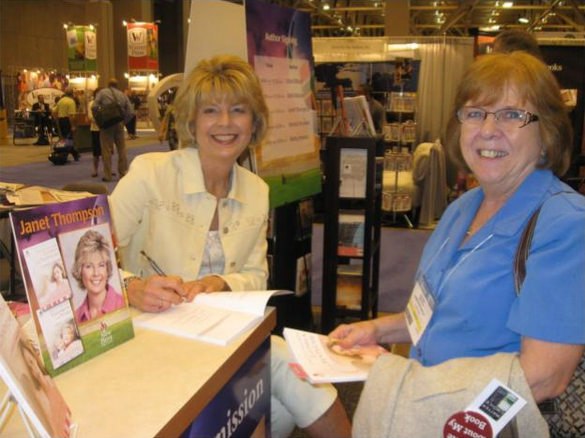 I'm often asked if I've always wanted to be an author, and the answer is 'No'. Writing wasn't one of my favorite topics in school, but I've always loved to read. I remember many lonely hours spent at the kitchen table pounding out term papers: little did I know this was preparation for the plans the Lord had for my future as an author.
THE FIRST Saddleback Church Woman to Woman Mentoring Ministry Orientation Coffee was held in my home in January 1996 and the ministry grew quickly. As churches began to hear about the success of the Woman to Woman Mentoring Ministry, they called to find out how we were doing it. I couldn't tell them everything I had learned in a phone call, so I felt the Lord prompting me to write step-by-step instructions of how to start, grow, and maintain a mentoring ministry.
As churches started their Woman to Woman Mentoring Ministry using our Kit, the word spread even faster about our mentoring ministry that was bringing together the generations in the church. Chris Adams at LifeWay heard about this mentoring movement and contacted me. Chris recognized the need for this type of a resource and soon LifeWay became the publisher for thirteen years of Woman to Woman Mentoring: How to Start, Grow, and Maintain a Mentoring Ministry DVD Leader Kit. Today the rights for these resources have reverted back to me, and they are all available on our website.

As God began taking Woman to Woman Mentoring to churches across the nation, and even internationally, He sent me out teaching, training, and speaking. I saw there was also a need for the mentors and mentees, who we fondly call M&M'S, to have resources to help them learn what God says in the Bible about mentoring relationships. So I wrote a Bible Study series, which was initially called Mentoring God's Way, and has now become a seven-book series with New Hope Publishers, Face-to-Face Bible Study Series.
God expanded my writing ministry when I was diagnosed with breast cancer. I discovered one of the purposes of my breast cancer journey was to write the book I longed to have myself—a book that would be a mentor, record keeper, journal, devotional, prayer guide, and friend all in one book to take with me to doctor's appointments, treatments, quiet times, alone times. I had the privilege of writing that book: Dear God, They Say It's Cancer: A Companion Guide for Women on the Breast Cancer Journey. I've used my own book through two recurrences, and it was everything I had hoped it would be for my breast-cancer sisters.
I continue writing and speaking to encourage, uplift, train, and mentor Christians to pass on to the next generation the things God has taught them!
Please visit Publications to see more of my published and future books.

Please visit

 Speaker

 to learn about my speaking ministry and how I might possibly serve your church.