Mentoring For All Seasons
Sharing Life Experiences and God's Faithfulness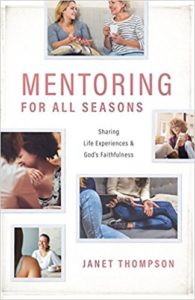 $14.99 $10.00 To Purchase (New Year website shop special now thru Feb 28th)
 



Mentoring for All Seasons helps answer questions like these:
– What is mentoring?
– How do I find a mentor? How do I mentor?
– Why does God want us to mentor one another?
– What are the blessings of mentoring?
Through true stories from mentors and mentees in life seasons from tween through death–along with the author's personal experiences, helpful tips, Scriptures to study together, and biblical mentoring relationship examples–Mentoring for All Seasons encourages women to be intentional about sharing their life experiences and God's faithfulness with other women.
"Janet Thompson did an incredible job putting together a collection of mentoring stories that not only shows the importance of being a mentor but the successes of those being mentored. I was privileged to be included in "Mentoring for All Seasons" as both mentor and mentee. Having a mentor to guide us through life's ups and downs releases us from isolation and gives us hope and having someone to mentor allows us to use our own successes and failures as an example….and a reminder of how blessed we truly are. This book is a must-read for young and old and inspires everyone to reach out and help one another."
Here are two endorser's comments, which convey so much of my heart that went into this book.
Janet's Thompson's book, Mentoring for All Seasons is informative and thorough, making it a great "how to" book for those who want a spiritual mentor, those who want to mentor others, and those who direct and coordinate women's ministries. They can find answers to their questions about how to connect and nurture in this book. I appreciate Janet's gathering and sharing numerous real life stories that illustrate and clarify her message and inspire women to take action during all seasons of their life.

Brenda Poinsett, Bible teacher, conference speaker, and author of numerous books including The Friendship Factor: Why Women Need Women and He Said What?!: Jesus' Amazing Words to Women.
In a world where mentoring has taken a back seat to social media and remote relationships, Janet Thompson's new book, Mentoring for All Seasons, reclaims the power of personal relationships and God's call on our lives to mentor and be mentored. In Mentoring for All Seasons, Janet shares the why, what, where, when, and how of mentoring in such a practical and powerful way that readers will be equipped and emboldened to once again embrace Titus 2 personally, as well as corporately. I highly recommend it as a must read for all women and women's ministry leaders alike!

Stephanie Shott is a Jesus-loving girl who lives her life to know Him and to make Him known. She is an author, Bible teacher, and founder of The MOM Initiative.
Another endorser said "Every Women's Ministry Director needs this book in her library."
This is the best book I've read on spiritual mentoring, hands down. Janet Thompson begins with an introduction explaining how she came to start a mentoring ministry. Section One explains the biblical call to mentor, how churches can avoid generation gaps in their ministries, and the basics of connecting mentors with mentees.

Section Two Describes life seasons and the type of mentoring women need in each season. For each season, Thompson gives tips for both mentors and mentees, Scriptures to discuss, personal stories from mentors and mentees, a short Bible story, and discussion questions. I particularly liked Thompson's guidelines for establishing boundaries so no one feels like they're being asked for more time than they've agreed to give, and for making sure expectations are clearly discussed up front.

The epilogue finishes with a variety of short topics such as tips on choosing a mentor, setting realistic expectations, Do's and Don'ts, mentor vulnerability, advice for when mentoring is hard, and resources.

I highly recommend this book for Christian women who want to both grow spiritually and help others grow.