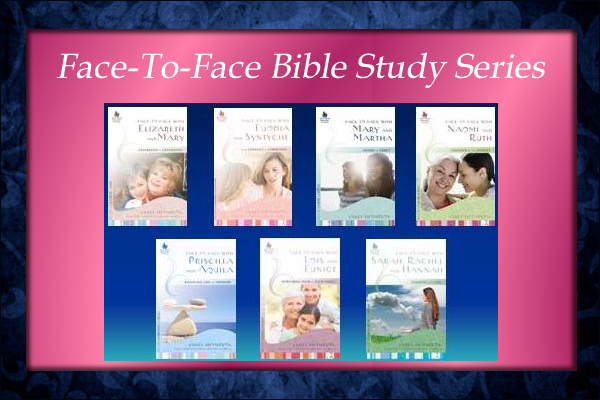 AS THE Woman to Woman Mentoring Ministry grew at Saddleback Church, we quickly saw a need for recommended Bible studies for Mentors and Mentees (M&M'S) to do together.
One day my husband, Dave, asked me if I had ever considered writing Bible studies for the M&M'S to learn what God says about mentoring in the Bible. I told Dave that I had never thought of writing Bible studies, but since God often speaks to me through him, I would look in the Bible to see if I could locate any mentoring relationships.
I quickly found 12—men and women M&M'S! I knew positively that God had indeed used my husband to prompt me to write a Bible study series that would help M&M'S learn about God's plan for mentoring relationships and how to apply those principles to life today. I also knew that the studies should be written for anyone who would like to learn more about mentoring.
Originally, the Bible study series was titled Mentoring God's Way, but God answered my prayers for a publishing home for this series and New Hope Publishers requested a fresh title that still captured the essence of the studies—learning God's plan for mentoring by exploring mentoring relationships in the Bible and applying those timeless lessons to life today.
One morning while sitting on the deck of our mountain cabin enjoying the majesty of God's creation, I pondered a new title for my Mentoring God's Way Bible study series. I was reading the Bible through in a year during my quiet time and happened to be in the Book of Numbers that morning. Numbers wasn't a book I typically read enthusiastically, but I knew it held essential keys to unlocking biblical treasures throughout the Bible, so I was reading every word.
Suddenly, Numbers 14:14 caught my attention: 'And they will tell the inhabitants of this land about it. They have already heard that you, O LORD, are with these people and that you, O LORD, have been seen face to face' (NIV 1984). That was it! 'Face-to-Face' was the perfect title for the series.
My goal is for readers to experience a face-to-face encounter  figuratively with the biblical characters, while studying face-to-face physically with others, and in the process coming face-to-face spiritually with the Lord. My affirmation that God used this Scripture to speak the new title to me came when New Hope Publishers agreed to call the series "Face-to-Face."

These Bible Studies are Unique with a 3-Way Application:
Study on your own.

Two M&M'S, friends, or family study together.

Group study with a Leader's Guide in each book.