MENTORING BIBLE STUDIES
 
      
Seven Studies Exploring Biblical Mentoring Relationships
5 Sessions of 5-Day Studies For:
Individuals

M&M'S—Mentors & Mentees, Friends, Family

Groups—A Leaders Guide and user-friendly Session Guide in each book
Each Day's Study Includes:
Scriptures and Questions to Study and Answer

Face-to-Face Reflections—a discussion of the day's topic

Personal Parable—a story depicting and applying the day's topic

Mentoring Moment—takeaway wisdom for the day
Concluding Each of the 5 Sessions:
Faith in Action—an opportunity for life application

Let's Pray Together—author's agreement prayer with you
Closing Materials Following Session Five:
Let's Pray a Closing Prayer Together

Janet's Suggestions—ideas for further study

A Leader's Guide for Group-Study Facilitators and M&M'S

A Detailed Session Guide

Prayer & Praise Journal



Face-To-Face With Mary And Martha: Sisters-in-Christ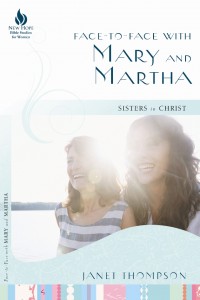 Through the story of Mary and Martha of Bethany, women will learn to embrace their diversity as sisters-in-Christ. With relevance for life today, Face–to-Face With Mary And Martha: Sisters in Christ guides women to apply biblical principles in their relationships. There is so much to learn from the Lord's relationship with these two sisters. This book will give you a renewed heart for serving joyfully and a godly perspective of your priorities as you learn to choose the "better way."
Face-To-Face With Naomi And Ruth: Together for the Journey
Through the story of Naomi and Ruth, women will discover the power of committing to one another for the journey of faith. As a younger woman learns wisdom for life from an older woman, the relationship is based on a mutual caring and sharing. Face-to-Face With Naomi And Ruth: Together for the Journey shows how a spiritual "mother and daughter" in Christ can realize their potential for an intimate relationship with one another that God will use in dynamic ways.
Face-To-Face WithElizabeth And Mary: Generation to Generation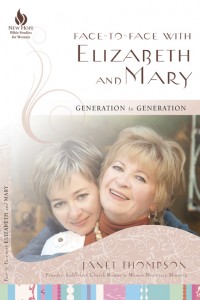 Many young women are spiritually alone as the only Christian in their family or circle of friends, or separated by distance from family, and need a Christian woman's perspective. Even Mary, the mother of Jesus, knew she needed to talk to another woman who could relate to and understand her situation, she needed a spiritual mother. Face-to-Face With Elizabeth And Mary: Generation to Generation studies the reciprocal benefits and joys of one generation investing in the next.
Face-To-Face With Euodia And Syntyche: from Conflict to Community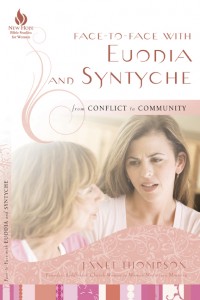 Even great relationships eventually have disagreements. However, when we avoid resolving even minor misunderstandings, relationships can end without reconciliation and often compromise ministry success. Face-to-Face With Euodia And Syntyche: From Conflict to Community is a study of how Paul encountered this problem with two of his ministry workers and explores the causes of conflict and how Christians can acknowledge and biblically resolve their issues. Also a great study for couples.
Face-To-Face With Priscilla And Aquila: Balancing Life and Ministry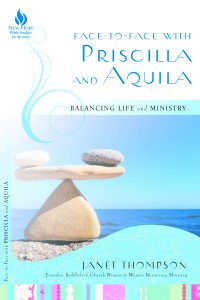 Most Christian women struggle with the tug between their personal family and the church family. Which should come first in your time, your energy, your life? This study will help you see that your house is God's house and the two can live as one. Priscilla and Aquila are examples of servant leadership in the early church. Face-to-Face With Priscilla And Aquila: Balancing Life and Ministry explores the importance of serving together and leading together within the context of both the church and everyday life. Great couples study!
Face-To-Face With Lois And Eunice: Nurturing Faith in Your Family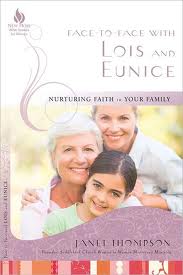 Timothy's grandmother, Lois, and his mother Eunice received accolades from the Apostle Paul on their rearing of his protégé and future pastor, young Timothy. Lois and Eunice were intentional in raising Timothy in the faith. The world didn't set standards for their home, God did. Our first line of mentoring should be within our family, a concept repeated throughout the Bible. Face-to-Face With Lois And Eunice: Nurturing Faith in Your Family focuses on how women today can be grandmothers, mothers, aunts, and mentors whose faith takes root in the next generation.
Face-To-Face with Sarah, Rachel, and Hannah: Pleading with God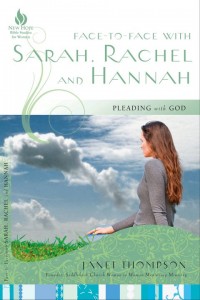 Anyone who has ever prayed or pleaded with God to act now knows that God answers prayer: "yes, later, or no". God's waiting room can be lonely and painful. It helps to have a support group going through similar circumstances. Face-to-Face With Sarah, Rachel, And Hannah: Pleading with God explores various issues in women's lives that lead to pleading with God and ways they react when He doesn't immediately respond or they don't like His answer, as well as guiding women to learn to rest in God's sovereignty and wait on His timing.
Study With a Friend and Save!
FTF Mentor & Mentee (M&M) Package
Or Your Best Value

FTF Bible Study Sampler Package

What Readers Are Saying:
I am so thrilled about the new book of yours… Face-To-Face with Sarah, Rachel, and Hannah: Pleading With God. I have read over and over about all the women in the Bible who had infertility and how God touched each one. Besides Hannah, I also love the story of Abraham and Sarah! God told Abraham that he would have descendants when the man was in his 70s, yet He didn't tell him when. And 24 years later at the age of 99, the Lord reminded Abraham of His faithfulness. WOW…he waited 24 years for God's promise, well 25 when he finally got to hold his miracle!!!! Love it!—Oxana
I AM LOVING your Bible study, Face-to-Face with Elizabeth and Mary– what a blessing! I used it in my Women's study group this week.—Jackie
SO GLAD to hear you made it home safe and sound from our retreat. I sure did enjoy your teaching and will try to apply it to my life. Just a little testimony about Face-To-Face with Euodia and Syntyche: From Conflict to Community. I got into a fight with my neighbor last year and we had very angry words. We have not spoken since and she is not a Christian. I kept telling myself that I should apologize and make it right, but had not gotten around to it. I have no ill feelings one way or another, however, my behavior was not Christ-like, it was downright nasty. So today after returning home from church, she was outside and I felt that conviction again so I went over to her house and told her that I was sorry and ashamed of my behavior and asked for her forgiveness. She too apologized (which I was not looking for) and we hugged and made up. I was obedient to Christ and that was my main concern. Thank you again for your teaching. —Sharon
God's Best For Your Life, Bible Study and Scripture Memory CD

 A First Place 4 Health Bible study. Janet takes you on a biblical journey of improving your physical, mental, and spiritual health. Why settle for second best? Give God first place in your heart and watch his blessings multiply in your life! Based on the Book of Ruth, this 12-week study will help you balance the emotional, spiritual, mental, and physical aspects of daily living. Includes "Live It" trackers, recipes, Scripture memory cards, Scripture memory music CD, and more.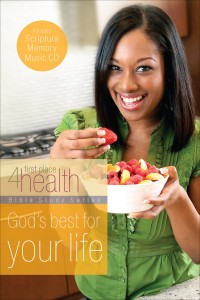 What Readers Are Saying:
I lost 15 pounds while doing this study, but more importantly I drew closer to God!—Karen
THIS STUDY MADE ME MORE AWARE of taking better care of this body that God gave me. Thank you Janet for such a thorough study of the Scriptures.