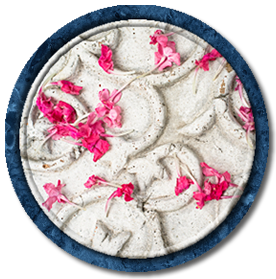 A book for every breast cancer sister from the newly diagnosed to the woman long in remission. A great gift for a friend or for yourself! This helpful guide will be a:

Mentor
Record keeper
Journal
Devotional
Prayer  guide
And friend
 Non Fiction Book of the Month at the Book Club Network, Inc.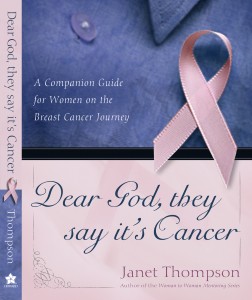 or
Download to your Kindle or Nook
Janet Thompson has walked the tumultuous road of breast cancer with courage, tremendous faith, and even joy. I'm proud to be her friend.—Kay Warren, Saddleback Church
Written by Saddleback member Janet Thompson, this book can be a great help to anyone in your life dealing with breast cancer. In this book, Janet takes readers through the highs and lows that come after such a diagnosis. The book is designed to be a mentor, friend, record keeper and journal for any woman in this situation. There's also plenty of room to write your own thoughts on your journey throughout the book.Rick Warren's Ministry Toolbox

Book Description
Dear God, They Say It's Cancer is: A Friend to Help You Through…
No matter where you are in your breast cancer journey, this book is the companion you need. Written by a woman who has been on your journey and understands that you need a trusted friend to walk along beside, someone who's gone before you. You'll find that friend between the pages of this book. This book is yours to use in whatever way serves you best. You can start in the beginning and work your way through, or you can use the detailed table of contents to help you find just what you need for what you are experiencing on any given day. Whether…
you've just heard the dreaded diagnosis for the first time

you're in the middle of decisions and treatments

you're experiencing the disappoint of recurrence

or you're several years beyond the initial trauma




Each chapter includes:

Janet's "Dear God,"

A Sister Shares — stories from breast cancer "sisters"

Mentoring Moment — lessons learned, helpful hints, encouragement

God's Love Letter to You — paraphrased scripture for you to personalize

Journaling Guides — encouraging prompts to help you journal your own breast cancer journey

And more! You don't have to make this journey alone. Hope and help await you in the pages of this book, written just for you in your time of need.
Bonus! Sanity Tools Appendix includes:
How to do research

National contacts

Decision-making worksheets

Breast cancer journey map

Finding your purpose in your pain

And much, much, more . . .

I WROTE THE BOOK I LONGED FOR when I went through breast cancer. I needed a place to write down the journey I was on as well as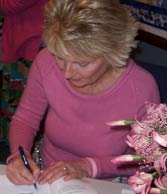 keep track of all the information I was receiving. I had many questions, but I could only read so many technical books. One testimonial book was enough because this was my story. It seemed my life was scattered between anything I could grab at the moment to make notes—realtors note pads, back of receipts, covers of magazines.
Three weeks out of radiation, I went to Mount Hermon Writer's Conference and met the editors for Howard Books/Simon & Schuster. I had a list of the things I would like in a book and the passion to write it. They caught my vision and Dear God, They Say It's Cancer was born. Writing this book was painful, yet cathartic. My prayer and vision is that the breast cancer sister who receives this book will relate to my story and those of 45 other breast cancer sisters who share their story along with the tips offered in Mentoring Moments and God's Love Letters To You. There's a place to journal her thoughts and own story and a Sanity Tools Section with a place to keep track of all her treatment and medical information. The book even has pockets in the back cover to put the many business cards and pieces of paper she collects at every doctor's appointment.
I've now been through two recurrences and used my own book and it was everything I had hoped it would be!
What Readers Are Saying:
It was as if you were right next to me every day, encouraging me and praying for me. Thank you for writing this book!
Thompson's book is a dear and wise friend as it walks readers through the difficult breast-cancer journey and accompanies them step-by-step through treatment and recovery. Offering spiritual, emotional, and practical support, this book is a thorough and gentle guide for hurting women. 
I wanted to thank you for your book Dear God, They Say It is Cancer. My wife is a breast cancer survivor and has been cancer free for 4 years. I do a lot of research and very rarely I have found much info about what happens after the treatments are over. Your Chapters 12 and 13 especially ministered to us. I wanted to say thank you and I have made your book apart of resources list here at K-Love Radio and Air1 Radio to help listeners who may be going through breast cancer.—Serving Him by Serving You, Pastor Mike K-Love Radio Network, Air1 Radio Network, Christian Music Planet
I STILL WRITE IN MY BOOK  Dear God They Say It's Cancer. There seems to be no space, but when I start to write the space appears.  Seven years is perfection, my body is whole, looking good, my mind is anchored in the Lord, and I will not allow any evil thing to come near me. — Gloria
I WAS DIAGNOSED IN JAN 2012 with breast cancer at 48. A friend gave me your book and it helped me so much. I was angry, and your book let me know it was ok to be angry and then I was able to work through it. I have recommended your book to others that have been diagnosed. Thanks for letting me know it did not make me less of a christian by questioning and being angry.  — Linda, Ohio
I'M WRITING YOU FROM HONG KONG as I've picked up your cancer book at the local Christian bookstore recently. I will be heading back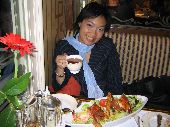 to the hospital three times this month for my routine oncology appointment and annual mammogram. I had a polyctemy two months ago, something most likely to do with the intake of tamoxifen. Yes, I'm approaching my third year of overcoming breast cancer as a single gal (I was 34 in 2004).
This is a quick email to touch base with you and to ask you whether you have come across any literature on how single breast cancer victors cope with life and especially in the area of staying hopeful of meeting and marrying a man one day. I have been doing some voluntary peer support with my breast surgeon and in my group (there are four singles aging 33, 43 and 49) as the trend of women having breast cancer is getting younger and young. Breast cancer is ranked number 1 in HK; 1 in every 22 women with the medium age at 51.
Hope to hear from you soon.
Blessings. Amy Chan
PS. I will dig out that pink journal and continue with it.
I CURL UP IN BED EVERY NIGHT WITH YOUR BOOK. I received it right after my diagnosis, and I've found it's better that I read about what I'm currently going through instead of reading too far ahead.
I'M NOW BEATING BREAST CANCER MYSELF.  Had 2 chemo treatments & 4 to go. You're a God send for doing this book. It was a great help to me to help me spiritually. I'm a faithful woman myself & really enjoyed your book. It is very helpful for me & I will continue to look back at from time to time. I wanted to say thank you for helping me through this. May God continue to Bless you as you help others in need through this tough time they are going through.—Sandi Longerman
I WANT TO THANK YOU for writing Dear God, They Say Its Cancer. I have read it through two times now. I have only been on my Breast Cancer Faith Walk Journey for 4 months.

YOUR BOOK IS AN AWESOME RESOURCE and I have told many about it. AGAIN, Thank-you for sharing your story and Paying Forward to help those of us coming behind you. —Cathie Schultz
A COLLEAGUE GAVE ME THIS BOOKafter I had been diagnosed. IT IS WONDERFUL! I circled, underlined, wrote thousands of comments, etc.—it helped me through a devastating period of my life. On my celebration date last month, I re-read much of the book and found my comments to be extremely interesting…it is something I will cherish forever. I highly recommend it. I am thankful my colleague purchased it for me!—A review on CBD by S Meece (Florence, KY)
THANKS FOR WRITINGDear God, They Say It's Cancer. I feel like I am writing my own story! Your book is certainly an inspiration to me. I found it when I made the last round of the Christian bookstore. It was the pink ribbon on the cover, and I knew I had to take it home. Thanks for being who you are, and I thank God for bringing your book to me.—Carol Forestell

 A book for every couple experiencing the heartache of an empty cradle. A compassionate gift for a friend or for yourself!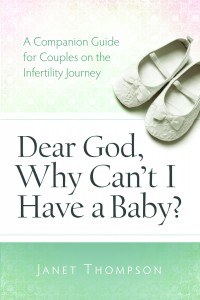 or
  Download to your Kindle or Nook

TOP 10 IDAHO AUTHOR 
TOP 5 IDAHO BOOK AND BEST COVER DESIGN
2012

AWSA Golden Scrolls Finalist

With relatable personal stories and spiritual guidance, Janet Thompson helps to normalize feelings associated with infertility, and offers inspiration and hope to help couples with this difficult experience of trying to build their family.—Valerie Gelb, LMFT
This is an accurate, encouraging, and soulful guide for couples at any point along the fertility journey. Anyone experiencing the unfulfilled expectations of an easy conception, pregnancy, and birth can find solace and hope in the pages of this wonderful book.—Dr. Elizabeth Lyster, OBGYN, MPH, F.A.C.O.G.
 ONE IN SIX COUPLES STRUGGLE WITH INFERTILITY. Two of my daughters and I know that heartache, and God answered each of our pleas in different ways. We each tell our story along with numerous other mommies- and daddies-in-waiting. My prayer is that this book will be a mentor, a record keeper, a journal, a devotional, a prayer guide, and a friend.
Book Description
DEAR GOD, WHY CAN'T I HAVE A BABY? provides women and "couples-in-waiting" with tools, direction, guidance, hope, and encouragement not to lose faith in God, or in each other, as they strive to share their love with a child.Rachel's cry of barrenness in Genesis 31:1,"Give me children, or I'll die!" is a wail that still echoes around the world, as one in six couples experience infertility. Infertility statistics are staggering: nearly 6.1 million women and 2.1 million married couples in the United States will experience difficulty having a child.Onlookers, and sadly even churches, often treat these "empty arms" couples with indifference, platitudes, criticism, or minimize the pain of miscarriages and stillborn babies. Couples struggling with infertility say they often feel alone and ostracized in their own churches and families. As a result, many infertile couples grow desperate, and some like Rachel, even feel suicidal when denied the one dream they have had since childhood-having a baby.Each chapter includes:
Janet's daughters, Kim's or Shannon's "Dear God," — their infertility story

A Mommy- or Daddy-in- Waiting Shares — couples' infertility story

Janet's Mentoring Moment —  helpful hints & encouragement

God's Love Letter to You — paraphrased Scripture to personalize

Your Letter to God — encouraging prompts and a place to journal your story

And more! You don't have to make this journey alone. Hope and help await you in the pages of this book, written just for you in your time of need.
Bonus! Sanity Tools Appendix includes:
How to do research

National contacts

Decision-making worksheets

Infertility journey map

Stages of grief

And much, much, more . . .
What Readers Are Saying:
Addressing a variety of situations and stories from other mommies- and daddies-in-waiting, these three women open up their very personal questions and feelings through many facets of infertility experiences presented in easy-to-read topical segments. Some of the greatest treasures of this book are the excellent "Sanity Tools" worksheets provide to aid you through your journey.—Jennifer Saake, author of Seeking God's Heart in the Midst of Infertility, Miscarriage, and Adoption
I LOVE THE BOOK! I love the personal stories and the way it is written. It's a must read for anyone struggling with infertility. It's also has much valuable medical and ethical information relating to the subject. If you're looking for a book on infertility, this is it.—Paula
I KEPT ON SEARCHING for a book and finally typed "infertility" in the search box of a Christian bookstore site. Your book came up and the title really captured my heart. After work, I bought a copy and started to read. Right away I was crying and laughing as I could so relate to stories of many women who shared their journey. I also love your encouragement in journaling. I really want to thank you for being obedient in writing the book, Dear God, Why Can't I Have a Baby?. God really is using it to minister to my broken heart and encourages me to not give up for He is faithful. Thank you for your servant heart!—Mommy-in-waiting, Oxana
I JUST RECENTLY BOUGHT AND READ YOUR BOOK, Dear God, Why Can't I Have A Baby?. Walking around Mardels this was the only book that jumped out at me. The stories brought tears to my eyes…I felt the pain. You see, I had a total Hysterectomy & Salpingo-Oophorectomy at the age of 12. I am now 42. So, for 30 years I have suffered greatly. Your book has opened my eyes to more than just being barren or infertile, if you will. I saw that God will carry you through it all whether he opens a womb or not. And though I suffered greatly most of my life, I will be ok.—Sheila Brooks
INFERTILITY IS SUCH AN ISOLATING DISEASE and brings up tons of "why me" questions. I ordered this book at the right time and found huge solace in its words and guidance. Hearing about other women's struggles with infertility made it much less isolating. The Bible passages help guide you through the myriad of emotions that go along with infertility and show that one true constant that God has a wonderful plan for each and every one of us.  I laugh and cry through this book and am not able to put it down.—G.B
JUST WANTED TO TELL YOU I BOUGHT YOUR BOOK and I just finished the first chapter. It has been such a blessing for me. My husband and I have been in that same position, and oddly enough, your book goes hand in hand with my current struggles. I love the Sanity Tools, because up to know I felt lost trying to ignore the obvious and just not finding answers. I just did my first journaling and Prayer & Praise Journal… What an amazing book! Anyway, God bless you for allowing Him to use you in such a way. I know talking about this is hard and very painful, but Thank you for making my path less lonely.—Hugs, Raquel
IF YOU HAVE EVER WHISPERED IN PRAYER, "Dear God, why can't I have a baby?" you have found a friend for this emotional detour in Janet Thompson. Her book, aptly titled, Dear God, Why Can't I Have a Baby? is the book I wish I'd had in the 90s during my own struggles to become a mother. Somehow, Thompson covers it all in this book! The heartache and disappointment of course, but also the quiet talks we have with God and the prayers we send up through a shower of tears; the reactions to the advice from those around us, to finding joy despite our circumstances. Thompson even calls the forms and charts in the book's index "Sanity Tools."
Throughout the book she offers Scriptures that come to life; mentoring moments with wise yet sensitive advice; journal entries to remind the reader that she is not alone; God's love letter to the reader, and a place for the reader to write a note back to God. There is even a couple's prayer in each section, a much-needed yet rare resource. Far too many couples find themselves growing farther apart through infertility when they could be using the experience to become closer. "Daddy-in-Waiting" reflections also provide validation of the mixed feelings men may carry silently.
There is not a book that can cure infertility, but this book can end the bitterness, frustrations, loss of joy, and even resentment. When we are suffering, loved ones are quick to say, "Be sure to grow closer to God during this time, not farther away," but when you are deep in the pit of grief, you need a helping hand to do this. Thompson's Dear God, Why Can't I Have a Baby? helps the spiritual and emotional struggle seem to be one that is able to be conquered.
This book is sure to become not only a tool to express one's emotions and find solace, but also one that the reader will find herself holding in the middle of the night grasping for an answer. I am honored to be able to share my story in this book, about how I became a mother through the gift of adoption. However God may determine one's path to parenthood, this book will someday become a keepsake for when one wishes to reflect on her thoughts and spiritual journey during that unexpected detour.—Lisa Copen, A Mommy-in-Waiting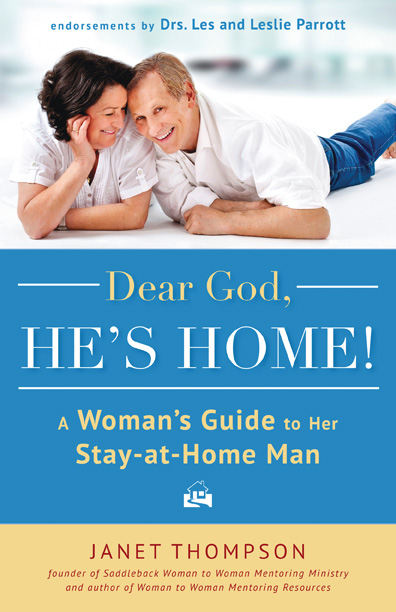 or
Download to your

Kindle

or

Nook 

Dear God, He's Home! Trailer
Regardless of the reason for this season, wives of stay-at-home men experience similar difficulties, hardships, and blessings."
A BOOK FOR WOMEN whose husbands are home for whatever reason—layoffs, out-of-work, retirement, home office, illness/disability, or military deployment. Except for military deployment, my husband and I have experienced—and survived—each of these scenarios.
With masses of baby boomers entering retirement and younger workers still reeling from economic recession, increasing numbers of women are suddenly finding themselves living with a "stay-at-home man." Further, situations like re-entry from military deployment, working from home, illness, or other life changes bring even more men home. Offering practical and emotional support for wives, New Hope Publishers announces the release of Dear God, He's Home!: A Woman's Guide to Her Stay-at-Home Man by Janet Thompson.
Each chapter has discussion questions for support groups or book clubs to use with a Leader's Guide included and Sanity Tools offer walk-along-beside you encouraging, and sometimes humorous, tips to help make this season of life of blessing and not a burden.

Many Treasured Endorsers
Janet Thompson's passionate faith, schooled wisdom, and practical applications make her message one for every woman who wants to live an abundant life in Christ.—Drs. Les and Leslie Parrott, LesAndLeslie.com, authors of Love Talk
JANET, I DOWNLOADED YOUR BOOK, Dear God He's Home. My husband retired last year after working 48 years. 6 months later we sold our home of 32 years and downsized. We immediately began a season of tension, frustration, anger and the emotional roller coaster. Your book has been SO encouraging. I just love your transparency. We have been married 52 years, and leaning into retirement has been laced with a lot of emotion. I love your transparency and wise counsel and your humor. your book has confirmed what a huge adjustment this season of life is. Thanks SO much for the encouraging, thought filled counsel and fun stories. Great book to give every couple who is going through this season of life.
THIS ENCOURAGEMENT-FILLED BOOK is ideal for women whose husbands are now home all day—whether that's due to retirement, being laid off, illness, or any other reason. Roles get reversed, changes create tension, and emotions can run the gamut from frustration to fear to fulfillment. If this is your situation, you'll find sound advice, empathy, and practical solutions in Dear God, He's Home!—Poppy Smith, international speaker, author, spiritual life coach, poppysmith.com; Golden Scroll Award winner: Why Can't HE Be More Like ME?
ONLY JANET COULD help you see an otherwise panic situation as a precious season of life. With her honesty, warmth, and biblical insights, she takes your hand and gently guides you through this journey of not only surviving a stay-at home man but of drawing closer to the heart of God and the heart of your husband.—Cindi McMenamin, author of When Women Walk Alone, When a Woman Inspires Her Husband, and Women on the Edge
MARRIAGE CAN BE A REVOLVING DOOR of transitions and adjustments—some harder than others! Janet Thompson's practical wisdom gleaned in the trenches offers hope for those on the roller coaster of love.—Pam Farrel, author of more than 35 books including Men Are Like Waffles—Women Are Like Spaghetti and 52 Ways to Wow Your Husband
JANET HAS WRITTEN a book that is sure to help many women whose husbands are now home after being in the workplace for their entire married lives. Instead of dread at the prospect of being together 24/7, Janet shows how women can learn to treasure these years and make them the best ever.—Carole Lewis, First Place 4 Health national director, author of Live Life Right Here Right Now
JANET AND HER HUSBAND, Dave, open up their lives to give us a glance at what it's really like to have 24/7 marital togetherness. Let's just say it's not always pretty, but there is an abundance of grace. In Dear God, He's Home! many women share their touching stories of how they adapted and in many cases learned to enjoy having a stay-at-home man.—Saundra Dalton-Smith, MD, author of Set Free to Live Free: Breaking Through the 7 Lies Women Tell Themselves 
JANET HAS DONE IT AGAIN! How I wish this book had been available during my husband's year off from work. Most people don't realize the spouse is grieving too. Dear God, He's Home! is filled with practical, insightful, and wise words. An excellent resource. I highly recommend it!—Laura Petherbridge, international speaker and author of When "I Do" Becomes "I Don't": Practical Steps for Healing During Separation and Divorce and The Smart Stepmom
ONE OF THE GREATEST TRANSITIONS a couple needs to make is when the husband is suddenly home 24/7, whether this is due to retirement, disability, or a layoff. Janet tackles this often difficult stage by providing encouragement and tips for those at this season of life. She does this through stories, hers and those of others who have been there; through lessons learned; and through paraphrased Scripture and prayer.—Susan Titus Osborn, author of 30 books including Wounded by Words and Too Soon to Say Goodbye.
IF YOUR MILITARY MAN trades in his uniform for civvies and is job searching. If the "honeymoon phase" after deployment fades quicker than your guaranteed hair color. If you find that your spouse is now home by choice or unforeseen challenges, then Dear God, He's Home! is the lifeline for you. This must-read not only encourages spouses experiencing a stay-at-home hubby, it also inspires and equips every woman to joyfully embrace the marriage God ordained through all life's seasons. So, get ready to laugh, shed tears, and be uplifted as you relate to Janet's compelling, real-life accounts. By the last page, you will know that you are never alone.—Penny Monetti, coauthor of Called to Serve: Encouragement, Support, and Inspiration for Military Families and Honored to Serve: Guidance and Encouragement for Military Families in Transition
A TIMELY BOOK—real, raw, and redemptive. As a woman whose husband works out of the home, I understand many of the adjustments that must be made if a couple is to maintain a strong relationship with a husband "underfoot," but also the great opportunities that come when we give this transition to God. Janet addresses the struggles and blessings of living with a stay-at-home husband in a variety of scenarios, but also with great biblical insights that can encourage any marriage.—Dawn Wilson, founder of Heart Choices Ministries and coauthor of LOL with God
WISDOM GAINED IS MEANT TO BE WISDOM SHARED. Janet introduces the reader to men and women of wisdom who have faced life's transitions, both anticipated and unwanted. Their honesty, God's Word, and Janet's vulnerability will deeply encourage and challenge you as you read and journal yourself into a new stage of trust, acceptance, and growth. A must-read for all! If you're not facing a 'new normal' now, it's just around the corner.—Janet Congo, marriage and family therapist, author, cofounder of LifeMates
What Readers Are Saying:
JANET, I READ Dear God He's Home LAST WEEKEND AND COULDN'T PUT IT DOWN. It's a wonderful book! It's obvious that your passion is to "mentor." You have done that throughout the book (well, all your books that I've read). Your gift of writing is touching many, many women (and men) across the country and around the world with whom you will never ever come in personal contact with. That's HUGE!
One of the most powerful "take-a-ways" for me is the introvert/extrovert component especially as it relates to my "off week from chemo." When I've spent three weeks staying home, going nowhere except to doctor's appointments, chemo, hydration, lab, and neulasta shot appointments, I am going stir crazy by the time the 4th week rolls around. SO…during week 4 Jan wants to go out to lunch, go shopping, go out to dinner, go to Life Group, go to church, go out to lunch again…and again…go, go, go. Sure, I do some of it with my women friends, but I also want to drag my husband around to several "FUN" things.
My husband, on the other hand has conscientiously TAKEN CARE OF ME 24/7 FOR THREE ENTIRE WEEKS, AND HE IS UTTERLY EXHAUSTED! THE VERY LAST THING HE WANTS TO DO DURING WEEK 4 IS TO GO OUT AND BE WITH ANYBODY…it exhausts him even MORE!
Janet, you would think that after having been in the cancer journey for 6 ½ years, I would have gotten this figured out! NOT! What I finally realized after reading your book is that these last 14 months of straight chemo (from February 2012 through April 2013), I have had no extensive breaks…AND MY HUSBAND IS EXHAUSTED. Sure I get tired of the whole thing, BUT HE IS EXHAUSTED…UTTERLY EXHAUSTED!!!!
SO…I have a very different perspective now on my "chemo off week…week #4"…
Thank you SO MUCH, Janet, for speaking into my life…for being my friend…for encouraging, loving, and praying for me.
Blessings on you, dear friend…Jan 
"Dear God, He's Home" IS LIKE A VISIT WITH YOUR BEST FRIEND OVER A CUP OF TEA. You hear a voice of reason, with candid sharing of personal experiences, and some healthy examples of "I know how you feel," that are surprisingly right on! But rather than leaving you in a sullen state of commiseration, the conversation leads to creating helpful solutions. The result is better understanding of your at-home man, and insight into both your own needs and his. Some of the answers lie within our own attitudes and adjustments, and some are in learning communication and acceptance. Nobody says change is easy, but Janet Thompson's book certainly puts things into perspective and points the way to satisfying times together around a new normal, whether it is temporary or long-term. Her experiences and others fortify us and show us how to navigate the currents. This is a book for retirees, caregivers, military wives, and all of us who value keeping our marriages strong through life's unexpected changes. I not only recommend it highly, I'm buying several copies to give away. – Marilee Donivan

JANET'S BOOK ADDRESSES WHAT NO ONE WANTS TO TALK ABOUT...This is an excellent book filled with what people rarely talk about–how hard it can be for a couple to redefine their marriage and relationship when both the man and woman are home. Even though you can love your spouse unconditionally, you may not love the game shows in the background, feeling like your schedule is all messed up, or that he wants you to go to the home improvement store with him two hours before company arrives. My husband is still working, however, I live with rheumatoid arthritis and I know how odd it can feel when I am going through a physical crisis and my husband takes off a week to help me. It throws off all the normalcy and how we define our roles. For couples who experience this daily, it can easily cause resentment that builds up and can harm a relationship. Janet's book can help you work through the feelings you may have without putting additional strain (or blame) on your husband.
Janet, in her typical fashion, shares experiences of her own and others. She is authentic, yet kind. And she shares tips from lessons she has learned along the way. She writes about how to keep the love alive in a marriage of a new season when everything changes. And she does it kindly. Her book is full of humor that makes us smile and she shares some of her own personal challenges, but it is not a book that is filled with jokes at the man's expense–something that is rare these days. I recommend it and can think of many couples who would benefit from it who I know. (Mom, you will get your copy soon. LOL)
Joyfully serving the chronically ill
THIS BOOK ISN'T A NARRATIVE, IT IS A TOOLBOX FOR COUPLES IN TRANSITION. Each chapter includes the author's own journal entries, stories provided by other wives, "Mentoring Moments," prayers, personalized scripture meant to serve as "God's Love Letter to You," writing prompts for journaling, and discussion questions. The author includes a variety of resources ("Sanity Tools") and a small group study guide at the end of the book. This approach adds value to the book. If you're a prayer warrior, she's got some great ones to inspire you. If keeping a journal keeps you centered, she provides helpful prompts. If you're someone who works through every exercise in a self-help workbook, expect to spend significant time on this deceptively small volume. It's packed full of ideas. – Sheila Legrand
WHEN I BECAME THE WIFE OF A STAY-AT-HOME-MAN, one of the biggest problems was feeling like no one understood my struggles. "Dear God, He's Home" is an answer to prayer. Janet Thompson's honest look into her own struggles and emotional ups and downs let me know that I was not alone. The personal stories from other women gave me even more encouragement. It's nice to know that other women shared the same day-to-day struggles. This book is a practical guide for dealing with everything from communication struggles to understanding God's plan in the midst of transition. If you're looking for support, encouragement and practical guidance during this time in your life, this book is for you. – Veola