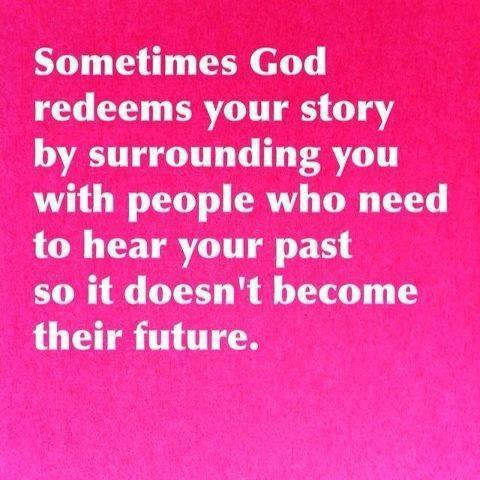 Another term for "your story" is "your testimony." A testimony focuses on God, not us. It describes our lives before we turned them over—or returned—to God and on how He changed and transformed us. Your story doesn't have to have a "happy ending" for you to share it. We give our testimonies to show God's faithfulness in spite of the circumstances, to let others know they're not alone, and maybe just to stop someone else from making the same mistakes we did.
When people tell me their hardships, I often advise them to begin journaling because it's recording the story that will become their testimony.  We must be willing to share our hurts and hang-ups and how God helped us through difficult times. It's our witness to His faithfulness. It's the opportunity to give purpose to a crisis. Otherwise, we spend our lives feeling sorry for ourselves. Revealing is the first step to healing.
The Bible tells us that"the wages of sin is death" (Romans 6:23). Hidden sin has us in a death grip that will kill us from the inside out. But exposed sin loses its power. We don't have to worry about others finding out about our past. We can "Thank God we've started listening to a new master, one whose commands set us free to live openly in his freedom!" (personalized from Romans 6:18 The Message). One of the steps in most recovery programs is openly telling one's testimony to a group. Public sharing frees us and allows God to minister to someone in the audience who is going through something similar.
When I told people I was writing Praying for Your Prodigal Daughter and would be including my daughter Kim's story, they often asked, "How does she feel about that?" I assured them she wanted her story told to help others and, in fact, wrote portions in her own words:
Mom, I want to share my story in your book because you also need my perspective. How can you effectively write about you and me if you don't know what I was feeling? You can't teach others what to do correctly if you don't know what works and doesn't work with kids. I'm so thankful I've come to know the Lord, that my life is so blessed, and that I didn't make too many serious mistakes along the way. If I can help you save one daughter by sharing my story, then that's what I want to do!
Your testimony won't always be shared in a public setting. God will bring people across your path and the Holy Spirit will prompt you to share one-on-one. When people ask Kim and me how we made it through, the best answer we can give them is, "We couldn't have done it without God."  And that's your best answer too!
Kim and I had the opportunity to share "Our Story" at a Mother Daughter Tea at The Journey Church the Saturday before Mother's Day. Watching my sweet daughter articulately share her prodigal journey as I shared mine, I could only imagine how God was smiling down on us. So many women came up and thanked us for being open and vulnerable.
What story is God asking you to tell and who needs to hear it? In all of my books, I give others the opportunity to have a venue for telling their story. I am currently receiving stories for my next three books. If any of these titles spark your interest, please contact me.
How Good is God? I Can't Remember….10 Ways to Never Forget God's Faithfulness
Dear God, Life is Hard
Mentoring: A Way of Life from the Pulpit to the Pew
You're here to be light, bringing out the God-colors in the world. God is not a secret to be kept. We're going public with this, as public as a city on a hill. If I make you light-bearers, you don't think I'm going to hide you under a bucket, do you? I'm putting you on a light stand. Now that I've put you there on a hilltop, on a light stand—shine! Keep open house; be generous with your lives. By opening up to others, you'll prompt people to open up with God, this generous Father in heaven. (Matthew 5:14–16 The Message)
Excerpts in this article are taken from Praying for Your Prodigal Daughter.