Cowboy Easter Breakfast
Traditionally, Christmas and Easter are the two occasions when people who don't normally attend church will put on their best clothes and go to church. Or maybe a neighbor or family member has invited them to attend and they feel obligated. Whatever the reason, it's always a good thing when people hear about the birth, death, and resurrection of Jesus Christ. For some, this might be the year the gospel message resonates in their hearts and minds—they stop resisting the call to become a follower of Jesus.
Invite Someone to Church on Easter
We don't know when or where conversions will take place so that's why we need to continue offering everyone an opportunity to receive Christ's invitation. Maybe your heart has become hardened by the rejection of numerous invitations to attend church with you—don't let that happen. Don't give up. You never know when God has planned for them to say, "Yes"!
Plan an Outreach Event
How about having an outreach Easter breakfast, or picnic or brunch or street BBQ in your neighborhood! During conversations, be open with why you celebrate Easter and what it means to you. Be prepared to answer questions.
Our church hosts a Cowboy Easter Breakfast down by the river behind our church. People in the community attend from every walk-of-life and every faith. It's a great time of eating breakfast and drinking coffee around the campfires and there's always a gospel message and testimonies.
Two years ago, when we had only lived here a year, I was asked to be the Cowboy Breakfast speaker. I felt humbled, hesitant, and excited. I said I would have to pray and know that God really wanted me to do this.
The awesome thing about living the Christian life is that when we pray, God answers—maybe through reading the Bible, or a sermon, or song, or even movies or TV. This time He used the big screen. We were at our kids' church, The Pursuit in Meridian, worshipping and singing when they put Acts 20:24 on the screen:
 But my life is worth nothing to me unless I use it for finishing the work assigned me by the Lord Jesus—the work of telling others the Good News about the wonderful grace of God. Acts 20:24 (NLT)
Since my writing and speaking ministry is About His Work Ministries, I knew this was a message from the Lord assuring me that my work was to tell the Gospel story and the Good News that JESUS IS ALIVE! I also knew that there would be many unbelievers at the breakfast and God was giving me an opportunity to be a bold evangelist.
Let Your Children Participate
Encourage your children and grandchildren to invited unchurched friends to go to Sunday School with them on Easter and to come to your outreach event.
When I spoke at the Cowboy Breakfast, my then 6-year-old granddaughter Katelyn shared the microphone with me to recite John 3:16. I was so proud of her! Just this week she told me, "Grammie, I want to share John 3:16 at the Cowboy Breakfast again." Could we be grooming the next family evangelist?

God blessed Katelyn and me with a boldness that morning to share the Gospel. Here's what one attendee remarked:
I wanted to let you know how much I appreciated your message at the Cowboy Breakfast. It was clearly presented and probably the best explanation that I have heard so that people are not confused about making a commitment to Christ. So often people are afraid to say what is needed because they are concerned about offending their audience. It was import that you were clear on what sin is and how to make a personal commitment. I also received feedback from members of our Vineyard Home Study Group that were pleased that the truth could be so clearly spoken.Thanks again for the time and effort that you put into preparation for those who needed to hear this message.
Share Your Testimony
Last year at the Cowboy Breakfast, my husband Dave shared his testimony of turning from a self-motivated man to a man solely motivated by Christ.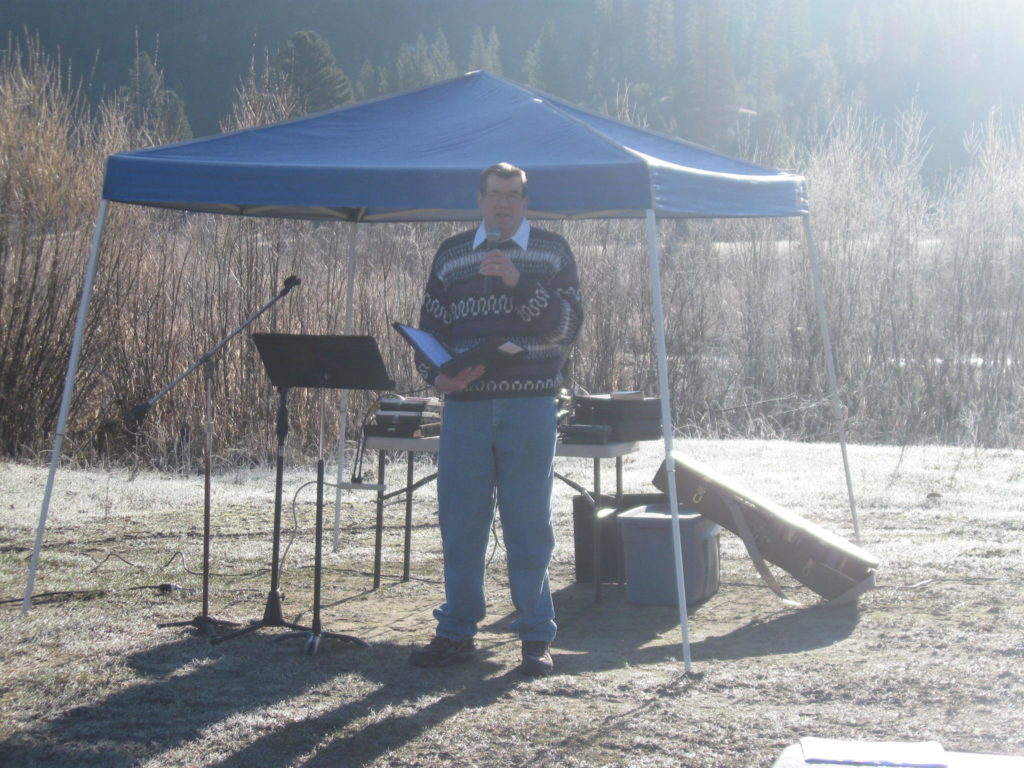 Who needs to hear this Easter what Christ has done for you and can do for them?
Cowboy Easter Sunday Mornin'—Rod Nichols
On an Easter Sunday mornin'
'fore the sun has yet to rise,
the roundup crew will gather 'round
to await the newborn sky.

It's a cowboy sunrise service
neath the purple, gray and gold,
in remem'brance of a story,
that's the greatest ever told.

Someone may say a word or two
in a simple, cowboy prayer.
Another hand may lead a hymn
for the boys still kneelin' there.

Then the sun will climb toward heaven
from below the eastern range,
like the Lord's ascent in glory
as it lights the darkened  plain.

When the service, then, has ended,
and the day has been reborn,
each man will know the gift of life,
on an Easter Sunday morn.