I had the privilege of endorsing the book Mothering from Scratch by Kathy Helgemo and Melinda Means, and I can assure you this is a book every mother wants to read. I met Kathy and Melinda at The MOM Initiative Better Together Conference in Jacksonville, FL last summer. Kathy took my workshop on Praying for Your Prodigal based on my book Praying for Your Prodigal Daughter. In today's guest blog, Kathy shares the feelings that stirred in her while listening to me speak.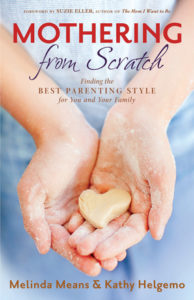 Breaking Free From Parenting Out of Fear
by Kathy Helgemo
I heard Janet talk at the Better Together conference last July on the topic of Parenting Your Prodigal. Once she started talking about parenting out of fear, I found myself sitting up. Listening. Wondering. Do I do that?
"Oh, really Janet." I thought. "You must be talking to someone other than me."
I don't consider myself a scared person. I actually don't consider myself a particularly anxious person either. So, I found it interesting when God started laying on my heart that this was a problem of mine. I don't have this problem, remember?
But this day He revealed to me that I truly did. And I better pay attention. Pronto.
Parenting from a place of fear has more to do with us than our kids. Yet, they suffer the consequences. Ouch.
I don't know about you, but I have trouble enjoying the good times on occasion. For years, I constantly worried about my kids repeating my mistakes. Not theirs — mine.
I have parented my children as if they were making the same mistakes I did — even when they weren't making any at all. No wonder they felt like they were doing something wrong. Guilty. For nothing.
They weren't doing anything in particular.
Sure I did it when I was their age.
But they didn't.
And hopefully they won't.
Here is some of the evidence that I found in myself about parenting with fear:
I made normal transitions into drama-filled experiences. Too much attention. Too much anxiety. It's akin to keeping on the training wheels way too long because it's easier than seeing scraped knees. It's normal to stumble and fall.
I tried to control their relationships too much. I didn't want them to get their feelings hurt or hang out with "the wrong kids".  After all, that's what happened to me. However, they need friends and connection. They also need to learn how to discern the difference between good and bad influences.
I completely exaggerated everyday dangers. Here are some examples: strangers, alcohol, mean people, strange places. Dirt! For Pete's sake. Those problems are not going to leave the planet anytime soon. I had an "all or nothing" attitude regarding some of them and it got out of control.
I worried about their achievements as if they were my own. How is this fearful? It's the fear of failure. If we have struggled with the fear of failure ourselves, it's so easy to project it onto our kids. For example, perhaps we were never a straight A student. We struggled just to get by on B's and C's. Suddenly, our kid's excelling in school. Obsessing over of their grades becomes our focus. It's much easier than to work through our own feelings of failing as a student.
I tried to prevent any kind of pain. We are their mothers! Gosh, darn it! We don't want to see them in any kind of suffering. Unfortunately, that would prevent an awful lot of learning too. We can love them through anything. Teaching moments only happen when we get out of the way. Now, that's scary!
Remember…
Love is the opposite of fear. Willing our child's good above our own can be hard.
Staying in the place of fear, however, robs them of the security of knowing what real love is.
Let's focus on loving our kids, giving them the security that their good is truly the center of our motives and actions.
And there you have it….
When are you parenting out of fear?
How can you break free and parent more from love?
What's one area you can turn over your fear to God letting Him take control?
Leave a comment for a chance to win a copy of Mothering From Scratch.
If you are receiving this blog by email, click here to leave a comment.
Kathy Helgemo blogs over at Mothering From Scratch. She co-wrote the book Mothering From Scratch: Finding the Parenting Style That Works for You and Your Family with Melinda Means. Together they support and encourage moms to develop their own mothering recipe.