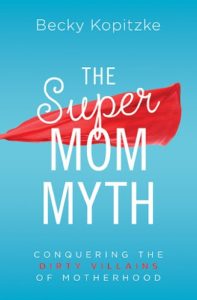 Becky Kopitzke is a fellow mentor mom over at The MOM Initiative with a new book I thought you would all enjoy learning about. Her topic in this blog is "shoulditis," and I know we all suffer from shoulda, coulda, why didn't I?, why aren't I as good?,  . . . we've all been there.  Becky reminds us that God made each of us unique with our own gifts and talents and all He expects is that we use them to His glory!
Enjoy this post by Becky:
Have you heard of a common debilitating condition infecting women today? It's called "shoulditis"—otherwise known as I should do that disease. I've got it. You probably do, too. Symptoms flare up under the most ordinary circumstances.
When my friend calls to say she's taking a Zumba class, I think of how long it's been since my sneakers hit the gym, and my own voice whispers in my head, I should do that.
When I scroll through Pinterest and see a dozen photos of cutesy craft projects other moms created with their children, I'm deflated. I should do that.
When my parenting magazine plugs a recipe for brownies using hidden carrot puree, I think of the Duncan Hines box stashed in my cupboard. Carrots are way healthier. I should do that.
Vacation plans. Extreme couponing. Colon-cleansing diets. Reading lists, scrapbooks, chore charts, and hand-sewn purses. Monkey-face pancakes, are you kidding me? She does it! I should do it, too!
But I can't do everything, can I?
Can you?
And that is the pain of shoulditis. It assumes we are supposed to be someone else—or a hundred someone elses. Our spirits inflame with an impossible itch to be as clever, resourceful, energetic, artsy, and self-disciplined as those other women.
Reality check. They can't do everything, either.
We all have our own things—our talents, interests, commitments, priorities. Yours aren't better than mine, and mine aren't better than yours. They're just different.
Why? Because God is fantastically creative, and He gave us each a unique blend of gifts. Trying to do it all is a waste of time. It's like saying God got it wrong. On the flip side, doing what He created us to do—that's worship.
"There are different kinds of spiritual gifts, but the same Spirit is the source of them all. There are different kinds of service, but we serve the same Lord. God works in different ways, but it is the same God who does the work in all of us" (1 Corinthians 12:4–6 NLT).
So. Let's slap some salve on that shoulditis, shall we? (Say that five times fast.)
The antidote is: I should not do that.
When the neighbors rent a mega bounce house for their son's birthday party, I will tell myself, I should not do that. My children have winter birthdays, anyway. We can't fit a bounce house in the kitchen.
When my friend runs a half marathon—good for her! But I should not do that. Stroller walks are more my pace.
When that sweet lady in the church choir raves about her make-ahead freezer meals, I definitely should not do that. This momma prefers to spend Sunday afternoon playing Scrabble with the kids. I will grab some frozen chicken patties from the supermarket and call them dinner.
So let's all agree—you should do what you do, and I should do what I do, and together we will create a supportive, well-rounded community of women who love what they do and really can do it all—collectively.
"All of you together are Christ's body, and each of you is a part of it" (1 Corinthians 12:27 NLT).
This post contains an excerpt from The SuperMom Myth: Conquering the Dirty Villains of Motherhood (Shiloh Run Press) by Becky Kopitzke. Used by permission.
# # #
About the book
Does your journey through motherhood look different from what you imagined?
Do you struggle to measure up to your own standards?
Do you sometimes wish you could be like that other mom who seems to have it all together?
You are not alone.
The Supermom Myth: Conquering the Dirty Villains of Motherhood, a new book by Christian mom blogger Becky Kopitzke, is designed to encourage imperfect moms to laugh at ourselves, forgive ourselves, and discover the beautiful moms God created within. Delivered with down-to-earth humor and carefully applied biblical insight, The SuperMom Myth explores eight personified "dirty villains" of motherhood, including The Grouch on the Couch (Anger), Worry Woman (Fear), The Calendar Queen (Busyness), and more. Throughout this delightful read for every mom, Kopitzke offers a gentle reminder to rest in the super power of our grace-filled God.
Visit www.TheSuperMomMyth.com for more information, including trailer videos, reviews, and details on where to buy copies for yourself and your mom friends.
About the author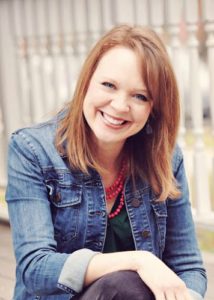 Becky Kopitzke is the author of The SuperMom Myth: Conquering the Dirty Villains of Motherhood (Shiloh Run Press). As a writer, speaker, singer, dreamer, lunch packer, snowman builder and recovering perfectionist, Becky believes parenting is one of God's greatest tools for building our faith, character, and strength—and it's not always pretty.
On her devotional blog, beckykopitzke.com, she offers weekly encouragement for fellow imperfect moms, pointing our weaknesses, blessings, and victories to God.
Becky lives messily ever after with her loving husband and their two young daughters in northeast Wisconsin, where a pink indoor trampoline fills half the once formal living room. Connect with Becky on Facebook, Pinterest, and Instagram.
If you received this blog by email, comment here.