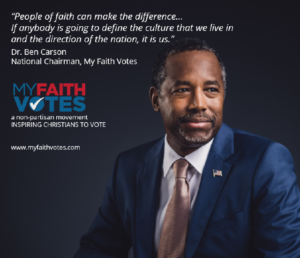 I remember as a little girl hearing my parents warn: Never get into discussions about politics or religion—especially among family and friends. The basis of their warning was that people differ so much in their opinions that it will only cause disagreements and maybe estrangements. And it did!
That seemed so strange since as Christians of the Great Commission (Matt. 28:16-20), we're told to go out and tell the world about Jesus. And if Jesus is the most important person in our life, and our whole life centers on Him, how could we be silent? Wouldn't our faith influence our politics? Wouldn't fellow believers agree?
The adage of my parent's time has become the "political correctness" of our time. Don't offend anyone with your beliefs or they'll label you a hater and bigot for opposing something the Bible clearly calls sin. Even all Christians don't agree on what constitutes sin . . . or agree on much else actually.
In our culture, if we mention God, Jesus, or the Bible, we're dismissed as religious zealots or troublemakers—sometimes even among fellow Christians.
How Is God Forsaken Politically?
In working on the title for Forsaken God?: Remembering the Goodness of God Our Culture Has Forgotten, my husband suggested we put a question mark after Forsaken God? to make us stop and think if this could be true. Many Christians can't imagine ever forsaking God, but it happens so frequently today—not intentionally, but unconsciously—that we may not even realize we're forgetting Him. But it is happening right now during the elections. How often do you hear people including God in the reasons for their political persuasions and voting choices?
When I was writing Forsaken God? last year, I had no idea what the political arena would look like this year, or that it would be an example of the premise of the book. But what I did see coming was a steady cultural forsaking of God and embracing of the liberal abandonment of the Bible. Just today, I read about an owner of abortion clinics who said she was sure Jesus approved of abortions because she was raised as a "liberal Christian"—an oxymoron! I wrote in the Generation to Generation section of Forsaken God?:
The next generation is falling away from the church in droves or erroneously choosing a pseudo-gospel of compromise and feel-good theology. Today, even children from Bible-believing homes may not have the tools or fortitude to equip them to face a liberal world drifting away from the God of the Bible.
We cannot assume that all Christians will be voting the conservative agenda in a world that indeed is forsaking and forgetting the God of the Bible. "For the time will come when people will not put up with sound doctrine. Instead, to suit their own desires, they will gather around them a great number of teachers to say what their itching ears want to hear. They will turn their ears away from the truth and turn aside to myth" (2 Tim 4:3-4).
God Does Tell Us How to Make Every Decision, Including Voting ….
As Christians voice their political opinions in conversations and on social media and in blogs, I seldom hear the use of Scripture or prayer as the basis for their choices and comments. One exception is Pastor Max Lucado, who broke the typical pastoral nonpolitical protocol to speak out about Decency for President because he's alarmed at some Christians straying away from our core values and biblical roots as criteria for a presidential nominee.
Like Pastor Lucado, I've observed disturbing responses to the current political scene, which I list below, but God provides us an antidote and voting guide when we remember Him and His Word.
We're angry, disillusioned, want change—which are all legitimate feelings as long as they're not the sole basis of our decisions or lead us to choices that go against our beliefs and values. We can personalize these verses when we consider how to vote and who we're voting for:
Character: "Get rid of all bitterness, rage and anger, brawling and slander, along with every form of malice." Eph. 4:31
Language: "But now you must also rid yourselves of all such things as these: anger, rage, malice, slander, and filthy language from your lips." —Col. 3:8
Attitude: "Therefore I want the men everywhere to pray, lifting up holy hands without anger or disputing." —1 Tim. 2:8
"Nevertheless, each person should live as a believer in whatever situation the Lord has assigned to them, just as God has called them. This is the rule I lay down in all the churches." —1 Cor. 7:17
I want, I need, I don't like, I feel, I believe—Self-centeredness is never a good basis for making godly decisions. Try personalizing these verses.
God help me remember when I vote to: "Turn my heart toward your statutes and not toward selfish gain." —Ps. 119:36 "Pride goes before destruction, a haughty spirit before a fall." —Pr. 16:18
"When you heard about Christ and were taught in him in accordance with the truth that is in Jesus. You were taught, with regard to your former way of life, to put off your old self, which is being corrupted by its deceitful desires; to be made new in the attitude of your minds; and to put on the new self, created to be like God in true righteousness and holiness."—Eph. 4:21-24
"Don't talk to me about God or the Bible. You're placing your faith in a very complex work written over a long period of time." As Christians, we are to remember . . .
"Jesus Christ is the same yesterday and today and forever."—Heb. 13:8
"I have hidden your word in my heart that I might not sin against you." —Ps. 119:11
"I love God's Word: I delight in your decrees; I will not neglect your word." —Ps. 119:16
"All Scripture is God-breathed and is useful for teaching, rebuking, correcting and training in righteousness, so that the servant of God may be thoroughly equipped for every good work." —2 Tim. 3:16-17
God is in control, just be silent and let Him pick who is going to be President—God never tells us to be apathetic, ineffective, or silent, and He uses His people to do His earthly work. How can He pick someone, if we don't vote?
God says: "Select capable men from all the people—men who fear God, trustworthy men who hate dishonest gain—and appoint them as officials over thousands, hundreds, fifties and tens." —Ex. 18:21*
Speak out for Christ: "When he came near the place where the road goes down the Mount of Olives, the whole crowd of disciples began joyfully to praise God in loud voices for all the miracles they had seen:
38 "Blessed is the king who comes in the name of the Lord!"
"Peace in heaven and glory in the highest!"
39 Some of the Pharisees in the crowd said to Jesus, "Teacher, rebuke your disciples!"
40 "I tell you," he replied, "if they keep quiet, the stones will cry out."'
Our part in the elections: "Make your motions and cast your votes, but God has the final say." —Pr. 16:33 (MSG)
Christ has commissioned His Body, the Church, of which He is the Head, to effectively participate with Him in this world: "You did not choose me, but I chose you and appointed you so that you might go and bear fruit—fruit that will last—and so that whatever you ask in my name the Father will give you." —John 15:16
So What Do Christians Do This Election?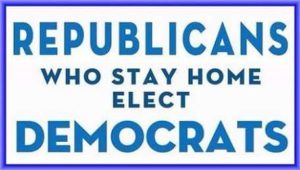 We pray and then we go out and vote remembering that no man is perfect—Moses was a murderer, King David was a murderer and an adulterer, Paul was a persecutor of Christians . . . . But if we vote for the Republican conservative agenda and platform, then God can work through whoever wins the earthly mantel.
Max Lucado wrote a follow up blog post to his Decency for President post and he titled it Worried Enough to Pray?
Pray for God to:
Bring unity in His church and His people
Put a man of integrity and character who loves the Lord as President
Help us do whatever God asks to return our country and our culture back to God
God's will be done on earth as it is in Heaven
Add your own prayers:
If my people, who are called by my name, will humble themselves and pray and seek my face and turn from their wicked ways, then I will hear from heaven, and I will forgive their sin and will heal their land. 2 Chr. 7:14
Then we do our civic responsibility and privilege, confident that we have done what we can in the way that God called us to work with Him as Christians:
Now this is our boast: Our conscience testifies that we have conducted ourselves in the world, and especially in our relations with you, with integrity and godly sincerity. We have done so, relying not on worldly wisdom but on God's grace. 2 Cor. 1:12
*Bryan Fisher Host of "Focal Point" has an excellent article "The Bible Does Tell Us Who to Vote for" in which he explores in detail Exodus 18 and the criteria Jethro told Moses to use in selecting godly leaders. I highly suggest reading this well-written article.
If you received this blog by email, please comment here.